2WANDRRS
I met Greg, well not quite sure how many years back, but adventure motorcyclists tend to gravitate and meet along this road in life. He and his wife Melanie have been traveling souls for many years and as they explore the world by motorcycle, I am continuously pulled into the story.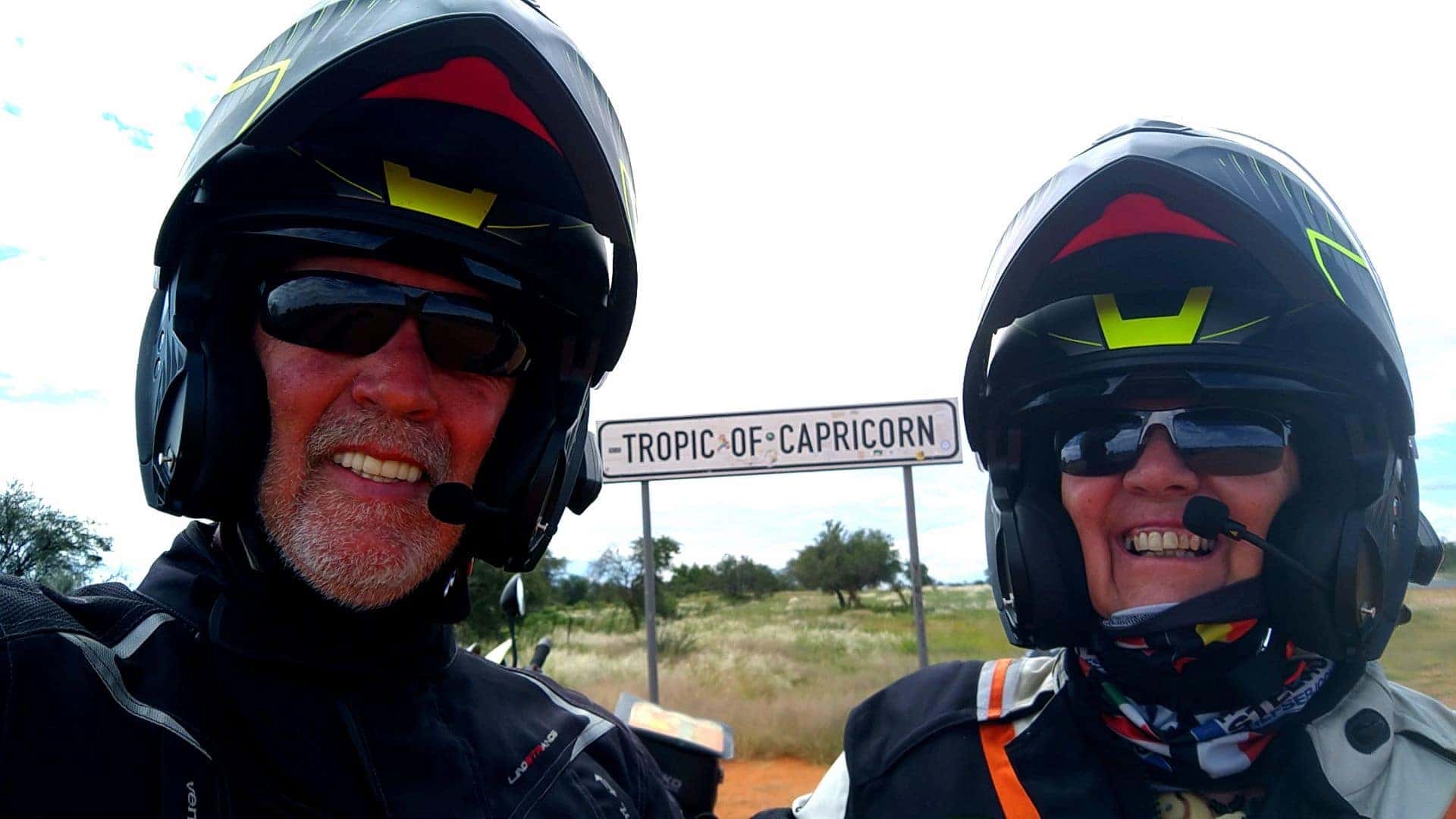 Meet the 2WANDRRS: "My name is Greg and my wife's name is Melanie. My internet nickname is "WANDRR" and we are "2WANDRRS" who decided several years ago to let go of our busy life and try to replace it with a life full of travel and new experiences. It was a slow process as we had property to sell and "things" we needed to get rid of. We ride motorcycles and our life has continued to morph as we kept expanding our range of miles and friends."
After a few months back stateside seeing family and friends, they were off again. This time a new continent, Africa and COVID…sounds perfect. In February 2022 they would take on seeing the Big-5, navigating camp of elephants, meeting fellow riders on road and so much more.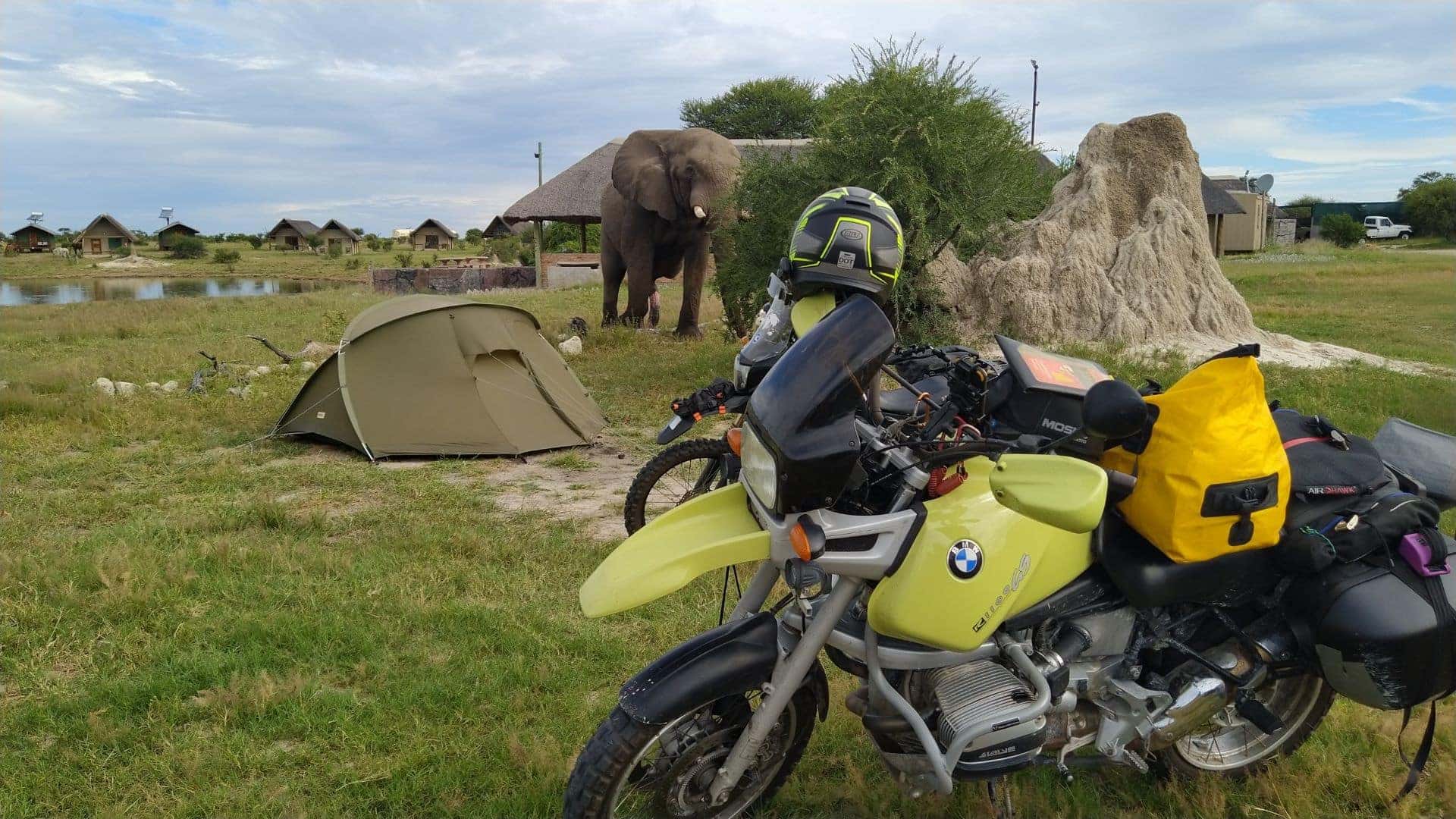 As I began to read about their latest adventure this title jumped out -Lion attack in Etosha…captivated, I had to read it. As I worked my way through their website, title after title drew me into their exploration and travel blogs. 
I am quite a fan of camping and motorcycling, and when combined, it is just wonderful. Greg and Melanie camped in Africa, in a game preserve!! Now that is camping! As they searched to camp, they found a campground just 100 meters from the Tosha National Park entrance, Onguma lodge, with two campsites. It was inside the game reserve. The game warden notified the campground to expect them, so that way if they did not show up, they knew to come find them! Woah!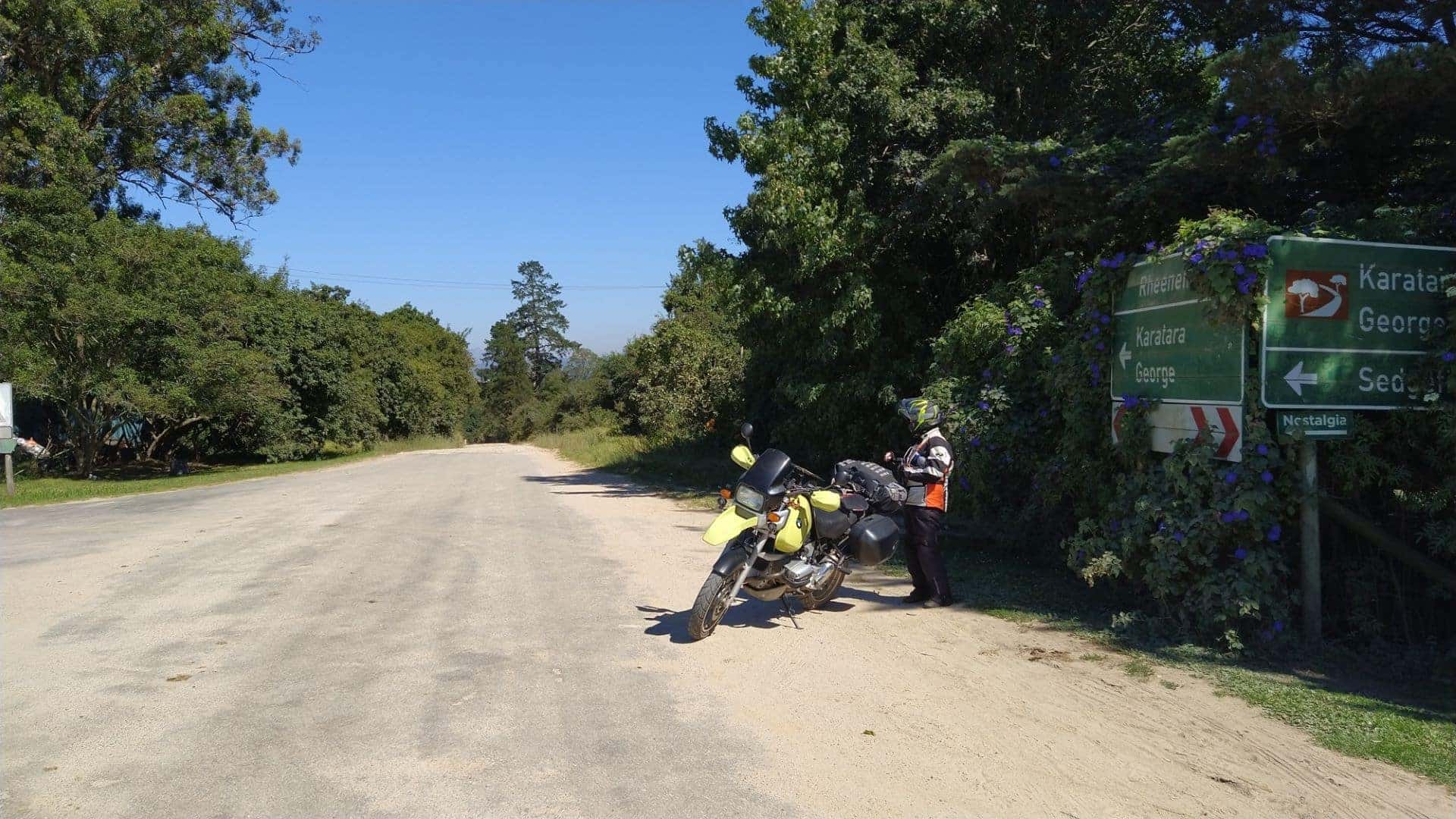 I love their interactions as they arrived:
Us: "Are there lions in here?"
Them: "Yes."
Us: "Do you see them here?"
Them: "Yes."
Us: Gulp, "Okay, let's go." 
During the night we heard the huffing of male lions. I really hoped that the sound traveled a distance because it sounded really close. The next morning, we were up early for a morning game drive, the only way to get into the national park on a motorcycle. Driving in slow loops in our open Land Rover, we searched the edges of the savannah for an ever-elusive lion. Then, just around another corner, Lions!! Counting we see 11, then 12. No, 14, including young males and two large males with full manes.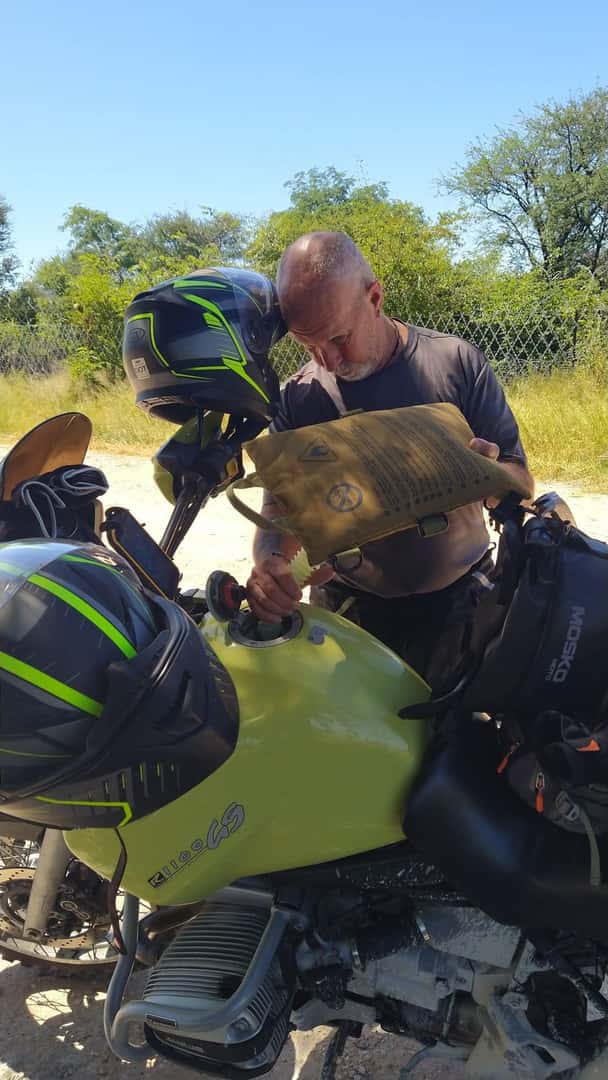 Next is the NatGeo moment we will never forget! And I will leave you hanging there in their story, to find out what happens next read on for the Lion Attach in Etosha.
We all try our best to capture the best moments on camera. Sometimes our adrenaline lends to shaky hands and unique positioning. "The massive bull elephant was headed back into the woods, but stopped as we stopped. Turning slightly, he looked as us. Then, with a loud trumpeting, he charged straight as us, smashing small bushes in his assault. With Melanie yelling, "GO,GO,GO" and me yelling to her to get a picture, I dropped the clutch and sped away. We made it away, but the picture was of the road." I was laughing so hard as I read this, because a few pictures up in their blog, I spent a good few minutes trying to find what I was supposed to see on this odd-angled photo of the road! The humor in his writing gets me, and personality to boot! If you ever get to meet up with this couple on the road, it is guaranteed a good time.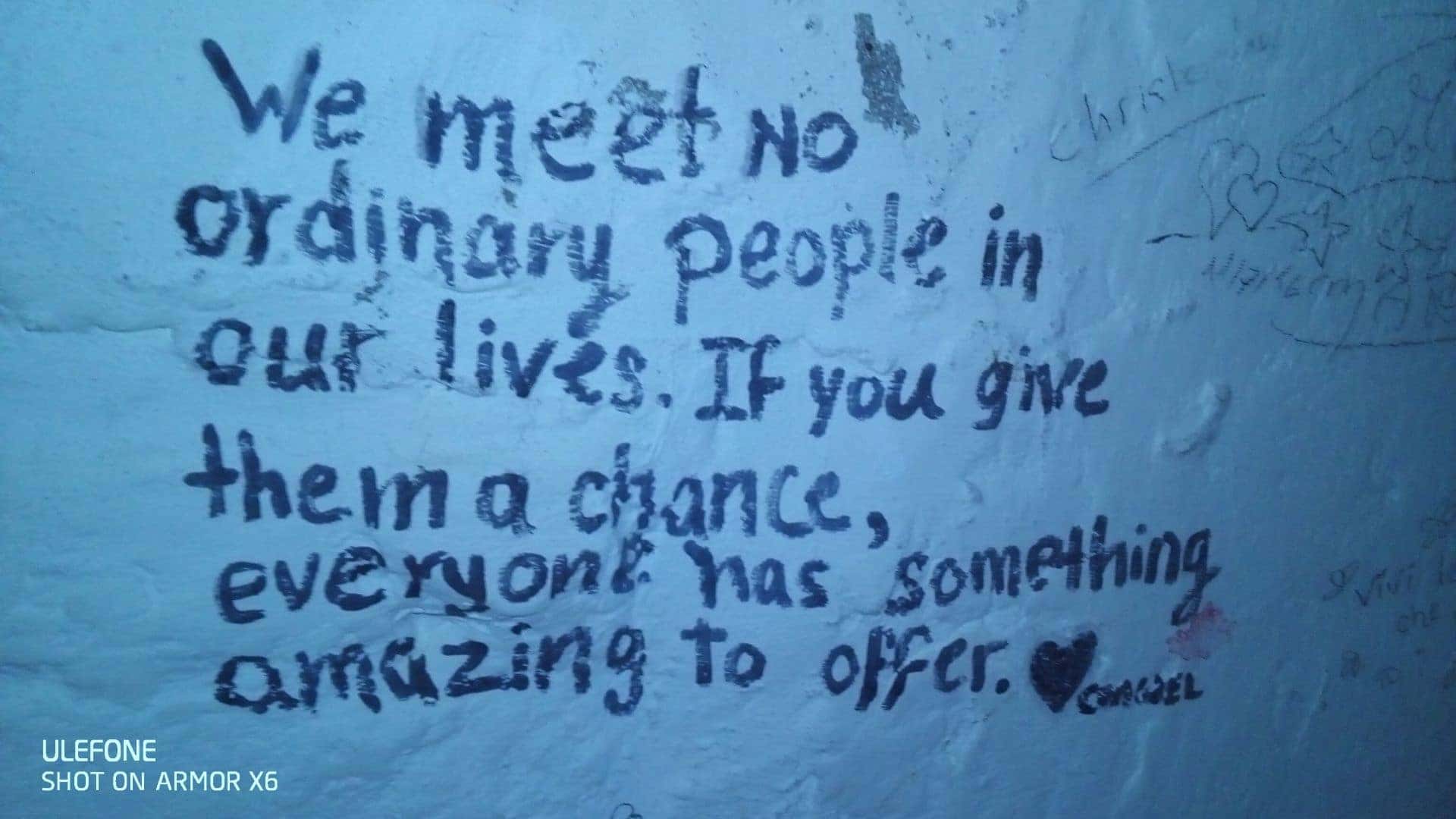 Greg talks about making the most of the time and memories that are made together. "Figuring out what makes you happy, what makes you feel whole. As I talk about giving travel presentations, "Yes, You Can." You can travel and not leave your life behind. Yes, sacrifices have to be made. This life that we have, it isn't a dress rehearsal. Wouldn't it be worse to be at the final curtain saying, "I should have."  Make the best of the time available to you, be happy, try to make others happy, and do this everyday."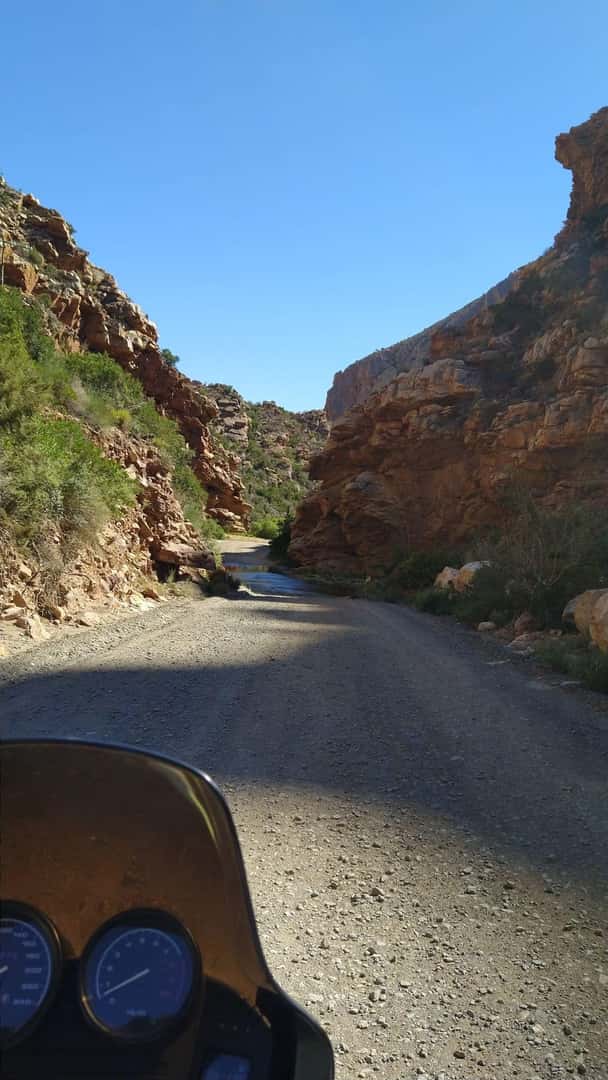 He has titles that captivate the reader, sometimes make you blush in wondering what could possibly come next. But each one will leave you wanting to pack your bags and get out there to explore. So see you out there on the road, discover your "Yes, You Can!"
Written by Danell Lynn, www.danelllynn.com Guinness World Record Motorcyclist. Photo Copyrights: Greg and Melanie Trup.