5 Celebrities and Harley's
Some don't give two $#%@ about what celebrities are riding. I get it, hell I am one of them…to a point. C'mon who wouldn't brag to their buddies they have the same bike as "The Governator". He owns a f-ing tank for crying out loud. Love them or hate them, celebrities are trendsetters, and people love to be cool.
Jay Leno
You got to love the life-size bobblehead that is Jay Leno. The man is a monkey wrencher thru and thru. He owns countless Harley-Davidsons, but his coolest is his 1936 knucklehead. Jay says his favorite category is "original and unrestored" motorcycles, and this one is exactly that. The bike sat since 1952, with a little bit of gas and a couple of kicks, it roared to life. Of course, he later changed the tires, fluids, and spark plugs, but he left her in all her former glory.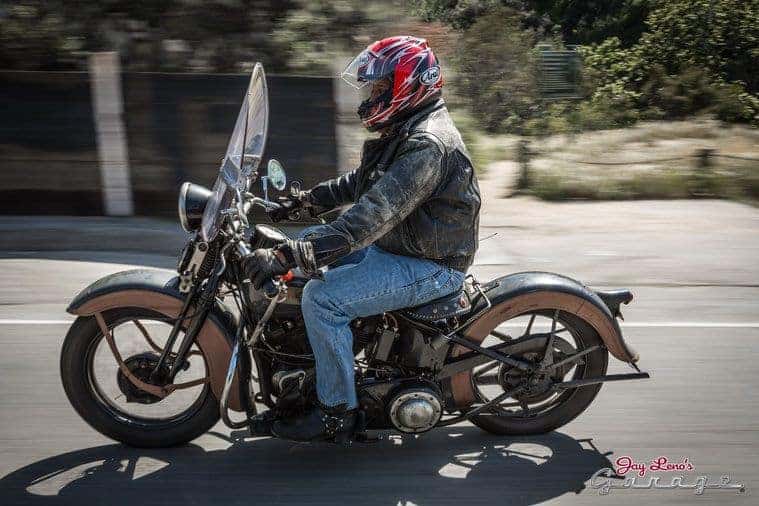 Brad Pitt
Out of the two megastars, Pitt and Cruz, I like Pitt a lot more because of his love for custom Harleys. Plus, for some reason, I can't help but want to punch Cruz in his face. Don't know why, he is a good dude, but he just has one of those faces, kind of like I do. Brad Pitt has been well photographed riding one of his babies. One of them is a springer front end low slung and the other a custom Shovelhead chopper. Unfortunately for him, the Shovelhead chopper's claim to fame has nothing to with its patina design, but rather the infamous shot of Brad Pitt putting gas in his oil tank. The tank is a split tank, with gas on one side and oil on the other. I would feel bad for him, but well he is stupid rich and was married to Angelina Jolie. Don't let the haters sway you, keep riding Brad.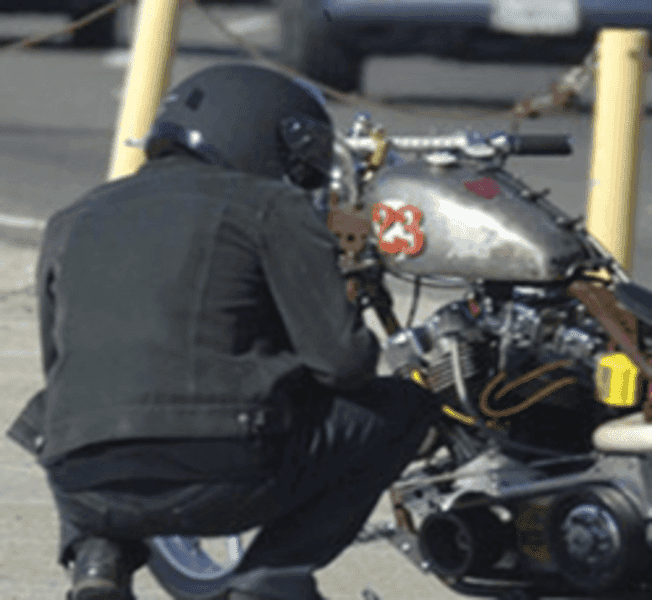 George Clooney
Georgie boy has a soft spot for Harleys, what's great is his love for them in stock form. A couple of Harleys he owns are a Road King and an Ultra Glide. I dig the fact that he makes it a family affair with his smoking hot wife Amal, and that they both choose to dress like average joes, knowing paparazzi are hiding the bushes or trash cans.
Elvis Presley
While other icons were riding Triumphs, Elvis like Harleys. His first bike was the Model 165. He would later upgrade to a red KH in 1956 at the age of 21, after his breakout song "Heartbreak Hotel". It can be seen at the Harley-Davidson Museum. What makes Elvis's love for Harley great is that he understood chicks dig motorcycles. He was the original Hound dog, the hottie in this photograph obviously likes motorcycles…or maybe just the King of Rock n Roll.

Arnold "The Governator" Schwarzenegger
Anybody with a pulse knows Arnold as the terminator and the futuristic cyborg rode a Fat Boy in Terminator 2. Beloved, this Fat-Boy sold for $480,000 in a Hollywood auction. Though he owns many Harleys, how could this not be his coolest Harley? This blockbuster movie is one of his most famous roles and brought us the slogan "I'll be Back". He was ultra-cool dodging a shape-shifting cyborg, as well as one-handedly rescue snot nose John Conner at speed. Let's not forget about the shotgun.