A Bit of Moxie: Story of a 4-legged, 2-wheeled companion
"My experience has been that having Moxie along only enhances the original motorcycle travel experience."  Jess Stone

Jess never imagined that she would travel around the world by motorcycle with her big dog. Jess learned to ride, to be with Greg as he traveled around by motorcycle. She learned to ride, through nerves and became an adventure motorcyclist. It was not long after that they took on an eight-month trip around South America where Jess and Greg found themselves in love with Guatemala. In 2016 they moved there and adopted a German Shepherd that goes along with them for their motorcycling adventures. Moxie was also a great inspiration for the company they launched GoRuffly – Ethical outdoor dog gear and a combination of humanitarian missions and love of travel that has been components of their journey in life. 
They have launched an around-the-world journey with their dog, Moxie. GoRUFFLY Around the World is an 18-month journey that will raise money for the organization Girl Up. Their journey will take them close to two years and they will cross through five continents, with a goal to raise $100,000 for the foundation.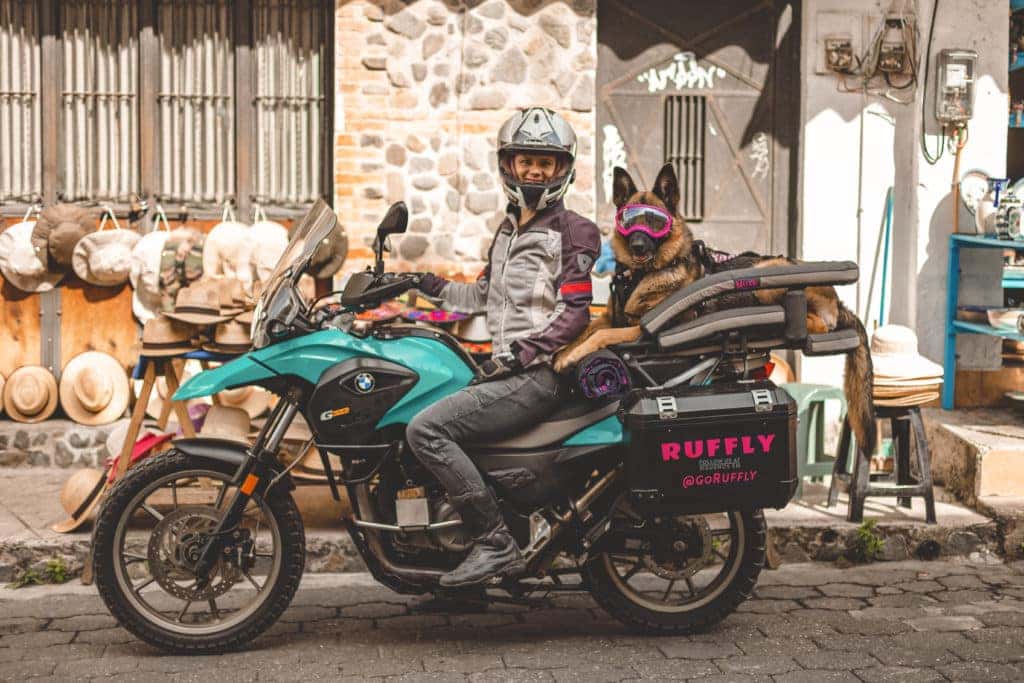 In describing how the decision came for what foundation to support, Jess discusses Girl Up. "I came across Girl Up at some point while I worked in international aid. I always had Girl Up on the back of my mind and would think about what I could do to support it. Greg and I have always dreamed of riding around the world – what motorcycle traveler doesn't? Earlier this year it just hit me that we could channel that dream into a way to support Girl Up. I mean, a woman riding around the world with her big dog on the back of the motorcycle – it's a pretty powerful symbol of empowerment, right?" 
When one thinks about two years, it can be overwhelming. But even with the timeline and needs set out, they have a pretty well mapped out route going into the adventure. They have departed and are out in the world adventuring and currently in the United States.  "March 5, 2022 is when we're leaving Guatemala. The plan is to go north through Mexico for the month of March, and our goal is to enter into the States in April." 
The plan is routed through the United States for April – June, and then head to Canada, followed by arrival in Europe via London or Frankfurt in September/October.  Kick off your Spring by catching them at the Horizons Unlimited Meeting in California, The ADV Festival at the RawHyde Mohave Desert Facility, and Overland Expo West in Flagstaff, AZ in May. 
After landing in Europe, they will adventure through and head south into Western Africa, Liberia, and South Africa as they loop up the eastern side and back toward a re-entry into Europe for spring and summer 2023. The road will then take them east into India, China, and possibly Malaysia, before shipping back to South America to finish off strong as they venture home into Guatemala. And all of this with they third member of the family, their dog, Moxie!
"The dog is at its best when outdoors and experiencing things – that gives us as the riders the additional push to seek out additional experiences when out on the motorcycle."
Taking on the challenge to ride around the world, is an exceeding grand goal. Add to that a four-legged companion and one could only imagine the additional steps that it would take, or the planning, but as Jess describes, "some riders immediately see how much better riding can be when you bring your dog along and others worry about the perceived drawbacks. They think they can't ride off-road, can't go to certain destinations, finding accommodations will be difficult, or it's a big to-do to get the dog up and strapped in. My experience has been that having Moxie along only enhances the original motorcycle travel experience."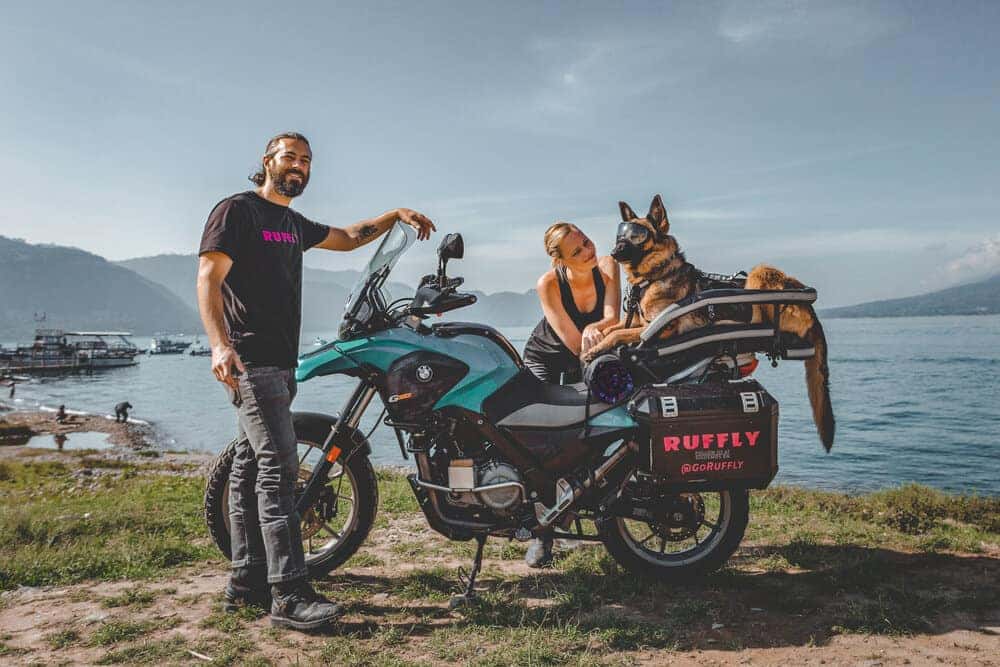 Those local RideNow adventurers, don't forget to catch them at Overland Expo in Flagstaff, AZ this May! I look forward to seeing riders out there in the world, ride often, ride on, but definitely – Ride NOW! 
Follow along:
Facebook: https://www.facebook.com/goruffly
YouTube: https://www.youtube.com/watch?v=fjhpCP-HUlA
Written by Danell Lynn, www.danelllynn.com Guinness World Record Motorcyclist. Photo Copyrights: Jess & Greg Stone,  GoRUFFLY.