Adventuresome Wit – World Delight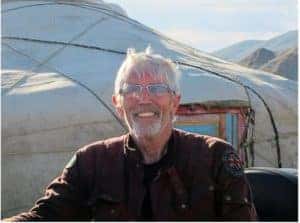 Derek Mansfield opens his introduction on his website with a quote that he 'stole from somewhere', "Don't take life too seriously, you'll never get out alive." A fitting opening to showcase his adventurous spirit and humor all rolled in one. An eccentric adventurer with the gift of gab, he has created a series of volumes for his travel biographies. Taking readings on an adventure through words.
He is an author and adventurer that chooses to travel by motorcycle and journeys with 'both trepidation and rich good humor.' He tells his stories through the lens of honesty creating extraordinary tales, deep intimacies, dark shadows, and joys. Derek introduces the readers to the culture and lives of the people he meets along his path and the fears and humbling kindness that is felt along the way.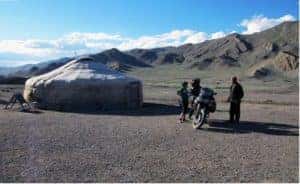 If that is not enough to inspire you to pick a copy of his books for the holidays, the inside cover may, From the Road Vol. III he describes his journey from London to Mongolia and back through the countries of the former Soviet Union. … "A retrospective of Mansfield's journey to Mongolia from London and return. The Russian Federation and Siberia was joyful, the people still happy and not fearful; Central Asia was relatively peaceful, the population approachable and friendly. But his experience was also coloured by encounters with gangsters, corruption, mechanical failures and the breaking of bones. Taking all of this in his stride, he was humbled by the help and assistance readily given and ultimately grateful that he survived. The story is told with rich good humour, the survivalist's ever-present antidote to the vicissitudes of true adventure."
The Times reviewed of one of his books stated, "he's sometimes outrageous, but always amusing." He talks of his writings and riding, and "tries to walk toward my fears, and let those closest to me that I love them, as often as I can." The roads we ride in this short life, seem short as the years fly by. Mansfield reminds us of our short time and how to fully live it.
Derek writes a different kind of book and inspires all to get out there through detailed journeys and humor. He has a brave and refreshing style that keeps the reader hooked…what will happen next. And be ready to laugh out loud, his wit and humor are sharp – you have been warned.
A great addition to your adventurers stocking, or a great gift for yourself this holiday season. As we all sit and prepare for a time when travel is less restricted and we leave our houses more…but until then, curl up with a book to inspire your planning, so when those borders open you are ready for the open road and adventure.
In the words of Derek Mansfield with regard to adventure
"What I make of it though, is up to me. So, shoulders back, straighten the spine, onward! The next horizon."
Find more of Derek and his Notes from The Road: http://derekmansfield.com/
Written by Danell Lynn, Guinness World Record Rider –www.danelllynn.com,
@danell_lynn, @adventure_financist Photo copyrights Derek Mansfield.