AMSAF Visonary Award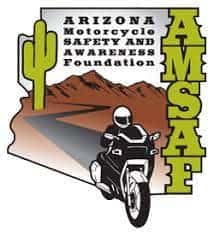 The Arizona Motorcycle Safety & Awareness Foundation handed out its Visionary Awards to community partners at its Share the Road & Riding for the Long Haul event in May 2021.
AMSAF's mission is to "promote safety and awareness and reduce crashes and fatalities." Since motorcycling's popularity has soared in recent years, the number of motorcycles on the road in Arizona has hit an all-time high of 210,000. That's why AMSAF has stepped into the role of educating the motorcycle community on how to stay safe on the road. 
AMSAF approaches this mission of safety from two angles, the motorcycle riders, and the car drivers. For the riders, they help to get them through a good motorcycle training program as well as into a DOT-approved helmet. For the drivers, they promote their Share the Road and Lookout for Motorcycles Campaign, in addition to their weekly safety tips. 
As the old saying goes, it takes a village to contribute to the success of this organization and that's what the Visionary Award embodies.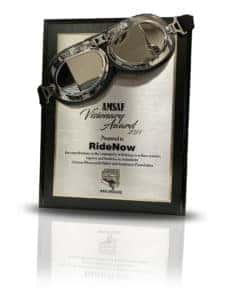 The award is given out based on the following criteria, leadership within the community, positive influence, has made an impact on the state of Arizona, and has worked to promote motorcycle safety and awareness to contribute to the reduction of crashes, injuries, and fatalities in Arizona. 
Many local individuals and businesses were presented with this award including RideNow's own Mike Pfab, our metric marketing director. We pride ourselves in advancing the use of high-quality helmets statewide, which has played a huge role in AMSAF's mission. 
Other people that received the 2021 prize include Law Tigers, Dignity Health and nurse Wendy Otten, the Husband & Wife Law Team, Rosenbluth Family Charitable Foundation, and Michelle Arndt/Arizona Community Foundation.
We are happy to contribute to AMSAF's mission of promoting and educating the public about motorcycle safety.