Backroads of Spain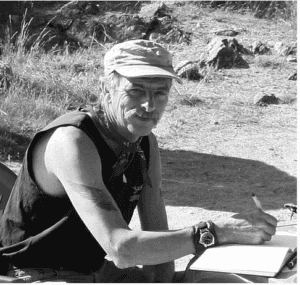 As we dream of journeys to distant lands we sometimes get bogged down in the overwhelming feeling of how to plan it we went to start. With over 30 years under his belt and traveling through Spain by motorbike, I'd like to introduce you to an author, travel guide and so much more.
Duncan Gough was a traveler from an early age. He grew up in what I like to call a home of adventurous traveling parents raising adventurers. By the age of two he had already become a traveler and then for the last 40 plus years he's been doing so by motorcycle.
In 1983 he first visited Spain and he felt as if he had come home.
He had been visiting Spain and touring by motorcycle for many years before he published his first book on the back roads of Spain in 2010.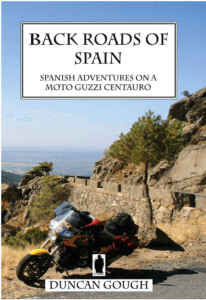 Ever since 2000 he has been making an annual trip to ride these roads through Spain and in 2014 he gave up his theater and film work and concentrated on his writings as well as his sketches that encompass his books to create a vivid world of beauty that transports you into Spain and excite you for your future trips.
In his many books he talks about the routes, includes photos, even hand drawn maps with exquisite detail. A fun thing about Duncan is that you don't just have to read the books and feel excitement and wonder how you could do this one day … He actually has group tours or individual tours that have been set up that you can download and track and make yourselves.
Due to COVID there is delay in the group touring but the 2021 information is out on Iberian tours.
His research for the trips/itineraries is done from the viewpoint of a motorcyclist, but other have easily used these guides for camper vans and other vehicles that want to travel through Spain.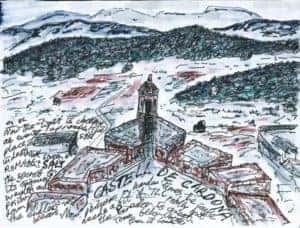 His collection of tours are as unique as the man himself. You can take a tour for Birds and Bikes, or Castles and Cathedrals, or the Battlefields of the Peninsular War. Through each of these you will travel to different areas throughout Spain visit unique architecture, eat amazing food, and learn the history or the species that's around you as you venture on.
If you're not up for the group tour he also has the self-guided tour itineraries that he is created that are tailored for a group or individuals with detailed questionnaires . These include routes, detours, and places to see on the road and also ideas of where to eat and where to stay.
If you love to plan your own and do your own adventuring this might be a good idea for you to start from, and then you can also adjust it as you see fit. Or if thinking about traveling Spain by motorcycle stresses you out on how to plan and operate your own tour going through, this is a perfect way for you to create your perfect personal tour from a man with over 40 years' experience exploring Spain.
For more information on the tours or a new book or two or four…for your collection visit: https://www.duncan-spanish-travel.com/
Written by Danell Lynn, Guinness World Record Rider –www.danelllynn.com, @danell_lynn, @adventure_financist Photo copyrights Duncan Gough.