Briar Bauman One Step Closer
Indian Motorcycle's Briar Bauman is now just one step closer to his first V-Twin championship after fending off two-time champion and teammate, Jared Mees at the Williams Grove Half-Mile .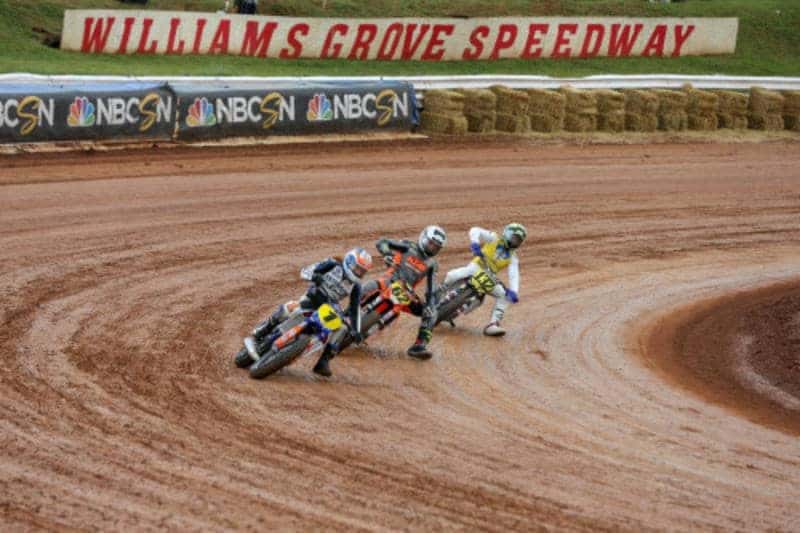 Like all season, the two have battled it out during semis and qualifiers for the perfect start position which carried over to epic dog fights in the main event. However, it took just six laps for Briar to assert is dominance in this race.
In lap 6, Briar pulled away from Mees and began to tear up dirt. Mees continued his decent as rookie Brandon Price (Roof System's Indian) swept pass him and pulled up on the leader. Mees would continue to have bad luck, trying to cling to the much needed points of 3rd place, he was overtaken by Davis Fisher (Beaverton Motorcycle's Indian) and was unable to mount a comeback in the final corner.
Price made a go at it in lap 7, but the soon to be champ Briar was too strong. Granted, Price did keep him honest and help pushed the pace finishing just .878 seconds behind Briar.
As for Briar, this marks his 5th first place finish this season. More impressively this is the 16th time Briar has finished on the podium – a testament to want will most likely become his championship season.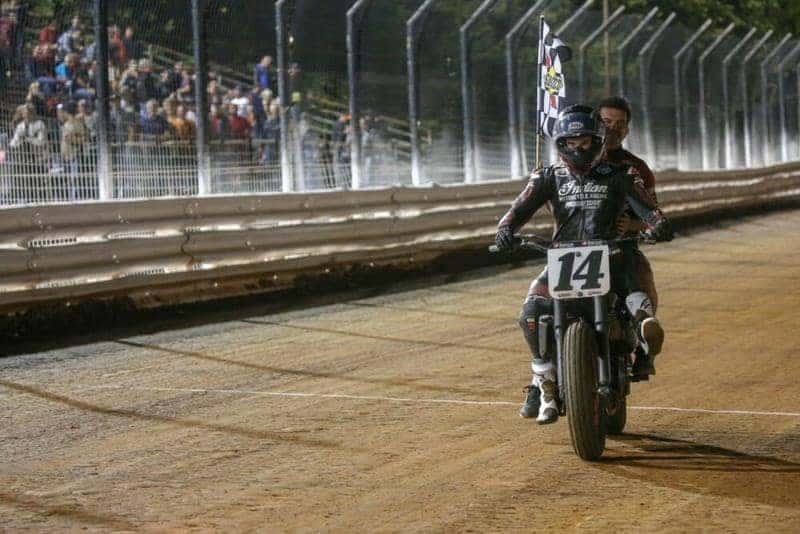 After the race, "The success tonight comes from the team," Bauman said. "They've done everything for me, and the bike has been so good. I was nervous in the pits earlier, and they got my spirits up. Bronson has been struggling, but he came up to me and said, 'dude, you're the baddest guy here — just go out and get it…I have such a good support group. My family has been at all the rounds and all the fans and my friends… I come to the racetrack to see my family and I race while I'm here. I can't thank everyone enough for being here" (AFT).
Briar now has stretched his lead to 35-points with just 2 races remaining. The way he has been riding this season, he will most likely clinch with a race to spare.
Next race, the Minnesota Mile on Sept 21st.