BRP's Sales Continue To Rise
In 2019, the outdoor recreation economy accounted for 2.1% of gross domestic product (GDP). One result of the pandemic was more people participating in outdoor recreation activities. From hiking and biking to riding motorcycles and UTVs, as outdoor recreation started increasing, Powersports sales grew.
This month, BRP released their first-quarter report for January 1st. 2021 – April 30, 2021. Per the report, the North American division of Powersports had a 39% sales increases compared to the same period the prior year and company-wide revenue was up 47%. The report noted that Personal Watercraft, 3-Wheeled Vehicles, and All-Terrain Vehicles were the main drivers of the increase.
Year-Round Products (Motorcycle, UTV, ATV, etc): sales increased by 30%-40% during the first quarter of 2021 compared to the first quarter of 2020.
Seasonal Products (PWC & Snowmobile): sales increased by almost 50% during the first quarter of 2021 compared to the first quarter of 2020.
Marine (Boats): sales increased by 71% during the first quarter of 2021 compared to the first quarter of 2020.
José Boisjoli, President and CEO said "We had an exceptional start of the year, building on our momentum of growth from prior quarters. Our first-quarter results were driven by ongoing robust demand for our products with North American Powersports retail up 39%. We were also lapping a quarter in which our manufacturing operations were partly shut down."
"Following our solid first-quarter performance, positive outlook for the business and factoring in current supply chain constraints, we increased our overall guidance for Fiscal 22 with Normalized EPS now expected to grow between 44% to 58% over last year."
He concluded by saying, "We are excited about the future and will concentrate on converting new entrants into lifelong customers, continue to introduce new products to the market, and take full advantage of our anticipated additional production capacity. I thank our employees, suppliers, and dealers for their relentless work."
For the full report and complete financial, see the Quarterly Reports section of BRPs website.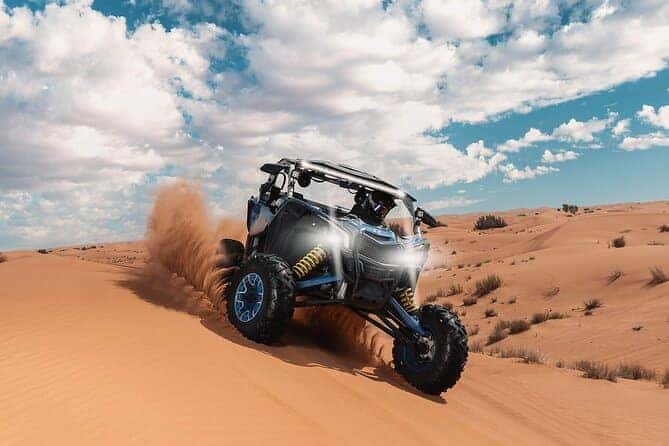 2022 Forecast
The Powersports industry is also impacted by many of the supply chain challenges we have seen across many industries. In the quarterly report, BRP shares this in their 2020 outlook, "Our Powersports retail sales in North America might decline a little, mainly due to low inventory, the impact of supply chain constraints, and the fact that we compare to the strong quarter last year. Growth is expected to return in Q4, as we benefit from improved deliveries and additional production capacity."
About BRP
A global leader in the world of Powersports vehicles, propulsion systems, and boats built on over 75 years of ingenuity and intensive consumer focus. Our portfolio of industry-leading and distinctive products includes Ski-Doo and Lynx snowmobiles, Sea-Doo watercraft, Can-Am on and off-road vehicles, Alumacraft, Manitou, Quintrex boats, and Rotax marine propulsion systems as well as Rotax engines for karts and recreational aircraft. We complete our lines of products with dedicated parts, accessories, and apparel businesses to fully enhance the riding experience. With annual sales of CA$6.0 billion from over 130 countries, our global workforce is made up of more than 14,500