Chasing History on the Gila River to the Coke Ovens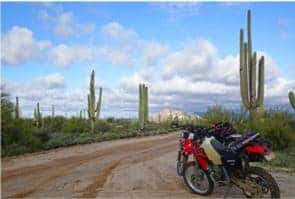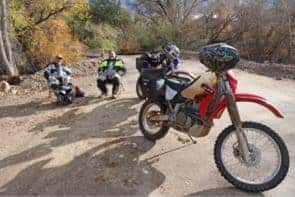 I love to add fun destinations to my adventures.  Hiking to petroglyphs, riding to ruins, or driving to a ghost town adds to each adventure. For this trip, I wanted to visit some of the mining history found out east of the Metro Phoenix area.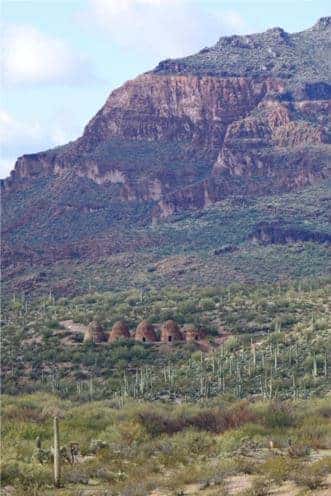 In 1905, a post office was opened in the little mining camp of Cochran Arizona, on the banks of the Gila River. Cochran was also a stop on the Santa Fe, Prescott, and Phoenix railways. At the time, the Gila River flowed from its starting point in New Mexico, 649 miles to the Colorado River in Yuma, AZ, making it one of the longest rivers in the U.S. There was enough water flowing down the Gila that large riverboats could travel from Yuma up to Phoenix.
On the opposite side of the river from where Cochran once stood, are the last remnants of the era, The Coke Ovens. Coke is not a drug, but rather a charcoal product made from mesquite wood, and was a hotter burning fuel used to smelter gold and silver ore from the mines in the surrounding area.  The Coke Ovens are in a very remote area and are on private property. Unfortunately, due to vandalism, access has been restricted, but you can view them from a distance.
We used Florence, Arizona as our jumping-off point. Florence was founded in 1866 and has its own Wild West history.
We went for an enjoyable day trip from Florence to Cochran, and then on to Asarco Mine (currently operating) near Kearny, via the numerous desert roads and trails. Near Kearny, we stopped next to Mineral Creek for some lunch. For the return trip to Florence, we took the Florence-Kelvin Highway (mostly a maintained dirt road).
The north and south sides of the Gila River have a lot of history that you can explore on your bike, quad, or UTV.  In this rugged and remote area of Pinal County, you will need to get a state trust permit for some of the areas, and many of the dirt roads are unmaintained, very rocky, and extremely challenging.
If you do some internet scouring ahead of time, you can find coordinates to some of the old mines in the area. And if you are on the north side of the river, don't miss a trip through Box Canyon.
Finding old history out on the trail adds a new level of fun to an adventure. When you find it, be responsible, so others can find it too. So map your route, get out, and enjoy.
Follow us on Facebook and Instagram @gonefishingdualsportadventures