Chopper-Head Crushing Chemo in Austin, Texas
 It was 2016 in Austin, Texas. Josh "Buzzard" Aguilar, one of the coolest cats I knew out there, had hand-picked a grip of rad guys and gals to fill up a five-bedroom house in Hyde Park. Your boy was on the shortlist of short-fused twenty-something year-olds; another roomie and I were the first two to move in. 
We decided to get right to bonding by tag-teaming an oil change on my '07 Triumph Bonneville but the only oil pan we could find had a crack in it. To make a long drink short, the beer-brained bimbos decided to stuff the pan full of newspapers, crack another beer, pop the drain plug and pour her out. 
Cut to five minutes later. We're grabbing every towel we own in a fruitless fight against a seeping oil spread. 
"We gotta get this cleaned up before Josh gets home." 
We were ashamed; both of us, hand-selected by a guy who dedicated his life to welding, chopping and wrenching on mechanical art, and we just turned the driveway into a goo-soaked ice-skating rink. 
Josh Buzzard came home five minutes later and was too busy laughing at our newspaper-lined oil pan to get a derogatory word out. That's the thing about Josh—more than anything else, he loves to have fun. The Buzz Wizard would much rather play at you than shame you. He got right down in the gunk and played his ass off at us while he helped us clean up the mess we made in our shared space.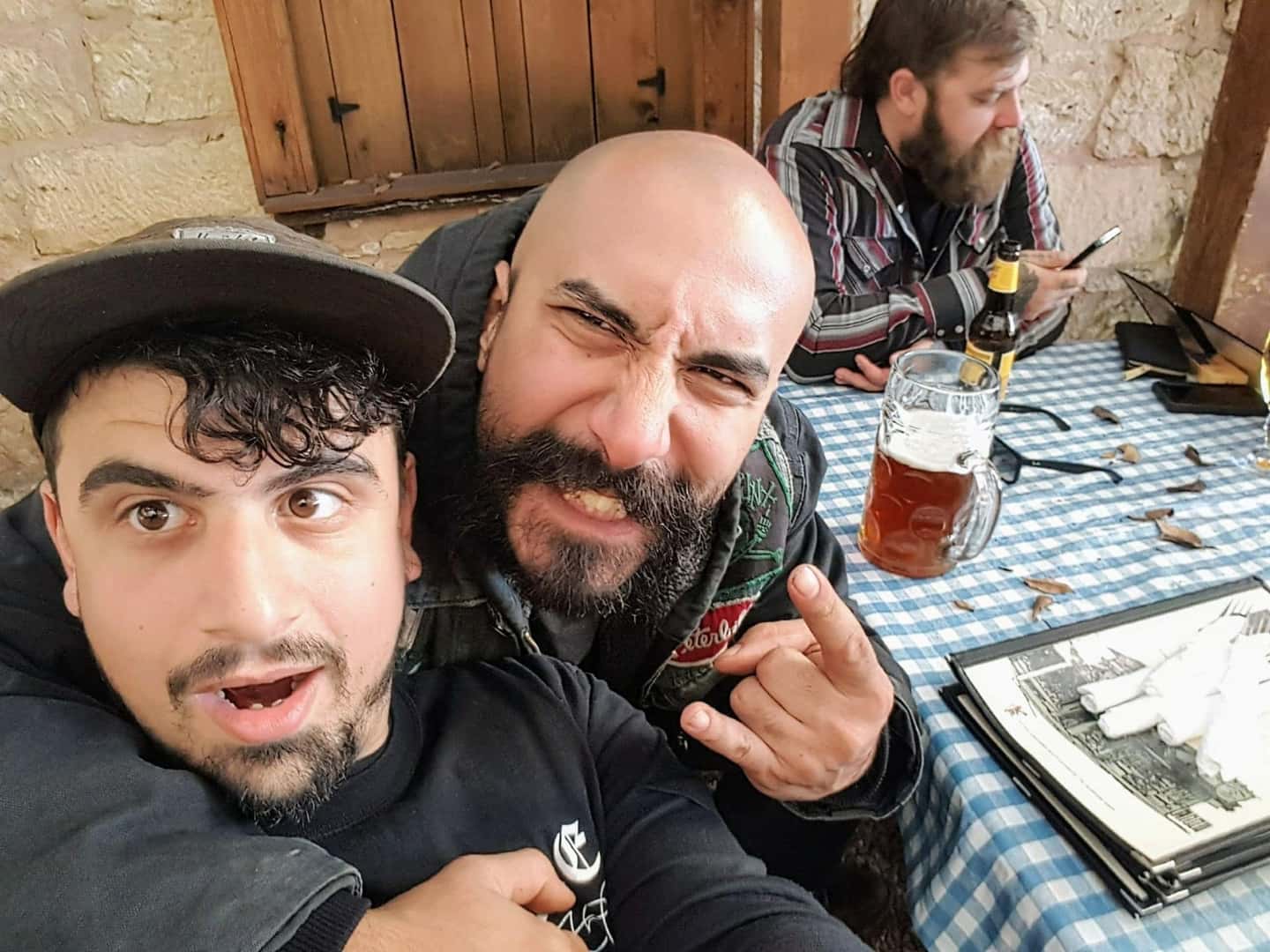 Josh and I (and Jeremy Carl Cook, all-star tattooer; look him up on IG!), Circa 2017.
 I can't remember how I first met Josh; it seems like I always knew him. I can't remember a time he hasn't been a part of my support system in one capacity or another, and I know at least a hundred Austinites who feel the same way. 
He's a career welder in the Local 67 Sheet Metal Union but somehow finds the time to build rad motos and bicycles, ride the seat off of them, work the door at venues around town, and host punk rock shows as a member of the worldwide Pyrate Punx booking collective—all while being there for his friends like me in ways no person ever has. 
Josh had picked me up on the side of the road with a snapped clutch cable at 3 AM—had to be at work at 5. 
When my ex and I got t-boned by a drunk driver, Josh found time to take us on every errand and to the majority of our doctor's appointments. At our benefit show, Josh bought 25% of the raffle tickets.
 Josh is that dude for me and too many two-wheelers, street-skaters, and music-makers in the Austin area to ignore. He's a native, there, and the scene wouldn't be what it is without him.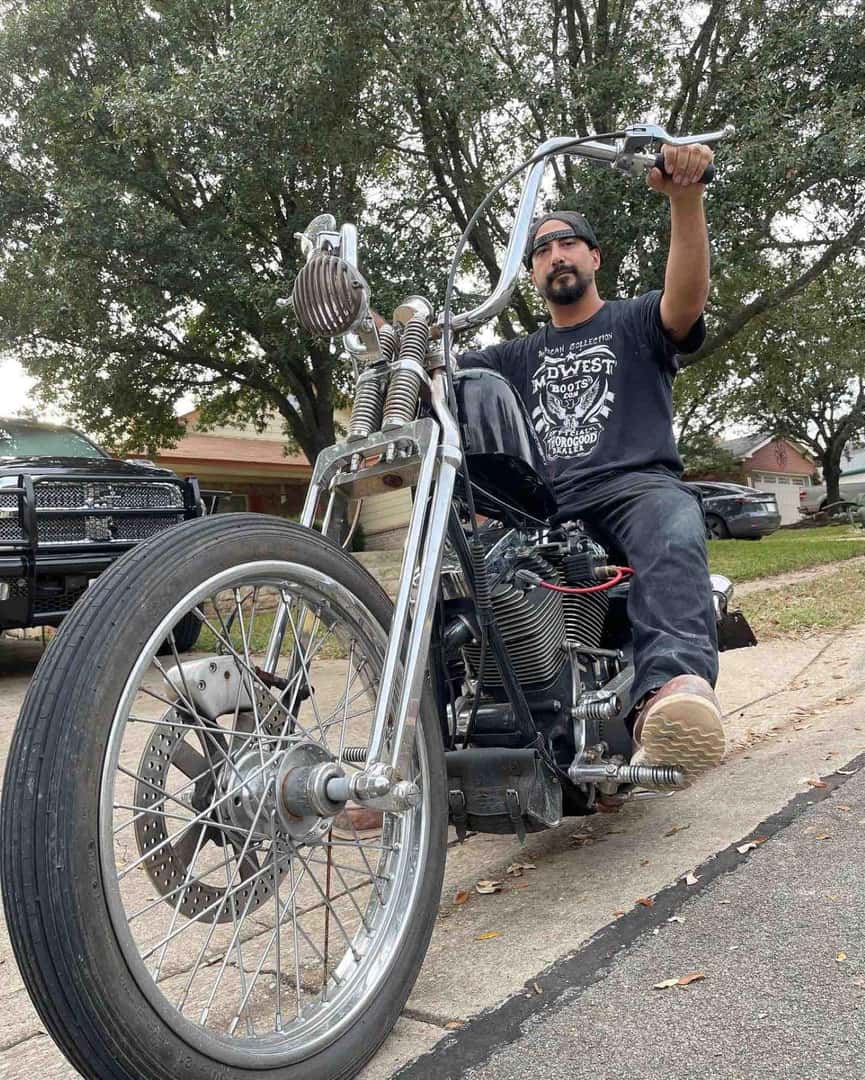 Now Josh has cancer—docs tagged him with Embryonal Carcinoma on November 5th, 2021. 
I sat down to catch up with one of my favorite Texas bike builders to talk about his history with bikes, overcoming his recent challenge, and, since Josh is one of the strongest motor-lovers I know, we talked about what's in store for the future. 
I'm here with my brother Josh Aguilar. Ok, Josh, first things first—let's start with the basics. Tell us about your favorite chopper you ever built: 
"Well, that's a hard one cus each one has something I wanted to do with the build from bicycles to motorcycles—it's just fun choppin' stuff up. Sketchy bare-bones easy rider style choppers are what I love, so it's only natural that I wanna make shit like that. I've been saving parts I got at swap meets, old bike shops, and bought off randos for maybe ten years; my most recent project has my imagination rollin'. Also, I did some frame alterations to give this build some nice flowin' lines. Can't wait to put my knees in the breeze with this one!"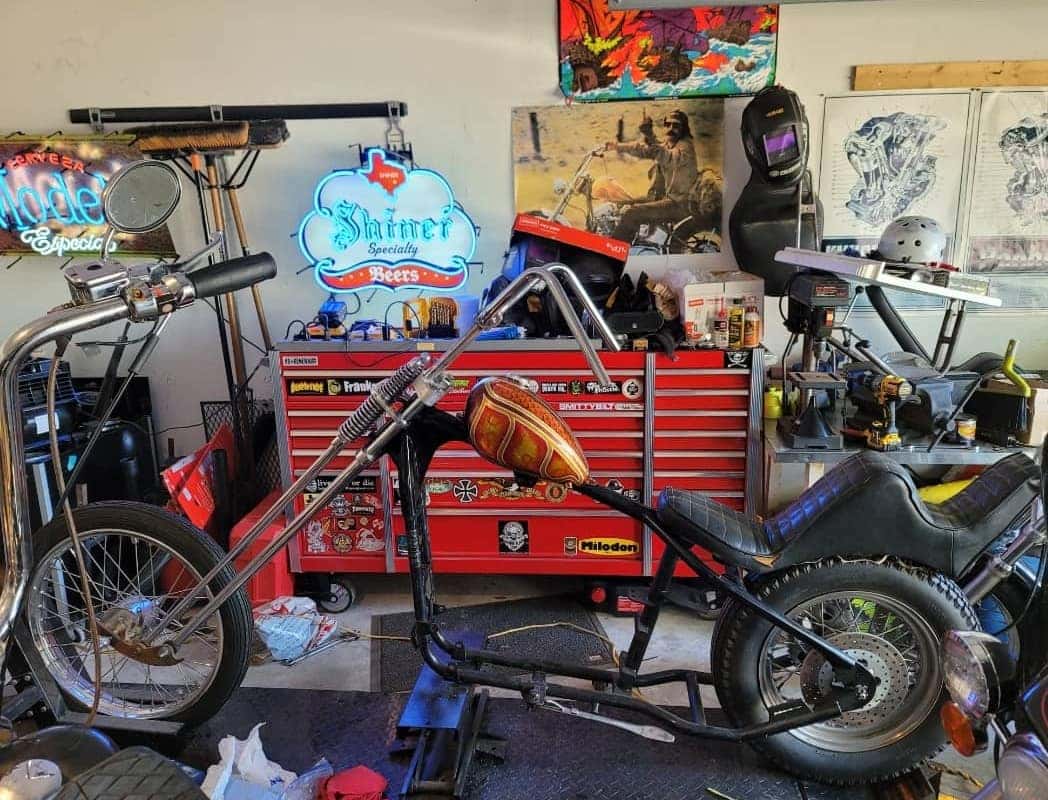 Tell us a bit about your history with motorcycles:
 "When I was a kid, I saw Easy Rider on TV, and a couple of other biker cult classics that instantly sparked my interest, and I swore that as soon as I could, I would get me a bike. Borrowed bikes here and there. I got a job, started saving up, then my pops cosigned on a loan for my first cheap used Harley. The stoke was high for sure and would ride everywhere all day, every day! I had to start learning how to work on my bike because I couldn't afford to take it to a shop, which eventually led me to motorcycle repair school. Which gave me big dreams of building my own bike, just like the choppers from those movies I saw when I was a kid." 
Who are your favorite bike builders in Texas? 
"My favorite Texas bike builder would be Matt Jackson from Jackson's Choppers for sure, cause he has that old-school style that I love in his builds, and he is a stand-up guy; I got much respect for him."
Who are you're favorite bike builders of all time?
"Obviously, Matt Jackson from Jackson's Choppers & Indian Larry because of his creativity, old-school-style with his own twist, and wisdom." 
Tell us a bit of your family's recent history with cancer, leading up to your situation: 
"Almost five years ago, my pops was diagnosed with stage 4 squamous cell carcinoma after being laid off only months from retirement. My father and I had a strong bond, and he always believed in me and my wild ideas. Talking with him was always judgment-free; I didn't have to try to fit the mold. So this news hurt bad. I was determined to do whatever it took to save his life. Since his insurance wasn't covering much and then dropped him, we had to scramble to get money to get him treatment and pay for all the bills that were already stacking up. I started a gofundme which helped a lot, but it wasn't enough, so my friends from this punk rock crew I'm in called Pyrate Punx organized a benefit show for my pops with a bunch of bands, donations at the door, and a raffle that had tons of amazing prizes from our whole community of bikers, punks, tattoo artists. It helped a lot—my father fought cancer for two years before he passed a little over two years ago. Now just recently, I was diagnosed with Embryonal Carcinoma on November 5th, 2021, and undergoing chemotherapy now. You can read more about this story here.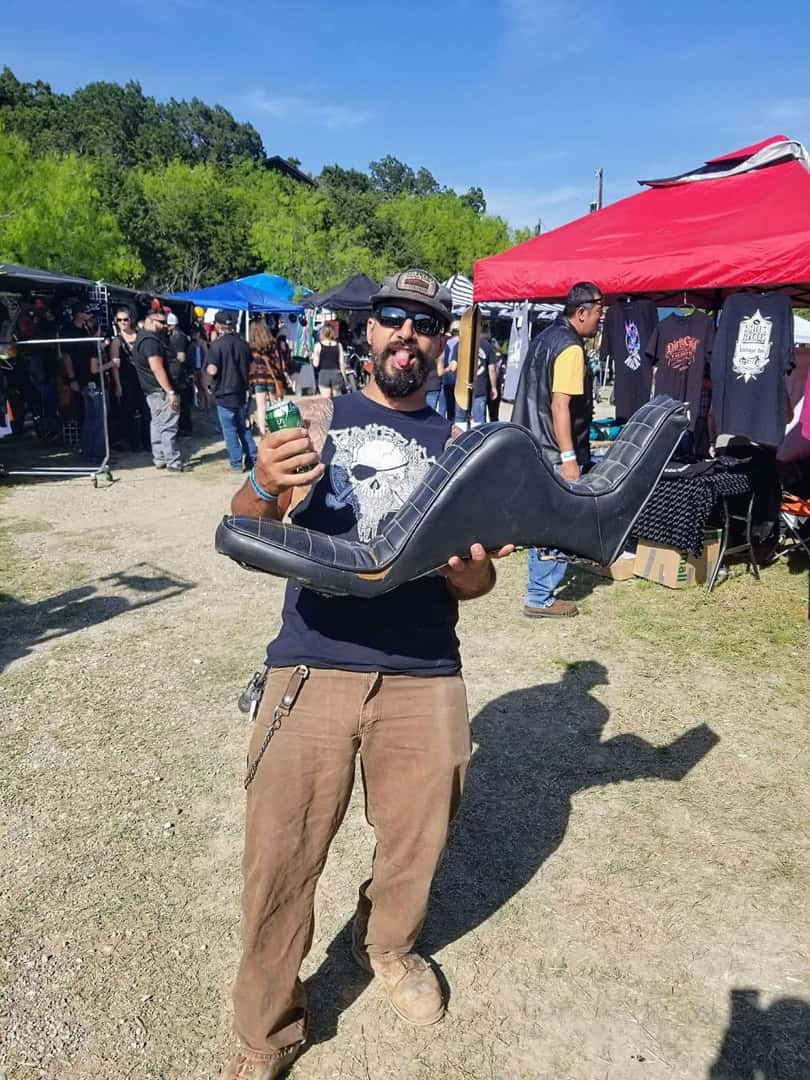 How has this been on Anya, your fiance?
 "It's been rough on her, but she is doing her best to stay strong, and I try to stay strong for her. She is the best thing to ever happen to me, and she has a heart of gold. I don't know how I got so lucky to have such a beautiful, kind-hearted soul by my side." 
How has it been on your mom, considering your family's recent history with cancer?
 "Mom is also doing her best to stay strong. I know she feels sad that my father is gone and now her only son has cancer."
 How does this affect your career as a Union welder in the local 67 sheet metal union? 
"There are many good people that I work for in the local 67 sheet metal union that is helping me out where they can. I am very thankful to be a part of this Union, and if everything goes well with my cancer treatments and surgery, it will be nice to be back to my normal everyday life." 
If you've ever had a good time on two-wheel in Austin, Texas, chances are you have a mutual friend with this dude and already heard about his situation; if you haven't, find out more and splash a little love on him and his—if I know Josh "Buzzard" Aguilar, it'll come back our way tenfold.
Visit Fundraiser by Anya Armaos: Josh's Cancer Fund ❤️ to find out more.