Daytona Biketoberfest 2018
Three days before the event, I set foot into the World's Largest Indian Motorcycle Dealership with the rest of my team for our fifth Daytona Biketoberfest. It was a Monday, so the store was closed and the store's full staff was there to tie up loose ends. The showroom before a rally always amazes me – the lighting is perfect, the bikes are in straight, diagonal lines, the shelves are stocked full of accessories, racks are slammed with new apparel, and everyone's favorite  – the coolest customs –  are front, center, and ready to catch thousands of eyes. The next morning, the showroom would be a sea of black shirts; coffee in hands, ready for the first morning meeting to kick off an exciting week.
Sure enough, as Lyle (GM) always promises, the motorcycle enthusiasts crowd our showroom wall to wall. Riders from Canada, France, Michigan and all over were there to see what we're bringing to the motorcycle world this year.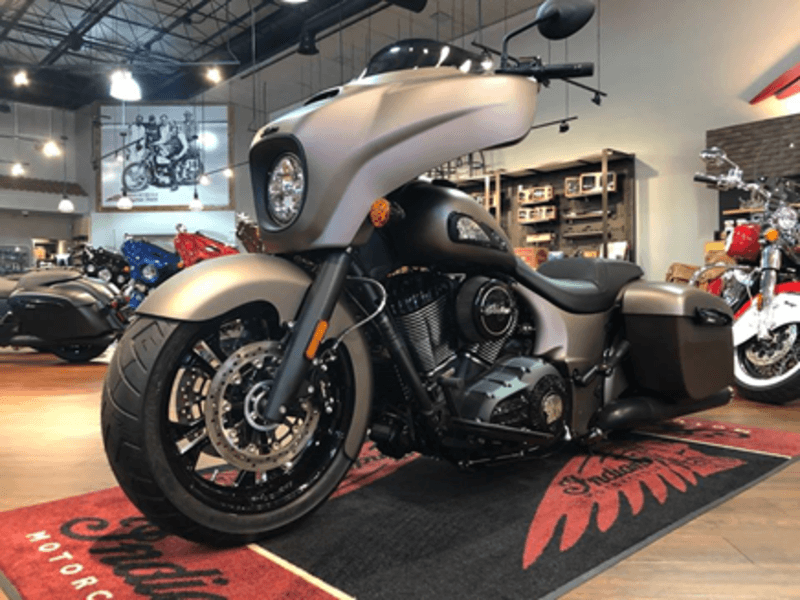 As always, RideHard Originals rolled out jaw-dropping customs, including Indian heavyweights with our new fat front tire kits, big wheel bikes and eye-catching paint.
Rolling on a fat front end, this 2019 Custom Indian Chieftain looks tougher than before. It's paired with front and rear air ride, a stage 1 air cleaner, mid-rise ape hanger handlebars, a flared windshield from Klock Werks and more.
The center of attention was this showstopping 2019 Indian Chieftain. Complete with custom paint and a powder coat, rocking a fat front tire, front and rear air ride, Klock Werks flared windshield, mid-rise ape hanger handlebars, Lloydz 585 cams, 116 Big Bore Kit, Kuryakyn Phantom Floorboards, stretched side panels and a frenched and molded rear fender. Before anyone sees it, they'll hear the 1,000-Watt ten component system boasting from the custom-made audio lids and feel the low rumble from the 2-in-1 Azzkikr exhaust.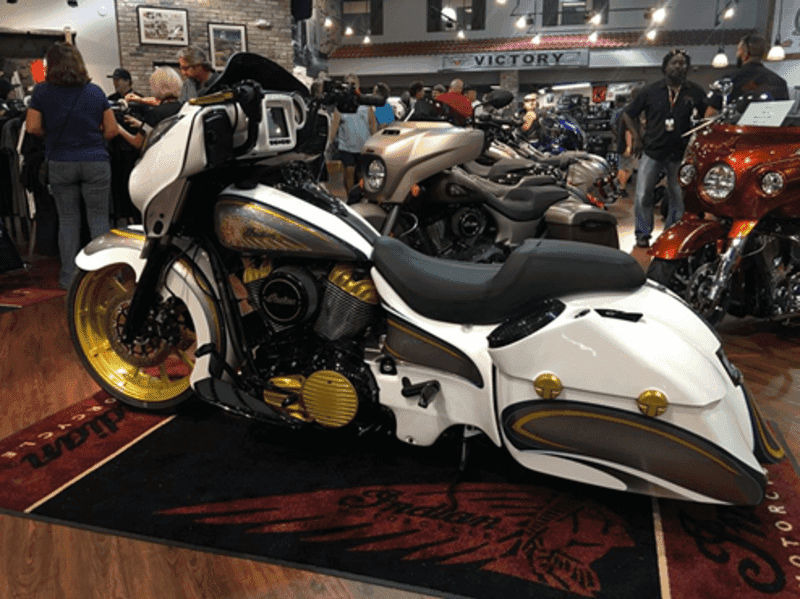 From our back lot, customers could take Indian Motorcycle Demo Rides, Polaris Slingshot Rides, experience our Ride-Through Experience, and shop a variety of vendors! The famous Rat's Hole Bike Show took over our back lot on Saturday, filling it with bikes from 14 classes including rat rods, extreme baggers, antiques, bobbers and more. On Sunday, IMRG Chapter #1949 started out for their second annual Coast-to-Coast ride. The 50 motorcyclists watched the sunrise over the Atlantic, then joined us for breakfast at the dealership before beginning the full day of riding. They chased the sun across the state of Florida to watch it set in the Gulf in the same day!
When Sunday rolls around, a time comes to reflect back on the past week. I stand in the back of the dealership and scan the showroom – everyone's faces are familiar to me now and I've now created memories with a lot of them. The showroom on the final day always looks empty – there's holes in the Icon Roadmaster line-up, only two custom bikes are front and center now, and the apparel racks are slimming down. It's a good thing, though. We showed up, we did our job, and we had an amazing time. Next: Daytona Bike Week.