Dusty Old Bags, Central America and Beyond
We all have a love for our favorite luggage, our favorite bags that have been through a lot of life with us covered in patches, dust, love, and who knows is that where it came from this name of the beautiful travel stories by Sheonagh Ravensdale and Pat Thomson creating the Dusty Old Bags, or is it a play on age and travel.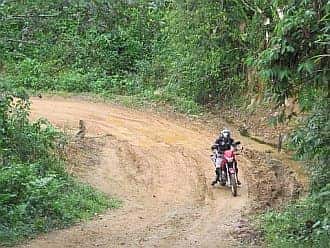 No matter how the name came about, the journey they took through Central America and beyond starting in 2010 is one of inspiration.
I think that many distance travelers, especially those that cross borders, have learned that this can be a highly stressful situation, there are things way out of your control and differences that occur through translation that you cannot see coming, or even the effects of a simple typo.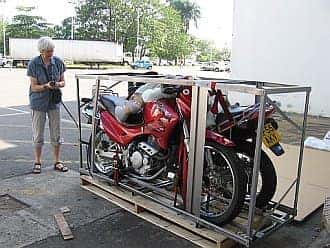 "Is there a lot of snow in Ukraine?", asks the policeman in Spanish at the roadblock on the Pan-American. I look at him blankly and his colleague asks, "What's the capital of Ukraine?" I go even more blank and the first cops says confidently "Kiev".
They're looking at our "Importacion Temporal" documents for the bikes.  The one-fingered novice customs officer at the airport had typed in "UK" for the bikes' origin. Unfortunately, the Panamanian computer thought this meant Ukraine and the officer refused to change it to GB.
Indicating way above my head, I assure the cops that there's a huge amount of snow in Ukraine and that it's much nicer in Panama (getting hotter and sweatier by the minute in all our gear out there in the sun on a baking motorway.) They wave us on cheerfully.
With over a year on the road they definitely were able to experience many amazing things. Not just sights or sounds, but tastes and experiences, this is what adventure is all about. They were challenged in many ways in foreign countries and had to explore building new air filters and changing tires on the side of the road in the middle of nowhere.
This is what a grand adventure is all about. They were on the road for over a year and visited many locations from Panama to Costa Rica, Nicaragua to Guatemala, El Salvador to Honduras, Mexico to the US, Japan to Korea, Malaysia to Thailand, Lau to Cambodia…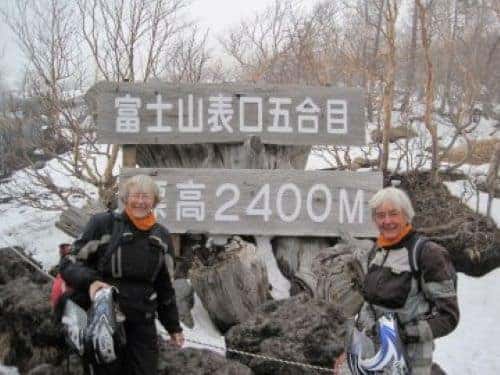 "The approach to Panama City looked like the arrival into Miami or New York with reams of skyscrapers on reclaimed land, but the area around the brilliant Mamallena hostel was purely local: bustling fruit, veg and fish markets, pavement stalls selling Christmas frippery, homicidal buses…Know your Enemy! One bus had "No Mercy!" on its bumper…"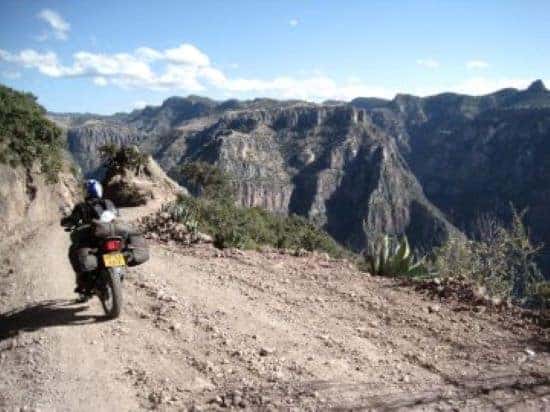 Through humor and great storytelling their travel story on Horizons Unlimited is one to be enjoyed. I like that they have lengthy posts really describing the roads in the locations they ventured into and accompanied by beautiful photographs.
It was fun to see that we were riding similar roads in Costa Rica at the same year over the same month, I even stopped at a similar roadside stand and bought those reindeer made of hay for my family for Christmas. It made me wonder if I saw them out there on the road.
We are quickly reminded at how small this world is and how many adventure motorcycle connections reach far and wide.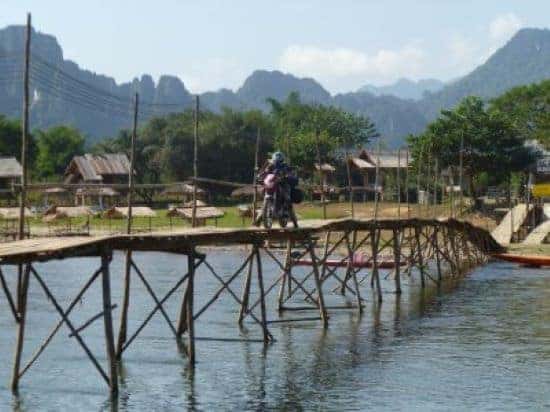 Their travels took them through many countries with vast differences in culture and infrastructure. "We suddenly came upon a huge new Japanese-funded bridge spanning the Mekong, found our way onto it with some difficulty and rode over to the other side of the river in Kampong Cham, Cambodia's fourth largest city.
The contrast between the two sides of the river could not have been more marked. The old bags are extremely dusty after this ride." The ride days varied from extremely challenging to leisurely, the variety added to their exploration of new location, new sites, and new experiences.
It is a journey worth reading. Be inspired and get out on the road to ride now, see you out there. For more visit: https://new.horizonsunlimited.com/tstories/sheonagh/dusty-old-bags-central-america-and-beyond-2010
Written by Danell Lynn, Guinness World Record Rider – www.danelllynn.com, @danell_lynn
Photo Copyrights -Sheonagh Ravensdale and Pat Thomson.