Guinness and the Bonnie – Topping the Charts
As a rider in love with the Triumph Bonneville, and fellow Guinness World Record rider on a Bonneville, I am consistently awed with the records we have broken and held on these beautiful machines…but this is not about my year long ride, this is about a young man with a drive and vision to take his Bonneville around the world.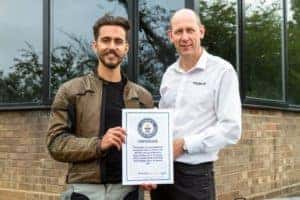 Kane Avellano began with a desire to see what the world had to offer, it was his first adventure in the summer of 2015 that gave him the idea of circumnavigation. Kane is a 20-something adventure, born in La Linea, Spain and when he was 2 years old they moved back to England to his mom's home town. Being raised by a single mom, he talks about her strength and determination being an inspiration to be more independent, and she encouraged him to take his own risks and make his own decisions. Risks that have led him to university and to the education created with an adventurers life around the world.
"In life, you have to be willing to take risks and when you do, you are presented with endless possibilities. I don't think that going around the world will necessarily change my life but it will certainly change my perspective, because you can't truly understand the world around you if you have nothing to compare it to. And as we say up North, shy bairns get nowt!"
The journey of becoming a GWR holder does not end the day your journey is completed…it is only then that scrupulous organization of evidence becomes an adventure all its own. It comes long after you have been home. When receiving the news Kane excitedly shared, "No one said it could be done! I spent months and countless hours organising 50,000 pieces of evidence meticulously, but it's official! I'm now the Guinness World Record Holder for the Youngest Person to Circumnavigate the World by Motorcycle!"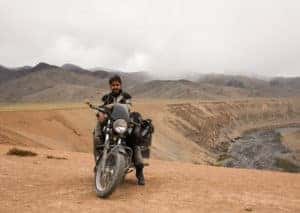 Bonnie and Kane rode through tropical storms, desert hear, slept on many roadsides and met hundreds of amazing people from around the world. He talks of the hard times they got through in the Himalayas, 'We persevered and improvised when things got tough and we never stropped pushing to the finish line for a record that seemed impossible." Having spent 233 days riding the world, over 32,000 miles and over 35 countries, it is a feat to be proud of for sure. And as Kane will say, it is about the people that helped and that he met along the way that truly made his record possible.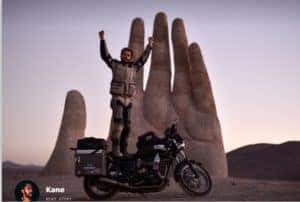 He is a great two-wheeled adventurer, but he does not stop there and is looking to future records and future challenges. Always looking to stretch his comfort-zone, he is an inspirational reminder to chase your dreams, no matter the form they take. Enjoy the ride, see you out there on the road.
For more on Kane, or to see some of his new adventures that his expedition heart has created, visit his website: https://kaneavellano.com/
Written by Danell Lynn, Guinness World Record Rider –www.danelllynn.com,
@danell_lynn, @adventure_financist Photo copyrights Kane Avellano.