Hit the Road: Adventure Motorcyclist – A Year On The Road
How do you decide to go on the road for a year? Which is the right bike? Where will you go? 
Many questions are just curiosity and interest and I see it a chance to challenge others to give a voice to their inner wanderers. I decided to hit the road for a year after a lifetime of travel, it just kind of all aligned into a dream. I saved for two years and the hit the road to ride through North America. Many of the supplies I purchased on sale and was able to shop around and used because of the timeline I had prior to departure.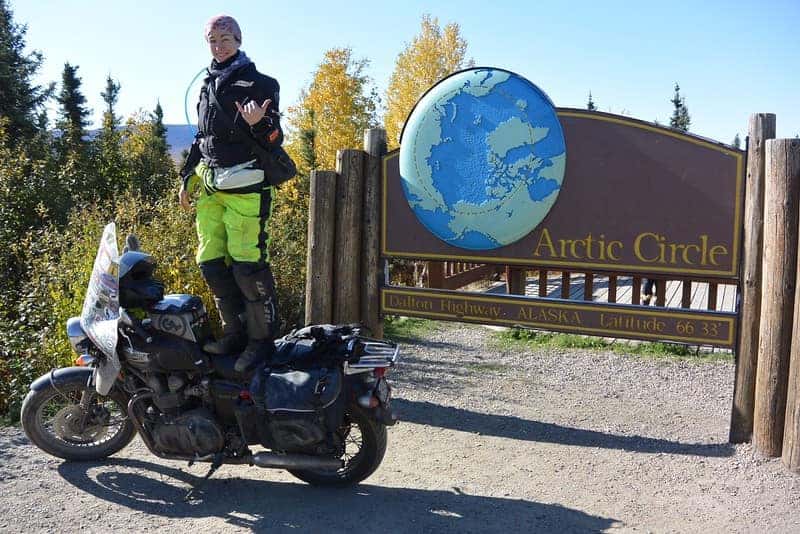 When selecting my choice bike for such a trip, I simply listened to my heart. I have always loved Triumph Bonneville and Scrambler, and I was browsing used bikes one day, and there she was! And man was she a beauty. I went right away, cash in hand, took a test ride, and then rode her home. Amelia, 2006 Triumph Bonneville was the bike to take me around my native country, ensuring great experiences and adventure!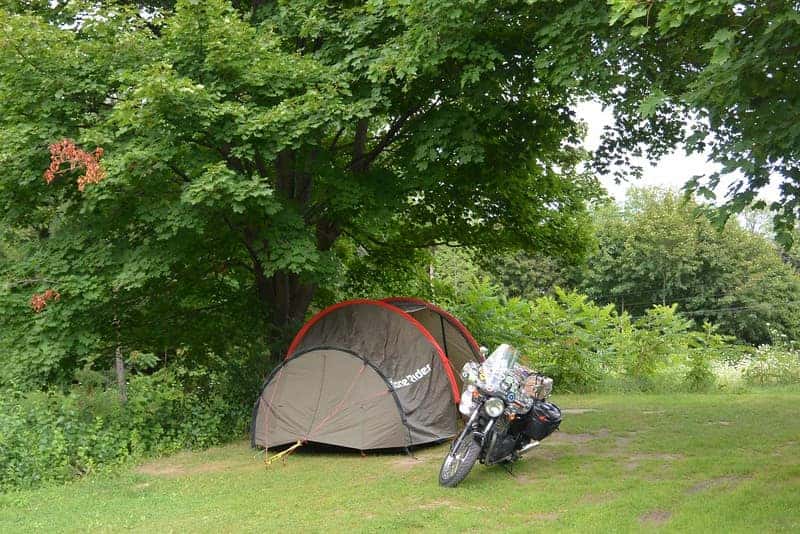 But really how to select the perfect bike for you…is simply that, the perfect bike for YOU. If the bike speaks to you and fits what you want from your adventure, then it IS the right bike for you. There may be some modifications that you make for the long-haul riding, I added a rear-rack for luggage, and an extra padded gel seat from British-Customs.
I re-purposed the windshield my father got me for my 1982 Virago as a gift before we hit the road for our 4-corners ride that we did one summer. I sketched out a map along the bottom side of the shield to track my adventure. It was fun to put on my stickers of my travels and then it  became wall hanging art after the adventure!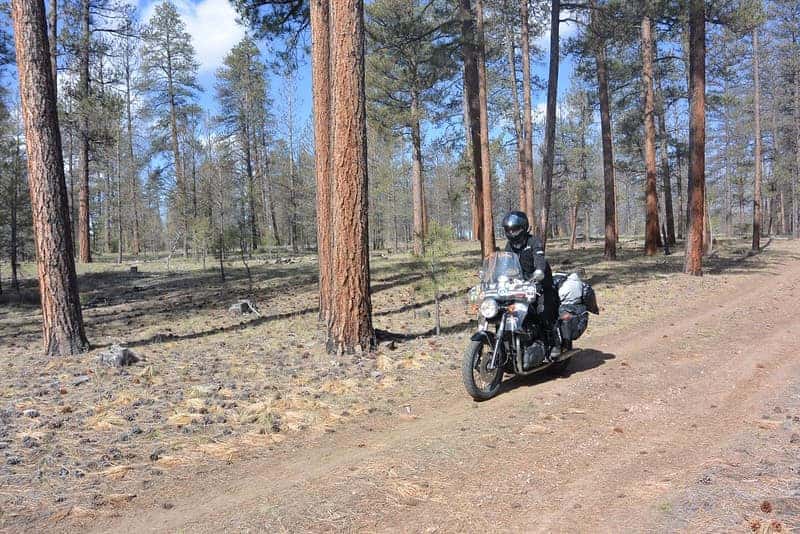 Once you have the wheels, how will you live out there on the road? For each it is different, if you plan to stay in hotels throughout your travels your budget will need to be higher than if you choose to camp or even wild camp along the way. 
I grew up camping and wanted to enjoy getting back to nature. I like goals, and am odd with setting milestones to hit, so once I decided that I would camp along the road, I decided that I needed to pitch my tent in all 50 states as part of many other goals I had for this journey. I was honored that the year I was heading out to ride for a Guinness World Record, LoneRider Adventure Motorcycle company choose to sponsor my tent. And I have never looked back, the quality is top notch, and I now own three different size/varieties of their tents.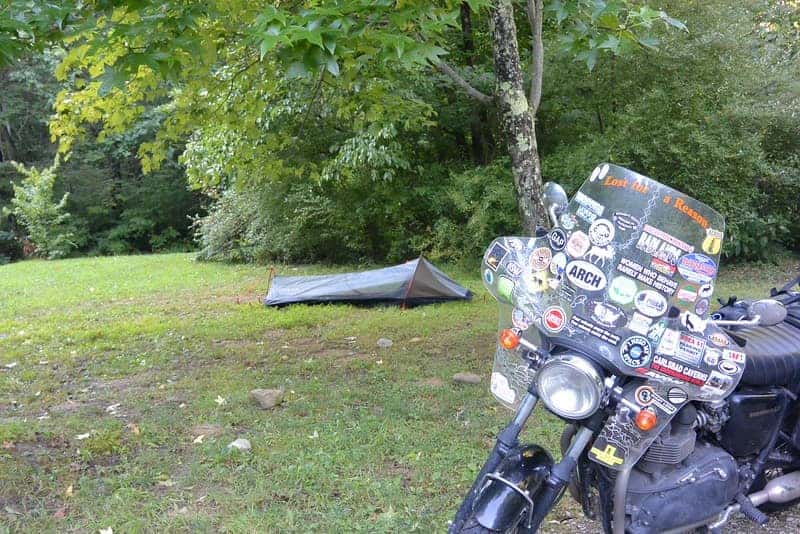 For sleeping, I started with a cot and moved to a mat. I started the trip with a Thermarest backpackers cot. I had previously used a Thermarest inflatable mat for about 5 years and it is still in great shape. On my test trip to the Overland Expo I really felt the need to upgrade, I have never loved having to re-inflate the mat every time and with camping for a year I decided to go with a cot that I just unroll and build!
I used the cot for the first 7 months of my trip and had to exchange it twice for pole issues and in then it began to sag, and I was sleeping on the poles so I changed to a NEMO – 3″ inflatable pad that has the option of a foot pump that is integrated so that I don't have to expel all my energy airing.
Really the biggest challenge to getting out on the road and long-term adventuring is the mental warning that try to tell you not to go, and remind you of all the things that could go wrong…but focus on all the things that could go right and how amazing it would be.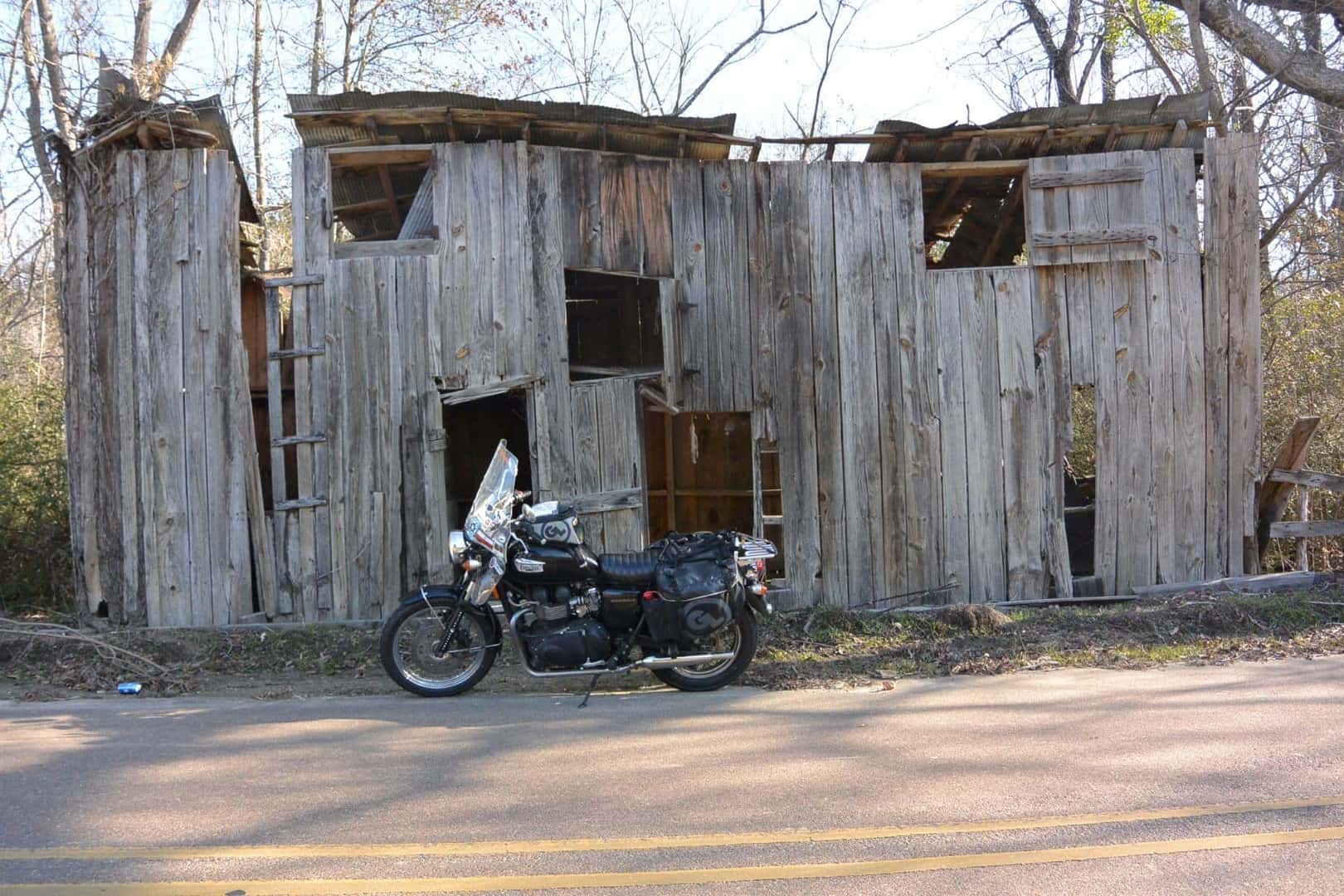 See you out there on the road, ride free, ride often, and definitely- Ride Now!
For more on my tent, and to see episodes of the journey, check out YouTube: DanellLynn
Home Away from Home –LoneRider: https://youtu.be/O_tUAI7zdMI
Written by Danell Lynn, www.danelllynn.com Guinness World Record Motorcyclist. Photo Copyrights: Danell Lynn.