motelorcycle [moh-tel-er-sahy-kuh l]
motelorcycle [moh-tel-er-sahy-kuh l]
1. (noun). a motor vehicle similar to a bicycle but usually larger and heavier, chiefly for one rider but sometimes having two saddles or an attached sidecar for passengers, that journeys across the country and rests at roadside lodging.
2. (verb). to journey by motorcycle with an overnight stay in a vintage motel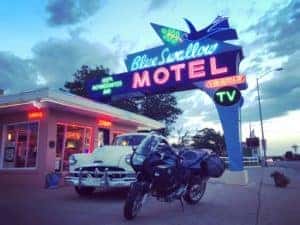 At 50 years old Andrew Beattie set out on a motorcycle journey with a specific purpose. He would spend 50 nights in 50 mid-century motels across America. Sleeping in their beds, embracing the conversation of the road and history of moteliers, Andrew embraced the road with over 10,000 miles circling the America and hitting 50 iconic motels.
'There is a cheesy romanticism about motels and motorcycle travel. Images of iconic 1960's motels and James Dean prevail in your mind. They take you back to a bygone era where holidays and business trips were king and many first experiences were realized.
The irony that motels were brought about as a result of cars and this is about motorcycle travel and motels is not lost. But by bridging the two together we can hopefully realize a romance that is a long time in the making'.
He talks about the history and charm of the moteliers preserving this piece of Americana. When you visit his website you become inspired (I actually paused my research to message my folks for a post-covid adventure to some of our nearby icons, in Arizona there are many).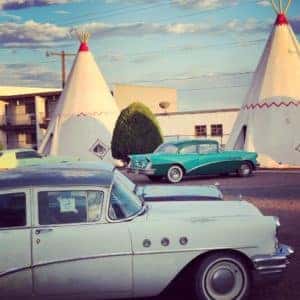 Get lost in the kaleidoscope of colorful pictures and his reflections of the kindness of strangers, American character, and the motels that served as havens on road trips and fueled the American dream. We often float by them and at a glance embrace the uniqueness and throw back to great American road-trips.
Venture into the past through Andrews book and learn about why the moteliers have chosen to settle in their locations and what drew them to restore these historic sites. He gives advice and know how for why these motels are great for motorcyclist and the other travelers you will meet along the road.
"I discover the quirky cultural elements unique to each place. Finally, in the long periods of quiet helmet time on the highway, and beyond the buzz of the old half lit neon moteI signs, I get time to evaluate where I am in my own life and share with you the thoughts I derive from hours of solitude"
Find more about Andrew and his adventures: https://motelorcycle.com/ Love the blub about his book Sleeping Around in America – a book to satisfy armchair travelers, American pop-culture enthusiasts and nostalgia seeking romantic explorers! 
Written by Danell Lynn, Guinness World Record Rider –www.danelllynn.com,
@danell_lynn, @adventure_financist Photo copyrights Andrew Beattie @themotelorcyclist