Mr. Consistent Clinches Title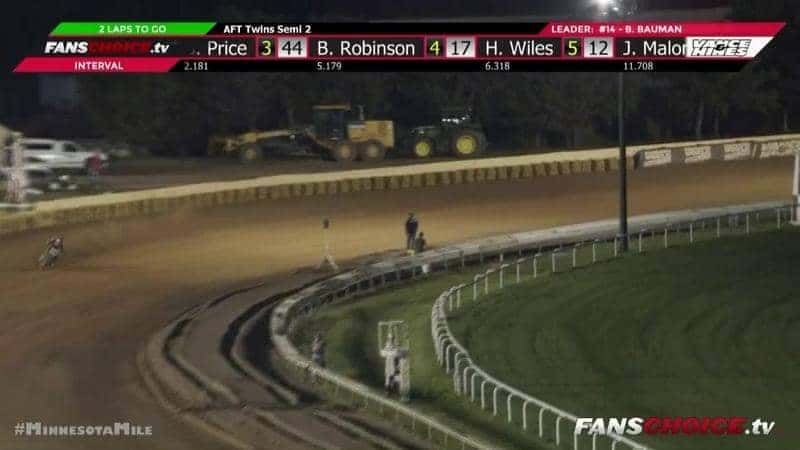 Coming into the second to last race Minnesota Mile, defending champ Jared Mees (Factory Indian) found himself in 2 nd on the overall points board. He not only needed to win, but needed catastrophe to strike teammate Briar Bauman, in order to be in position to contend for three-peat in the final race. He got his wish.
Briar has been Mr. Consistent throughout the 2019 season. He has finished on the podium in 14 of the 16 races thus far – a remarkable feat in itself. With a commanding lead, he didn't need to push the pace, just run his usual consistent game.
Briar's semi win gave him a front line start in the main event which he done all season. However, early in the main he found himself a victim of a 5-man race including brother Bronson Bauman (Factory Indian), Brandon Price (Roof System's Indian), Stephen Vanderkuur (AMSOIL's Indian), and Sammy Halbert (Factory Indian).
Looking like a cut shop, Briar's team worked to band and kick and reposition the bends and dents.  Despite the great work, catastrophe seemed to have struck. They were able to have his bike rideable, but because of a local curfew the main event would only be 15-laps instead of the norm of 25. To top it off, shortly after the restart, another accident happened, but Briar was fortunate to not be a part of it.
Unable to cruise to the podium, Briar had to push the beaten-up iron horse. Where most riders prefer to ride the low side (path with the shortest distance), Briar chose to push the high line which proved to be smart. As he was able to cruise relatively without contention on the high line, he eventually found himself sitting in 4 th behind a hotly contested 2 nd place position between former champ Bryan Smith (Crosley's Kawasaki) and Jeffery Carver Jr. (Roof System's Indian).
Briar was able to get past Carver found himself in 3 rd . Not happy with just a podium, and rightful so, as most riders would not have the grit to battle his bad luck he faced that night, he pushed Bryan and made a move but a clash in turn 4, allowed Bryan to fend off the would be champ and take 2 nd place.
As for Mees, being 35-points down coming in meant he had to run a perfect race and he did. Mees finished 1 st but Briar's impressive performance overshadowed the night. However, in true class Mees drove Briar around on the victory lap, signifying a new champ.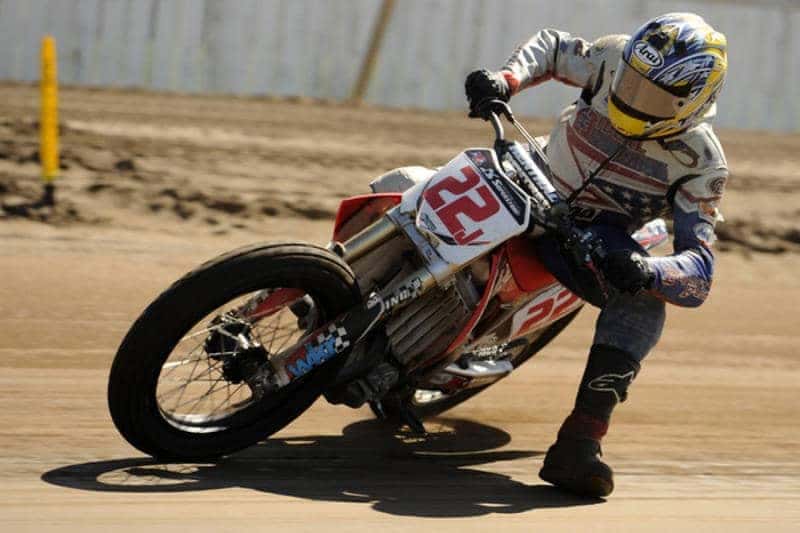 After the race, "My goal was to win these last two races," Mees said. "Being 35 points down, it was really going to take some extremely bad luck for Briar — which almost happened to him. But he has a phenomenal team and they worked endlessly to get that bike put back together and back up front. I knew once he re-entered the race he was going to get third. Hats off to him and his team, and huge hats off to Indian Motorcycle for clinching their third championship…It's hard to lose that #1 plate, especially after the domination we've had the last two years. But it went to the best guy this year, and I'm looking forward to next year to get it back" Mees said (AFT).
As for an emotional Briar, "I don't know if I can put words on this right now…I've dreamed of this my whole life. I used to have posters of Bryan and Jared hanging in my room growing up. And to win it… I can't even put it into words. I don't even know what else to say" he said (AFT).
With just one race remaining, don't expect Briar to lay low. Putting on a show for the awesome fans of American Flat Track racing is great, but he has one more thing to cross of his 2019 list – win a mile.
Next race, the Meadowlands Mile in East Rutherford, NJ on Sept. 28 th .