2022 Indian Chief Lineup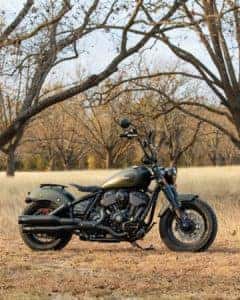 In a highly anticipated announcement from Indian Motorcycle this week, they reimagined the all-new foundational platform known as the Chief. One hundred years is how old the nameplate runs. Released as a 2022 model, the company reimagined it as a drastic departure from the long flowing lines and fenders of previous Chief models. Simple, bare, mechanical, and very nostalgic minded.
Equipped with the Thunder Stroke engine 111 powertrain, twisting 108 pound-feet of torque (claimed) surrounded by a new steel frame design that empowers the openness and gooseneck style. With the new frame comes new packaging, and dimensions are abbreviated compared to bulkier past models; we're talking a wheelbase of 64 inches, a low seat height of 26 inches, and a drastic weight reduction; the new Chief is a claimed 670 pounds wet, comparable to a similar equipped Softail Slim at a measured 671 pounds, versus 812 for the original Chief Classic. Conventional 46mm forks with 5.2 inches of travel take up the front, and Indian even touts a 28.5-degree lean angle for the models as well.
A sharp turn from the heavily covered and bodywork of previous Chief models, the new bikes show a lot more of their foundation, with open necks, uncovered risers and fork tubes, and even exposed shocks, all of which will make the home customizer pretty happy. There is also a 4-gallon fuel tank, dual preload-adjustable rear shocks, a dual staggered exhaust, very cool LED lighting, three ride modes, keyless ignition, and Pirelli Night Dragon tires.
The lineup includes 6 total models starting with the Chief (base model starting at $14,499) and ranging to the Super Chief Limited (starting at $20,999). There is a trim package for the every-rider.
Let's talk about that Super Chief for a moment, the light-touring styled motorcycle is equipped with a quick-release windscreen, leather saddlebags, touring seat with passenger pad, floorboards, and wide handlebars. That's a big list for a factory-trimmed cruiser-turned-touring model. This bike is comparable to the Road King and Heritage models. The Super Chief will list at $18,499 in Black Metallic and the Pearl White color will cost $19,799.
Need more? The high spec Super Chief Limited packs on the Thunder Stroke 116 motor, ABS, Ride Command with Round Display, ABS, and many other goodies available at this trim level, it will start at $20,999 in Black Metallic. Maroon Metallic or Blue Slate Metallic will be an extra $500.
All in all, we think the new 2022 Indian Chief is a home run. Let's hope we get this bike to the showrooms quickly because the riding season is starting to look pretty nice. Have you heard about the Indian demo tour going on this year? Rumor is the Chief is available for rides. Hit us up on social for the updated event dates.