Nine Ways To Get Your Motorcycle Fix While Quarantined
If you happen to live, like, anywhere on earth right now, you're probably spending a lot of time at home. Being quarantined certainly has its perks, but there's only so much work, sleep, and Tiger King one can consume before the insanity starts to set in.
As motorcycle riders, we're fortunate to have a hobby that allows us to escape much of the stress and uncertainty of our modern world. But there are still plenty of days in early spring when hitting the road just isn't an option. So, for those days when you need your two-wheeled fix and you're stuck at home, here's a list of motorcycle-centric books, movies, and TV shows we highly recommend you explore.
Books
Zen & The Art of Motorcycle Maintenance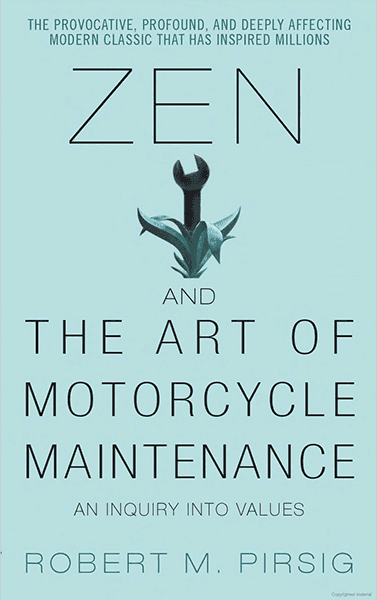 No list of motorcycle-themed books is complete without Zen and the Art of Motorcycle Maintenance: An Inquiry Into Values. Written by Robert Pirsig in 1974, the book is a fictionalized autobiography that follows the narrator and his son, Chris, on a motorcycle journey from Minnesota to California.
ZMM covers a wide range of philosophical topics, many of which are intertwined with the fixing of the narrator's motorcycle. Reading about philosophy certainly isn't everyone's cup of tea, but Pirsig writes in a way that makes the subject approachable and relatable. This book is an all-time classic for good reason.
If you enjoyed ZMM, the book Zen and Now: On the Trail of Robert Pirsig at the Art of Motorcycle Maintenance by Mark Richardson is absolutely worth checking out. Richardson becomes a 'Pirsig Pilgrim' and follows the same path taken by Pirsig in ZMM, and has adventures and important personal revelations of his own.
Twist of the Wrist
Like ZMM, Twist of the Wrist: The Motorcycle Road Racers Handbook is another staple of any good motorcyclists library. It's one of the most complete and thorough explanations of how to ride a motorcycle you can find.
It goes into incredible detail – you could easily call it 'nerdy' it gets so detailed – on almost every aspect of how to ride effectively, how a motorcycle reacts to rider inputs, and how to extract the most from your machine. While the book is definitely focused on helping riders improve on the track, the principles and ideas in it can easily be applied to everyday riding.
Keith Code, founder and director of the California Superbike Cornering School, wrote the book in 1997 in addition to numerous other books on how to successfully ride a motorcycle. No matter your skill level, there's something new to learn from Twist of the Wrist.
Long Way Round
Long Way Round recounts the adventures of actor Ewan McGregor and his friend Charley Boorman as they ride motorcycles from London to New York City the long, long way – 18,887 miles through all of Europe, Asia, down through Alaska, and across the United States. Talk about taking the scenic route.
LWR is also an acclaimed television series and movie. The journey lasted from April to July 2004 and the two men and their camera crew traversed 12 countries on their BMW GS-series motorcycles, and created one of the most epic road trips imaginable. Countless obstables, mishaps, and incredible experiences are
recounted in the book. Three years later, McGregor and Boorman were at it again, this time riding from London to Cape Town, South Africa for a journey they called 'Long Way Down'. If you need some inspiration for your next road trip, this book was written for you.
Movies
Hitting the Apex
Available on: Amazon Prime, iTunes, YouTube, Google Play, DVD
I have a particular soft spot for Hitting the Apex. Directed by Mark Neale and narrated by Brad Pitt, HTA came out in 2015 and "is the story of six fighters – six of the fastest motorcycle racers the world has ever seen – and of the fates that awaited them at the peak of the sport."
The film follows MotoGP legends Valentino Rossi, Marco Simoncelli, Jorge Lorenzo, Casey Stoner, Marc Marquez, and Dani Pedrosa as they battle on the track, clash off it, and experience the breathtaking highs and crushing lows that come at the pinnacle of motorcycle racing.
HTA is thrilling, heartbreaking, gripping, and will inspire you to learn more about the incredible men who race in MotoGP. I've never wanted to get on my motorcycle more intensely then when I finished watching this film.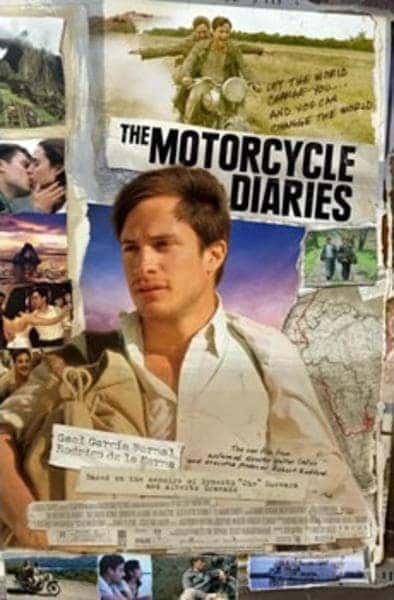 The Motorcycle Diaries
Available on: Amazon Prime, YouTube, iTunes, DVD
This 2004 film is more than just a biopic about the infamous Marxist and guerilla leader Che Guevara. It follows Ernesto Guevara (who would later become known as Che) on his epic 1952 motorcycle excursion and the experiences he had on that trip that helped inspire him to the political ideologies that he's known for today.
TMD is actually based on and shares the same name as the diary that the real-life Guevara kept of his trip. Guevara and his friend Alberto Granado planned on riding Guevara's Norton 500 roughly 8,700 miles across South America. Although the bike eventually breaks down, the two men continue on, and Guevara discovers the truths that lead him to be such a polarizing figure. The 'road movie' elements of TMD are particularly enjoyable, and the rest of the film is entertaining and engaging. It's definitely worth a watch.
Easy Rider
Available on: Amazon Prime, iTunes, YouTube, Google Play
Easy Rider is easily the most influential film on this list and is a must-see for any motorcycle enthusiast. Released in 1969, the film changed the way Hollywood made movies, became a symbol of the movements and changing attitudes taking place in the United States in the 1960s, and Peter Fonda's chopper with American flag painted gas tank is easily one of the most iconic motorcycles ever put to film.
If you're unfamiliar, the film follows two characters, Wyatt and Billy played by Peter Fonda and Dennis Hopper respectively, as they ride across the country with drug money and spiritual truth and their goal and destination. Legendary actor Jack Nicholson also makes an appearance in the film. There likely no another motorcycle film that has had the same massive cultural impact as Easy Rider.
TV Shows 
Sons of Anarchy
During its seven seasons, SoA was one of the most popular shows on television and attracted millions of viewers every week. Following an outlaw motorcycle gang in the fictional town of Charming, California, SoA is full of drama, violence, and important themes like racism, loyalty, redemption, and government corruption.
Charlie Hunnam plays the main character Jackson Teller as he navigates the politics and challenges of his motorcycle club, his complex family life, dealing with rival motorcycle gangs, his club's illicit activities, and a whole mess of stuff in-between. One particularly cool element of SoA – in an effort to make things as authentic as possible, several actual Hell's Angels members served as technical advisors and made guest appearances on the show.
American Chopper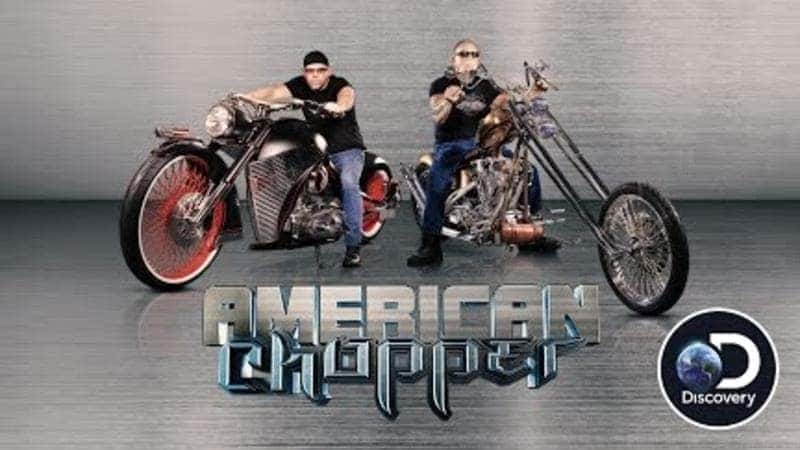 And then there's American Chopper. I'm not normally a fan of reality TV, but there's something about American Chopper that's hard to resist. Maybe it's the trainwreck of a relationship Paul Teutul Sr. and his sons share, maybe it's the insane bikes they create together, or maybe I just don't know when to look away from a car crash.
Airing from 2003 to 2012 and returning for one season in 2019, American Chopper follows the work of Orange County Choppers and the wild cast of characters involved in the company.
There's too much madness to possibly recount here, but suffice to say, if you enjoy drama of the highest order, but also love motorcycles, top-notch fabrication, and fascinating custom bikes, there's no better show than this one.
Nitro Circus
If you've never heard of Nitro Circus, you should familiarize yourself with it immediately. It's essentially TV, web, and live show that showcases mesmerizing stunts, racing of every shade, and some of the most talented athletes in the world.
Led and co-founded by the legend that is Travis Pastrana, Nitro Circus started out in 2003 as a collection of friends who simply enjoyed filming their stunts. Since then, it has grown into a massive organization that encompasses a globetrotting live show, television show, 3D movie, and an action sports competition. Dirtbikes, rally cars, BMX bikes, skateboards – basically anything you can do insane tricks on, Nitro Circus features it. If adrenaline is your jam, it doesn't get much more entertaining than this.