Oh the Dreams we Dare and the Dreams that Come

We have all seen the pillows inscribed with the psychology of the road, "I don't need a therapists, I have a motorcycle." But when your mind is dead set on pondering life and why things happen, as it did for the The Existential Biker, you tend to view the world through happiness goggles.
The pleasure of bikes can come into our lives, leave, and come back again…reigniting a long lost love. For Louisa Swaden it was a 24 year separation that upon rekindling sparked great joy.
"Motorbike adventure riding and racing is a BIG part of my life now, but it wasn't always so. I learnt to ride when I was 17, it was for purely practical reasons as I left school and went straight out into the big wide world and needed something to get me the 1.5 miles to the business park where I worked. I passed my full test when I was 24, though I didn't ride a bike for the next 24 years."
With a desire for understanding and finding where happiness lays, a story of inspiration and dreams began to form. "It is the reason for The Existential Biker. I hope this story can inspire others to find out what makes them happy and then to find a route to that happiness. It may not be easy, but it will be worth your time. Because time is the most valuable thing we have and when it's gone…it's gone."
Exploring yourself and finding meaning is not an easy button you press. It will take some work and dedication to the pursuit. A word of caution…it just might lead you to a lifelong love with motorcycling and adventures. In 2015 Louisa began to really look deeply into happiness and how she would define it for her life.
"Over a few months I wrote down all those things that made me smile on a big A2 piece of paper and stuck them on the wall. Then I carefully categorized and prioritized them. I wrote down quotes that were meaningful to me. I read books on philosophy, psychology and martial arts. Books on altered states, reality, perception, physics and Kafkaesque novels. Practiced yoga, exercised and meditated. All this enquiry led me to understand some important truths about myself and to know some things for certain."
From this dedication to pursuit she learned how important Freedom and Adventure where in her life and 'fundamental to her happiness.' One of the most powerful statements of many words on a beautiful crafted blog, Louisa writes… "So I did something about it." The step many fail to take, the door many leave closed, finding your path and taking it are both challenges, and when you accept it…oh what a life.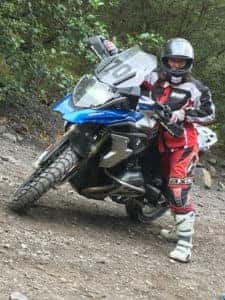 In 2016 she took a sabbatical and began to embrace the adventure of seeing the world. Sailing from the Caribbean to New York, adventuring through the rainforest in Panama, riding a motorcycle through Death Valley… "Of all those things, the one I least expected to leave a lasting impression was the motorcycling." And since she continues to put rubber to the road all across the globe.
If this rider does not get you pondering, pursuing and taking on the chase to catch your dreams…well all I can say is read more at: www.existentialbiker.com
Enjoy the ride, take a deep breath, and pursue your 2-wheeled joys. See you out there on the road.
Written by Danell Lynn, Guinness World Record Rider –www.danelllynn.com,
@danell_lynn Photo copyrights Louisa Swaden (The Existential Biker).