One Road One World
It is NEVER to Late Unless you NEVER Start
What holds us back from chasing the life of our dreams? Is it health? Time? Money? What excuses have we given ourselves? Meet two riders that took to the open road to discover the 'world, understand life, learn [new] cultures, and meet local people'.
Adventure riders, Ferry (The Netherlands) and Gulcin (Turkey) met while backpacking in Indonesia in February 2016.
"We straight away fell in love and decided we wanted to travel around the world and Gulcin wanted to this by motorcycle while Ferry [had] never ridden a motorcycle  before. So, Ferry got his license in June 2016 and July 2016 we started our trip around the world by motorcycle."
In took only 3 months and they chose to hit the road, "with no real planning, just go." With little experience on riding motorcycles and living in a tent they chose the first journey to be through Europe. Then they would turn to Africa after 4 months in Europe and they would spend almost 20 months in Africa.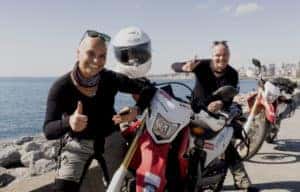 While on the road they got hit with an unwelcome passenger.  They started their journey in 2016 and in the middle of their expedition through Africa, "I had smuggled a passenger inside me, who was false-hearted, getting bigger day by day," writes Gulcin about her unexpected breast cancer that hit on the road.
"When we were saying goodbye to the African continent, we were already making a plan how we will keep continue to our journey and what is next. We were agreed to travel a little in Turkey and visit [Gulcin's] family after that ride to the Balkans and than ship the motorcycles to the USA. Of course, we didn't know which kind of surprise was waiting for us and would have changed everything in a second."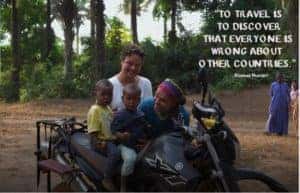 Although breast cancer created a pause in their journey for treatment, it did not stop their "life of journey." They have visited over 55 countries through Europe and Africa. They continue to ride the world and experience the adventure of new cultures and world friendships.
Their journey thus far:
July 2016 – November 2016 we traveled in Europe, ride to the North Cape (Norway) and passed 21 countries and ride 21.000 km in Europe
November 2016 – June 2018 we traveled in Africa, we completed Cape to Cape and passed 33 countries and ride 50.000 km in Africa
July 2018 – April 2020 we fight and beat breast cancer
May 2019 – November 2019 we traveled in Turkey
April 2020 – Unknown Alaska to Ushuaia We are ready for our adventure
The On Road One World website features many great articles. The cost elements of their journey, their motorcycle choice and maintenance on the road, camp and backpacking, health & safety, visa requirements and so much more. Get inspired, laugh out loud, and feel raw emotion of humanity at its finest.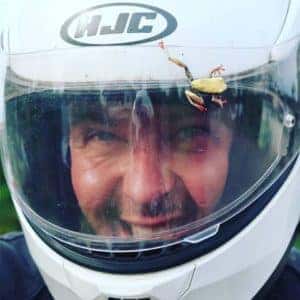 Sometimes by happenstance, you may even catch wildlife on the road – on your face shield. It was December 2019 and they were riding under trees in Cameroon, when all of a sudden-plop!
"The normal thing [that] comes on your helmet are small flies or other flying bugs, this time… a frog fell down from one of the trees on my helmet. Funny moment."
In conclusion, live loud, live true, and hit the road. Enjoy the ride, I hope to see you out their on the road.
Follow the adventure: http://oneroadoneworld.com/
Written by Danell Lynn, Guinness World Record Rider –www.danelllynn.com,
@danell_lynn    Photo copyrights One Road One World, (Ferry & Gulchin)