Phoenix Bikefest 2018
It's baaack! Phoenix BikeFest is returning for 2018 and runs from Thursday, April 12, to Sunday, April 15 at the Peoria Sports Complex!
If you're a motorcycle enthusiast, this is the event of the year. Last year's show was an absolute blast and RideNow is proud to be hosting the fifth annual Phoenix BikeFest again this year.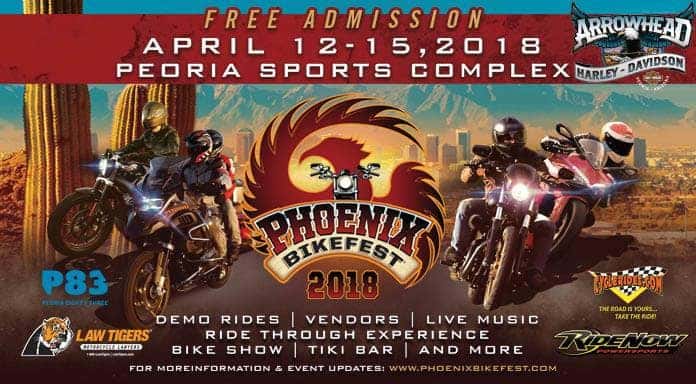 One of the highlights of the entire event is the Bike Show where contestants compete for epic prizes and bragging rights. The winner of the 2017 Bike Show took home $500 in cash and an incredible handmade trophy by RideNow's own Chris McPherson!
But, as good as last year was, 2018 promises to be even better.
Be sure to book your hotel rooms soon, they are filling up quick and what is better than staying right next to the action?! Visit our website for even more information!
Phoenix BikeFest 2018 is almost here we can already smell the exhaust and beard oi!
Here's a quick breakdown of this year's happenings:
What would Phoenix BikeFest be without the famous Ride Through? Steer your steed through the main BikeFest tent along with hundreds of other bikes
Free Demo rides! Come and test ride the entire 2018 lineup of bikes from Harley-Davidson, Indian, Motorcycle, Slingshot, Suzuki, and Spyder. Arrowhead Harley-Davidson will also be hosting FREE factory demo rides at their dealership from 10am to 5pm on Thursday through Saturday
Group rides will be leaving from Tuscon Harley-Davidson, Old Pueblo Harley-Davidson, Chandler Harley-Davidson, Arrowhead Harley-Davidson, as well as Indian Motorcycle Chandler, Indian Motorcycle Peoria, and Indian Motorcycle Tuscon. Stay tuned on Phoenix BikeFest's social media channels for more group ride details!
Find out if you and your bike have what it takes to win at the Bike Show on Friday, April 13th starting at 3pm and compete for cash prizes!
The nearby Westgate entertainment district is hosting their wildly popular Bike Night on the Friday of BikeFest
The incomparable Gloria Struck will be signing copies of her book, Gloria – A Lifetime Motorcyclist: 75 Years on Two Wheels and Still Riding on Friday
The enormously talented Della Meredith will be deftly wielding her chainsaw and raffling off her incredible wood carvings for charity
The official Phoenix BikeFest Bikini Contest happens all day on Saturday! Watch us crown the Third Ms. Phoenix BikeFest!
Live music from Llory McDonald and Combo Deluxe on Thursday and Saturday nights
There's something for everyone with over 100 vendor tents last  year throughout the Complex!
And now the best part – it's FREEEEEEEEE!
The best place for updates and more information is the main Phoenix BikeFest website and the BikeFest Facebook page .
And,  again, Be sure to book your hotel rooms soon as this year's BikeFest should be the biggest and baddest yet.
RideNow is looking forward to seeing you there!