RideNow Sponsors the Largest Off-Road and Sand Sports Event of 2020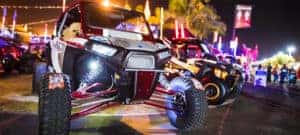 Happening on October 17 and 18, 2020 at WestWorld in Scottsdale, the Sand Sports Super Show allows visitors to check out the latest sand rails, side x sides, UTV's, ATV's, apparel, gear, accessories at the largest dirt and dune event of the year! 9am – 6pm!
Chat with industry experts. From off-road racing to rock crawling, this captivating event boasts custom vehicles, a performance marketplace, celebrities, and show specials.
RideNow is proud to be the titling sponsor of this innovative event. We'll be featuring over 100 new Polaris units that will provide you with the ultimate Rockford Fosgate audio experience while you're off-roading, including 400 and 1,000 watt stereos, front and rear speakers and subwoofers.
Additionally, we will be showcasing custom Can-Am Mavericks, Honda SXSs, and Kawasaki SXSs, and more.
In order to provide a fun and safe experience for everybody, all guests will be required to have a mask when entering the venue and must practice social distancing. Common areas and restrooms will be sanitized regularly and hand sanitizer will be readily available.
Don't miss the most exciting off-road vehicle event of the year!