The Itinerant
I am continuously impressed by the adventurers that I come across on the world wide web, and always love to find Guinness World Record breakers to add an extra little adventure element and connection through journeys traveled. Antonia Bolingbroke-Kent takes to the world, the way a Broadway actor takes to the stage. She is fearless and swept into the open road solo and with a heart that yearns to experience all the greatness this giant sphere offers.
She is an author, travel writer and broadcaster and with a particular love of wandering alone through remote regions. She is the author of three books, and has raised more than $60,000 for charitable causes and once held the highly-competitive Guinness World Record for the longest ever journey by auto-rickshaw.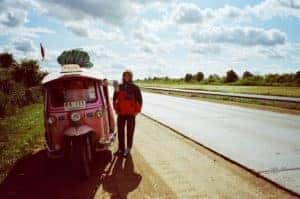 Antonia's stories and website will not only inspire you to take to the road, they will inspire you to be a better human being while navigating it. Her latest book, Land of the Dawn-lit Mountains: A Journey Across Arunachal Pradesh – India's Forgotten Frontier (Simon & Schuster, 2017) was Shortlisted for the 2018 Stanford's Adventure Travel Book of the Year. Judge Phoebe Smith called it "Exquisitely written, with a strong sense of place – proper travel writing in the classic style."
After she stepped out of university with a MA in History, she took to Canada to co-author a guidebook, and just like that the path for this adventurer began to take shape. The world began to call, and man did she answer!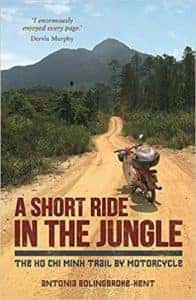 One of the top three common question's people ask Antonia listed on her website is, "where her love of adventure came from?" She states that she could blame it on her wandering genes – that distant ancestor who voyaged to Demerary in 1809, the intrepid grandmother who steamed off to Peking in the thirties – but she's sure her exploratory tendencies can be traced back to a childhood in the wilds of north Norfolk.
Miles from any form of 'entertainment' she instead spent her days scrambling up trees, exploring the countryside and bolting across fields on a series of uncontrollable ponies (and one obstinate donkey). By her mid-teens she knew that that her future lay not in starched shirts and spreadsheets, but in distant lands and steamy jungles.
I enjoy the pull of odd and seemingly impossible adventures, and although Anotonia has had her share for both, I particularly like her story:
Black C90: Around the Black Sea by Honda Cub. Although often sound solo on the ride, in 2010 she hit the road with Marley on a pair of 20-year old Honda C90 motorcycles more suited to delivering pizzas than undertaking pan-continental marathons.
"Setting off from Bulgaria, the pair rode south through Turkey, then on across the windswept steppe of Russia, the storm-battered mountains of Ukraine, a tiny corner of Moldova and finally Romania, before ending once more in Bulgaria. In three weeks, they travelled almost 3000 miles through six countries, encountering extreme weather, vicious packs of wild dogs and numerous insane drivers along the way."
In 2012 she really bag to challenge her own adventurous soul in the pursuit of solo-expedition. She wanted to be lost to find herself and feel the rush that comes from adventures where you have no one to rely on but yourself. So, she headed East for a solo motorcycle trip along the Ho Chi Minh Trail. A book about this adventure, A Short Ride in the Jungle: The Ho Chi Minh Trail by Motorcycle, is available now. I am anxiously awaiting the delivery of mine, and will kick off 2021 with my second adventure book for the year, and on a road I have never before thought to travel…what adventure will Antonia spark for you? Ride on fellow adventurers, ride on. See you out there on the road. http://www.theitinerant.co.uk/other-stuff/antonia-bolingbroke-kent/
Written by Danell Lynn, Guinness World Record Rider –www.danelllynn.com,
@danell_lynn
Photo copyrights Antonia Bolingbroke-Kent