The Last Ride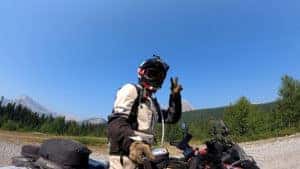 On June 5th, 2021 there was a funeral wake held for, Keith Lecker, a man suffering from a rare form of esophagus failure. Esophagogastric Junction Outflow Obstruction is a disorder characterized by increased pressure where the esophagus connects to the stomach a the lower esophageal sphincter that doesn't allow for food to pass through to the stomach. It is commonly misdiagnosed as it is only found in 1 out of 100,000 people. Symptoms include heartburn, regurgitation, nausea, and vomiting. Keith Lecker is one of the rare cases with a rare story.
"In February I became very ill with severe flu-like symptoms lasting for weeks; which eventually settled into a dry cough. Months later COVID became the buzzword in everybody's mind.  Doctors would only see you through video conferencing.  I was treated twice for COVID, obviously with no relief.  My cough continued to worsen until January 2021 when I passed out at my job site.  It appeared on the surface I had a mild heart attack or stroke.  At 57 years old and in great physical shape, this was a shock to myself and everyone that knew me.  A day in the hospital and numerous tests, I seemed fit as a fiddle."
As Keith and his wife saw no improvement in his health status, she began to push the doctors for a more thorough investigation into what Keith was suffering from more than just physical detrition. "I found myself staying home, glued to the couch where I watched TV and sucked my thumb." Like most successful men, having this as your reality mentally took a toll on Keith. In late March of 2021, Keith would finally get the true diagnosis that he and his wife, Deb, had been looking for. The test would come back EGJOO, or better known as Esophagogastric Junction Outflow Obstruction. "This put my mental state into a tailspin. I refused to leave the house and found myself camping out on the couch. I was slipping into depression and giving up the will to live."
Prior to being diagnosed with EGJOO, Keith was a successful self-employed businessman, who co-owned and operated a company that supplied fuel to airplanes and taught people to fly. He sold that business at the age of 47 as his business partner's own health began to decline. "He was diagnosed with throat cancer, and I saw the way his health declined and eventually died at home under hospice care" Witnessing his close friend and business partner die really hit home with Keith. After selling the airplane fueling company, he ran a company building the fuel systems for airplanes. This brings us back to March 2021.
"After camping on the couch and slowly giving up the will to live, Deb came home one day and asked, "Is this it?" Keith quickly replied "What is your problem? I'm the one dying." After hours of heated discussion and tears, they departed the usual way.  Deb going to bed and Keith lying on the couch. However this night was different, Keith did not sleep a wink; mostly from anger at Deb and self-pity for himself.  "I sat there and opened a bottle of wine. I didn't drink much this part of my life, but I polished off the entire bottle.  Still angry, I picked up a notebook and began to write.  First, all the people I wanted to see to say goodbye, next I listed the items I wanted to change in my will, and last I wrote BMW."
Keith was always a fan of BMW cars and admired the sport and adventure bike they had begun to become known for. "The next day, I visited a couple of BMW motorcycle stores ending up at RideNow Chandler where I met Tanner, the BMW expert. I explained my intention to him of buying a BMW dual-sport and riding off into the sunset.  With little to no motorcycle experience, he could not help but laugh at me. With his help, I narrowed my choice down to a  BMW 850GSA with all the bells and whistles."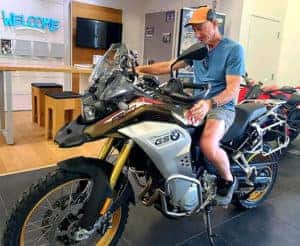 It was at that moment the "LastRide" was born. Keith could not stand the idea of slowly withering away on the couch and dying with no control over his life. He decided to purchase the bike after his wife stumbled upon the list Keith had written the night before. Deb supported him on getting the motorcycle and Keith quickly became all about learning to ride a motorcycle. "I had little to no motorcycle experience in my life. I had to learn to ride and get my motorcycle license. Taking road classes with Team Arizona, Dirt Bike classes with Arizona Dirt Bike, and BMW dual-sport lessons with Arizona top duel sport trainer Scott."
So much needed to be accomplished by Keith, every waking moment of his life was consumed preparing for the Last Ride. "I was as prepared as I thought I could be. I got the BMW tool kit and took a day taking apart the bike while taping each tool I would need in order to work on it so I wasn't taking any unnecessary tools. I got splints, bone wax, and the military makes this stuff that helps blood to clot when you have an injury. This preparation became my obsession as I was planning my adventure it kept me off the couch and my mind occupied." After gathering not only the medical and mechanical equipment he needed, Keith turned his attention to getting the proper clothing to survive the ride. Keith mapped out his ride to start at the Mexican border in New Mexico and ride off-road all the way up to the Arctic Circle. His route would take him through 100-degree temperatures, rain, hail, snow, and mudslides. "I went to REI and spent $3,000 on getting the best lightweight water-resistant equipment to keep me warm and dry on my trip. I packed five days' worth of clothes, and you just wear the same riding pants each day."
It seemed the bike was fully prepared for the journey to the Arctic Circle… except it wasn't. The bike needed a name. "I named the bike 'Fu Manchu' from Tim McGraw's song 'Live Like You are Dying'.  Proving the song to be correct for my ride, my first off-road adventure Fu Manchu threw me off in 2.7 seconds, ending up with me flat on my back and him square in a tree."
Keith departed on his journey on June 10th, 2021, on his 58th birthday, 5 days after his funeral, and wake for his family and kids. "I thought I was going to die on this trip."  His family and friends wanted to be kept up to date.  So he created a website www.lastride.us that tracked his journey and raise money for Make-a-Wish.
"I started my epic LastRide at Antelope Wells, NM heading north. To my surprise, after a couple of hours riding, I met an Army Specialist riding his Walmart bike from El Paso, TX to Phoenix, AZ.  That day was well over 100 degrees.  I obviously asked him why.  He told me he was a recovered heroin addict and proving to himself that if he could do this journey, he could accomplish anything.  I was in AWE! As my journey continued, I would cross paths with others, all with amazing stories, teaching me how insignificant my problems were.  As the journey continued, I endured heat, getting lost, torrential rain, hail, smoke forest fires, and even a mudslide."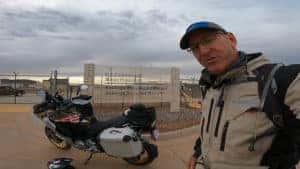 Only a day into his ride to the Arctic Circle, Keith began to feel sore, tired, and lonely.  By the end of the second day, he had to regroup as he had run out of water several times in the heat, battled tire failures and ending up misrouted to the south with no way for Deb to communicate with him.  Another trip to REI and additional supplies were necessary.
Fatigue and EGJOO weren't the only things Keith was battling. The weather and the elements were a constant foe ranging from the 100 plus degree days in New Mexico, snow and hail in Colorado, sand dunes in Wyoming, and mud in Canada. On June 29th Interstate 70 in Colorado had been ravaged by a flash flood by Glenwood Canyon. The mudslide would cross Keith's path as he was riding and all of a sudden was caught in the flash flood down by Highway 6. Hail, rain, and mud covered his trail, but not his determination to keep going.
He had made it halfway through Colorado and was in the Rocky Mountain National Park when he had hit a wall. "I looked up into the sky and told God I was ready to go." He took his GoPro camera and held it up to the sky when a bolt of lightning struck what Keith estimated was a mile away. "So I got up and continued on. I guess that was God telling me my purpose wasn't fulfilled. This took place just a few hours before the LastRide's purpose would change forever.
"A day I had an especially long ride, with still 100 plus miles to go that day. I stumbled into a restaurant in Grand Lake, CO, yearning for something to eat other than dehydrated food. As I sat down, a young man asked me, "Are you a spaceman?"  I simply replied, "Yes, I'm from Mars" too tired to elaborate at this point.  He then said, "Hi! I am Elliot and this is my brother Ziggy", this put a big smile on my face.  I asked Elliott what he loved about life. Elliott went on for 20 to 30 minutes explaining everything he loved about life.  I was laughing hysterically which was just what I needed. I asked Elliot if he would sign my bike and write what he just rambled for the last half hour.  He asked his mom and she said sure.  I was currently so excited; I did not even eat my burger.  Elliott and Ziggy both signed and drew pictures on the front fairings of Fu Manchu."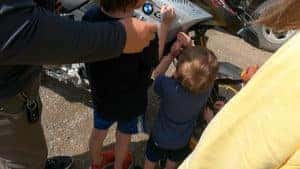 "When I left that restaurant, I was invigorated.  This ride was not about me or my problems but was about the Elliott's of the world that have not climbed trees, ridden motorcycles, or even bikes.  For the next two hours, my mind raced with this epiphany.  I arrived later that evening in Steamboat Springs, CO where I met up with my wife. I literally fell off my bike when I arrived, I was so tired and sore. My wife said, "Enough is enough.  You can't continue."  I told her that was no longer an option for me, I was going to finish no matter how tired, sore, or even sick I was. At this point, I was seeing life from a different view. I was motivated and excited again, though every morning I started my day with a pain killer, Motrin, and an extra-large Monster energy drink."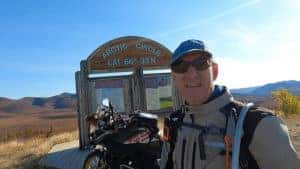 3 months later Keith would cross the Arctic Circle in the Northwest Territory of Canada. Unfortunately, COVID prevented him from going all the way to the Arctic waters as the trail would take him through Indigenous land; and understandably they were in quarantine. After trying everything he could to complete the final 200 kilometers he was told by the two border security on the indigenous land he was not going to be able to go through. Keith made light of the COVID world and had the two border security officers sign his bike. Shortly after Keith met up with Deb, loaded the bike into the truck, and made their way back to Phoenix Arizona.
The life-changing journey took Keith 3 months. He left on June 10th and got to his compromised destination. "The BMW 850GSA performed miraculously, though I crashed so many times I lost count, he never failed. Many parts are held on with glue, safety wire, or duct tape.  As for me, I was unharmed, just bumps and bruises, but my outlook on life had completely changed. I was excited about living, I was on a new mission to help those that would never get to experience such an epic and life-changing adventure. I realized, in the end, Fu Manchu was the catalyst that created my journey and I want to thank RideNow of Chandler and all of those that helped."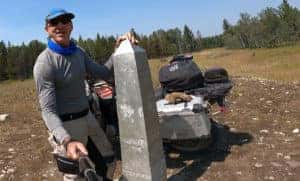 Since finishing his ride Keith has started an entirely new nonprofit adventure. "I want to provide opportunities for children less fortunate, allowing them to experience life-changing adventures and interactive activities utilizing motorcycles as the medium to bring joy to their lives." Keith's goal is to partner with children's hospitals to achieve a specific need and hold charity rides to raise money for that children's hospital's goal. He is also working on getting electric motorcycles to bring to the hospitals so the kids can interact and get as close to the experience Keith had as he can.  He is working on a new website www.lastride.org for this endeavor.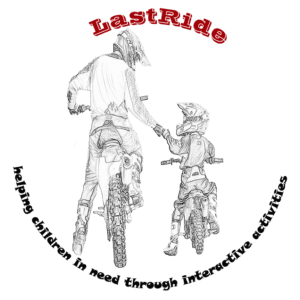 Before Keith took the LastRide he fully expected to not return home, but he did promise Deb that if he did he would seek some alternative treatment. Keith is now in Houston awaiting a treatment developed by John Hopkins University in 2014-2019, Peroral Endoscopic Myotomy better known as POEM. It's a procedure where the surgeon takes a scope down the esophagus and makes an incision on the wall of the esophagus to access the muscle layers below the tissue. They then use a small knife to cut and partially remove the inner muscle layer. This relieves the tightness of the lower sphincter in the esophagus that allows the passage of food into the stomach. Keith hopes to bounce back quickly and achieve his next motorcycle goal of assembling a team of "Misfits", people who have never ridden a motorcycle race to complete the 2022 Baja 1000 for charity.
The LastRide had evolved into a campaign to enjoy life every day, and after meeting Elliot and Ziggy, Keith wanted to find a way to give back to the children's community. You can get involved by reaching out to Keith directly at [email protected]