The Movement of People, Finding the Thankfulness in Travel
Many of us turn the key out of habit, but if take the time to find gratitude in where our wheels may take us, of the feeling they give us, or the people we might meet, it will create an entirely different understanding of why we choose to ride!
I have contacted an eclectic, and exciting group of riders, some you have read about on past blogs, others are new for RideNow – but all quotes are fresh for this post provided directly by the riders! It is the time of year when we focus on gratitude and those we love, I hope you will enjoy this collection for the season!
Enjoy the extra fun of clicking through to these amazing riders websites, and if you're looking for a great holiday gift – consider one of the books or documentaries from their sites. They are an inspiration – which is the best gift someone could give!
Sam Manicom
I met Sam quite a few years back, he is a man that says a lot with a little – and his quote is perfectly Sam!
"Dreams are where adventures begin."
– Sam Manicom author of Adventure Motorcycle Travel Books, www.sam-manicom.com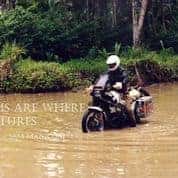 Alfonse Palaima
Those that see the world through a lens often have a different perspective on life, maybe a little more reserved… well not Fonse! Love that he breaks through stereotypes!
"Our lust for comfort kills our passion for living"
"Have you ever noticed how closely spelled are the words wonder and wander?"
-Alfonse Palaima-Moto Insider, m
ore on his work and new book – www.motoinsider.com

Stephanie Yue
I caught up with Stephanie while she was out golf carting through Key Largo, I wanted to know a little more about what a mobile career and 2 wheels have provided:
"I chose to freelance specifically because I wanted the flexibility to travel, though at the time I never would have guessed it would be by Vespa.
The kind of extended travel that brings me to life and the freedom to take my time are definitely made possible by having a mobile career. I'm grateful every day I get on the bike, with no idea what my next studio will look like!"
– Stephanie Yue, Illustrator and the woman behind www.250superhero.blogspot.com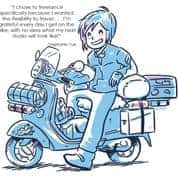 Sterling Noren
Sterling Noren has an eye for capturing adventure when thinking on what he is grateful for – his adventure is in the exploration and community that surrounds him.
"I feel really fortunate and thankful for the community of motorcycle riders that I am a part of – they are such an inspiring group of people who are always on grand adventures (or else planning them), and their openness to me as a filmmaker, to document their rides and tell their stories means a great deal to me.
That's one of the things I am very thankful for when it comes to motorcycle riding in my life."
-Sterling Noren- adventure film-maker, his newest documentary series, Expedition 65 is available here: https://vimeo.com/ondemand/expedition65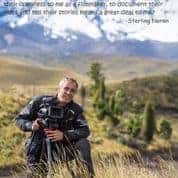 Moin Khan
I met Moin Khan for my Northern Pakistan ride with 12 other riders, his background captivated me, as does his genuine soul.
"I am thankful for the ways we travel – one does not simply travel to see famous buildings or monuments. Traveling is not a means to brag about being in this place or that place.
Traveling is to challenge yourself to things outside your comfort zones, do things you'd never think to do, and to think in ways you never thought to think !"
– Moin Khan of www.adifferentagenda.com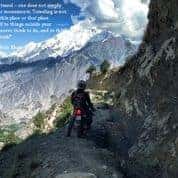 Ruth Belcher
I met Ruth years back at a moto event, and we visited every year after at the same events. This last year I had the honor of riding with her abroad and look forward to future journeys. She also some great moto projects coming this next year but that is another blog.
"I'm grateful and inspired by the women I ride and work with. One of my greatest passions is empowering women to fulfill their dreams of riding motorcycles by releasing their fears.
Don't live a life based on what other people expect, require, need, or judge you on. Live your life and do the best that you can do."
-Ruth Belcher – www.facebook.com/RuthBelcher01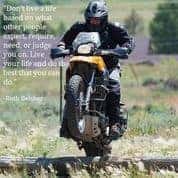 This season make a grateful list that inspires you, think of all the things that motorcycling has brought to your life, and all the people. I am thankful for you the readers, to adventure, to two wheels, and the explorer's heart that grew in me since childhood. Wishing you the best holiday season and wrap up for 2017 – one month left – live it largely!
Written by Danell Lynn, Guinness World Record Rider – www.danelllynn.com , @danelllynn
Photographs credited to the rider quoted on each photo