The Night – A RideNow Christmas Special
T'was the night before Christmas when all thro' the hills,

Not a person was riding, none seeking for thrills…

The children were nestled all snug in their beds,

While visions of supercross danced in their heads…

When out on the lawn there arose such a clatter,

I jumped from my bed to see what's the matter,

When, what to my wondering eyes should appear,

But an XR650R, packed with all kinds of gear,

With a big chubby rider, so lively and quick,

I knew in a moment it must be St. Nick.

More rapid than eagles he roosted my lawn,

And whistled and shouted, deliver by dawn…
I woke up and wondered if I had been dreaming. Realizing I still had a week before Christmas, I decided to gear up and go for a ride. It was a brisk December morning and I had the trails to myself. As I rode deep into the desert, I saw another rider coming in my direction. Wearing red gear and riding a red bike, I could spot him from a distance.
And could he ride!  He was carrying a crazy fast pace as he approached me. Then to my surprise, he stopped to chat.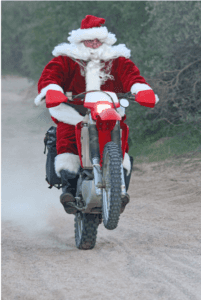 I quickly realized who it was. It was Nick, St. Nick, the fastest person on Earth.
We chatted for just a few moments. He told me that he ride bikes to get a good workout and stay in shape.
He said that riding a dirt bike is much like wrestling the sleigh through air turbulence all night long.
He asked me what I wanted for Christmas, then, in a blink of an eye, was roosting away down the trail.
Here are some of Santa's recommended gift ideas available at your local Ride Now Dealership:
BikeMaster  Lithium-Ion Battery Charger/Tender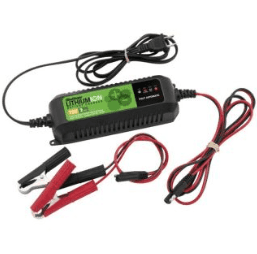 Oakley Airbrake Goggles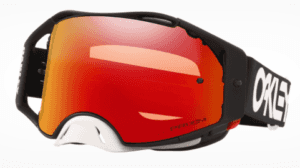 Alpinestars Corozal Adventure Drystar Oiled Leather Boots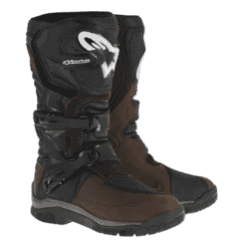 Klím Dakar Jacket