The Top 10 Youth and Adult Off-Road Vehicle Pairings
It's natural for children to emulate their parents – Everything from how they speak, to the clothes they wear, and how they act. If you love riding off-road and want your kids to do the same, here are ten great youth and adult dirtbike and ATV pairings that should inspire them to put on their safety equipment, twist the throttle, and ride like mom and dad.
1. Honda CRF50 (CRF450)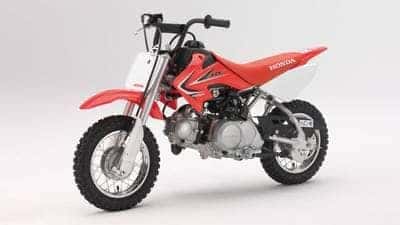 Honda's diminutive CRF50 dirtbike is the perfect machine for your little off-road enthusiast. Its 49cc single-cylinder four-stroke motor is both appropriately powerful and incredibly reliable. And, while your tyke cruising around on the CRF50, you can opt for Honda's premium CRF450 dirtbike.
This proven, capable machine is packed with top-shelf engineering, a 449cc single-cylinder engine, and loads of tech. It's the perfect dirtbike to set the pace with.
2. Yamaha PW50 (YZ450)
One of the major upsides to the Yamaha PW50 are helpful features like a fully automatic transmission and an adjustable throttle, so all your new rider needs to focus on is learning how to ride safely. It's $1,499 base price means it's good for parents, too. Speaking of parents, throw your leg over Yamaha's popular YZ450 dirtbike, and go and tear the trails up as a family!
3. Suzuki DR-Z50 (DR-Z125)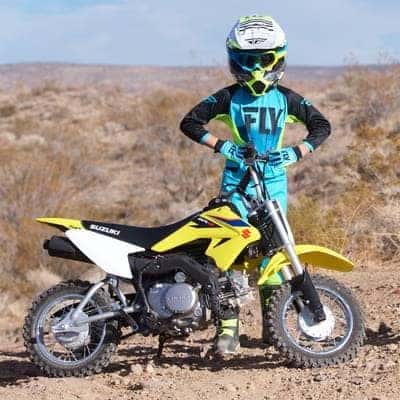 Like the Honda and Yamaha dirtbikes mentioned on this list, the Suzuki DR-Z50 has been engineered to be easy, helpful, and fun. Its automatic clutch, three-speed transmission, and electric start help set an approachable bar for young riders.
And, you can ride beside them as their confidence grows in the saddle of Suzuki's DR-Z125. Also designed with smaller riders in mind – but clearly a machine for experienced off-roaders – you'll be able to share in your child's joy as they twist the throttle and go.
4. Honda TRX90X (Honda Talon 1000X)
Honda's beginner ATV is this, the TRX90X. Touted as "A perfect intro to the great outdoors," the 90X's clutchless transmission, low seat height, peppy motor, and reliable Honda build quality genuinely make it a terrific way to get younger riders onto the trails. When it's time for the parents to join, they can jump into the powerful, capable, and funky looking Talon 1000X side-by-side.
5. Kawasaki KLX110 (KLX300R)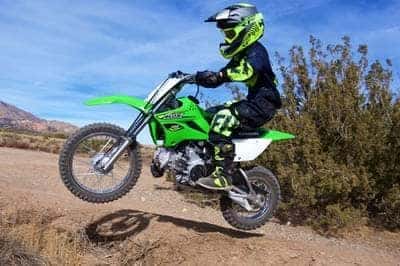 Kawasaki's handsome KLX110 uses a four-stroke, single-cylinder motor with 112cc's of displacement, and makes for a great platform for both brand new riders, or those looking for a small, simple machine to rip around on.
Pair the proven 110 with the all-new 2020 KLX300R, and you have a potentially perfect combination. The 300R is the king of Kawasaki's KLX lineup, and uses premium features and a powerful engine to provide a world-class riding experience.
6. Polaris Ranger 150 (Polaris Ranger 1000)
The Ranger 150 from Polaris is a side-by-side that's been designed specifically with parents and safety in mind. From its speed limiting and geo-fencing capabilities that can be set from a smartphone, password protected starting system, and $5,499 MSRP, the Ranger 150 is the perfect machine for kids.
And, you can complete your garage with the larger Ranger 1000. With a powerful engine and stout towing capabilities, there's nowhere you can't go and nothing you can't do.
7. Yamaha TT-R50 (Yamaha TT-R230 adult)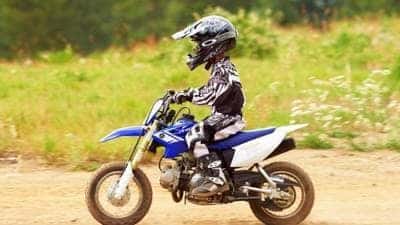 The TT-R50 from Yamaha is a 49cc trail bike that's perfect for learning how to ride and handle a motorcycle off-road. Its attractive starting price of $1,699, three-speed transmission, and electric starter make it a terrific option for the littlest of riders.
Parents can upgrade to another of Yamaha's trail bikes, the TT-R230, a lightweight, simple machine that also has an enticing pricetag – only $4,449.
8. Can-Am DS70 (Can-Am Renegade X MR 1000R)
From the realm of dirtbikes, we shift gears and dive into the world of ATVs. First up is the DS70 from Can-Am, a youth ATV that has no shortage of fun and performance.
It's powered by a four-stroke single-cylinder engine, has independent front suspension, both electric and kick start, and starts at only $2,349.
Want to hit the trails with your own ATV? The Can-Am Renegade X Mr 1000R is an absolute weapon, and might be the most capable machine on the market today.
9. Yamaha Raptor 90 (Yamaha Raptor 700R LE)
Designed for riders ages 10 and up, the Yamaha Raptor 90 is a solid entrant into the youth ATV game. Its 90cc air-cooled four-stroke motor is powerful, and has been paired with an automatic CVT transmission for easy operation. It also looks the business too – it might be a small machine, but it sure looks mean.
Speaking of looking mean, if you pair the Raptor 90 with the wild looking Raptor 700R LE, there won't be anyone who can stand in your way!
10. Polaris RZR 170 (Polaris RZR XP Turbo S)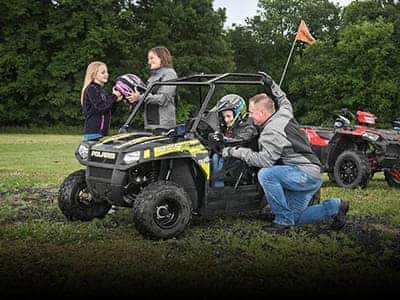 The RZR 170 side-by-side from Polaris is positioned as the only youth-specific side-by-side on the market, and has tons of great features that back up that claim.
Electronic fuel injection, adjustable speed limiter, whip flag, and a helmet all come standard. Then, when it's mom and dad's turn to shred the trails, jump behind the wheel of the bonkers RZR XP Turbo S, and find a new definition of off-roading with 169 horsepower, over two-feet of suspension travel, and 32-inch tires.