Top 10 All Terrain Vehicles (ATVs) of 2020

Modern ATVs come in a nearly endless array of shapes, sizes, colors, and purposes. The other good news is that with little exception, they are all varying shades of excellent. Much like modern motorcycles, ATVs from all manufacturers (particularly the ones on this list) are reliable, fun to ride, look great, and handle their intended off road terrain with aplomb.
Here is RideNow's list of the ten best ATVs from 2020. Enjoy!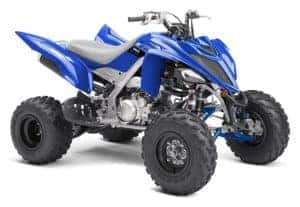 There's a reason why the Yamaha Raptor is the best-selling sport ATV of all time – it's fantastic across a range of metrics and delivers thrills by the truckload. Powered by a 686cc single cylinder engine that uses fuel injection, four valves, a single overhead cam, and is mated to a five-speed transmission. It also features a forged piston, connecting rid and crankshaft, which all help it achieve its impressive 9,000rpm redline.
One of the cornerstones of a performance ATV like this one is suspension. On the 700R, Yamaha has given it a YZ-style adjustable piggyback rear shock with 10.1-inches of travel, and adjustable piggyback shocks up front that provide 9.1-inches of wheel travel. Braking is handled by two aluminum piston disc brakes up front an another two piston disc out back.
Yamaha also makes a special edition of the Raptor called the Raptor 700R SE. This model sports numerous additional GYTR performance parts like a front grab bar and heel guards and special graphics. Starting MSRP for the Raptor 700R is $8,899, and starting MSRP for the Raptor SE is $9,499 regardless of the color package you choose.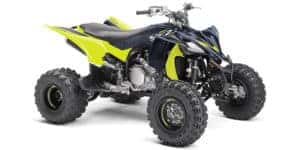 Powered by a 449cc fuel injected single cylinder engine with five titanium valves, the YFZ450R is essentially the little brother (at least in terms of engine size) of the Raptor 700R. Built with the same racing-pedigree and focus as the Raptor, the 450R is a super capable sport ATV that's built to absolutely shred.
It features a weld-less aluminum frame with a tension steel bottom, motocross-spec Maxxis tires, adjustable handlebar, KYB shocks up front that provide 9.8-inches of travel, and a KYB piggyback rear shock that gives riders a monster 11-inches of wheel travel. Everything from the narrow seat, to the limited bodywork, to the open cockpit of the 450R has been designed to give riders and racers the best possible setup to control their machine.
Also like the Raptor 700R, there is an 'SE' version of the 450R. Much like that other special edition model, the 450R SE benefits from GYTR performance upgrades and some slick unique graphics. Starting MSRP for the 2021 Yamaha YFZ450R is $9,299, while the SE version will run you $9,699.
The Sportsman from Polaris is a rugged, utilitarian ATV that's designed for hauling, plowing, and working. Where the two previous ATVs on this list are all flared arches, screaming engines, and long travel suspension, the Sportsman can still handle a wide range of terrain and tasks, but it's more workhorse than show horse.
The Sportsman 450 H.O. can tow 1,350 pounds, has 11.5-inches of ground clearance, 9.5-inches of suspension travel, tons of storage, all-wheel drive, and tons of accessories available from Polaris. Power comes from a ProStar four-stroke single cylinder 499cc engine with fuel injection that makes 33 horsepower.
On the storage front, the Sportsman has a five-gallon dry storage area up front that's perfect for tools and gear, with several options for additional storage boxes that attach to the rear top rack of the machine. Starting MSRP for the 450 H.O. is $6,399.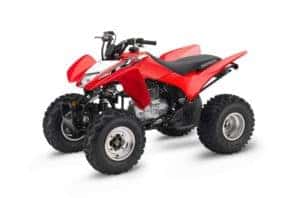 Not every ATV needs to pack the biggest engine, need to ford the deepest rivers, or kick up the highest rooster tail. The Honda TRX250X is a 229cc sport ATV that's designed to be a machine for newer, younger riders or those looking for a small runabout ATV that won't break the bank.
The engine is air-cooled and carbureted, has two valves, and has a broad, playful powerband that will be a blast to use, no matter your skill level. One of the most notable features of the 250X is Honda's SportClutch, which allows new riders to get used to shifting and using a clutch without the threat of stalling out when coming to a stop. The 250X also has aluminum wheels, independent front suspension, an electric starter as additional rider aides and premium features.
You'd never know this was a small ATV by looking at it – check out those flared wheel arches! Honda made the TRX250X at least look the part of a muscular sport ATV. And the price is great too. Starting MSRP for the 250X is $4,949.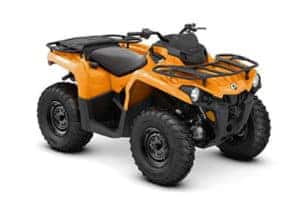 The Outlander series from Can-Am is a super capable line of ATVs built for bombing down fire roads, wading through mud, or hauling stuff around the farm. The Outlander 450 is powered by a 38 horsepower, single cylinder Rotax engine, and it uses a Visco-Lok auto-locking front differential. Looking to haul some stuff? The 450 has a towing capacity of 1,300 pounds, plenty to move a whole bunch of, like, whatever you want!
Other premium features include Can-Am's Tri-Mode Dynamic Power Steering, a CVT transmission, a large digital display in the dash, and numerous options and accessories that allow you to customize your machine to your heart's content.
Another cool element of the Outlander line is just how many variants of it that Can-Am offers. You can get your Outlander 450 is a wide range of configurations outside of the base model including a six-wheeled version with the Outlander MAX 6X6, a hunting version in the Mossy Oak Edition, or one focused on rider and passenger comfort with the Outlander MAX DPS 450. Starting MSRP for the entry-level Outlander 450 is $6,299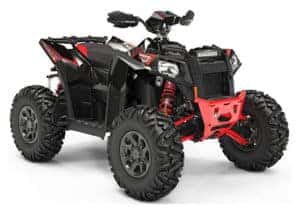 Not even going to lie. The Polaris Scrambler XP 1000 S is a huge flex from Polaris and is on a completely different level to every other machine on this list. From its starting MSRP ($14,999), to its engine size (952cc), horsepower (89), and ground clearance (14.5-inches), the XP 1000 S is a sport ATV turned all the way up to 11.
Other features include Walker Evans shocks, RZR XP 1000 front differential and half-shafts, 27-inch tires, a massive 55-inch width, and 12.5-inches of suspension travel in the front and 14-inches in the rear. And, the Scrambler XP 1000 S isn't just a brute in terms of performance, but in terms of curb weight as well. With fluids and fuel, it tips the scales at 881 pounds – not a small number. Fortunately, the massive liquid cooled twin cylinder ProStar engine is more than up to the task of moving all that weight around.
And the machine looks epic too. That massive radiator up front, the light bar, brush guard, huge tires and gigantic stance make the Scrambler look like its thrashing the trails even when parked. If the last word in sport ATVs are your thing, bow down to your new king.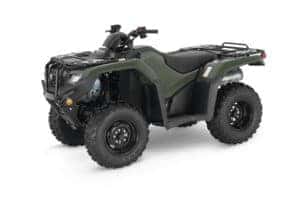 Like the Polaris Sportsman, the Honda Rancher 4X4 is designed to be a do-it-all ATV that comes in numerous different flavors and variants for just about any task you can throw at it.
The Rancher lineup starts with the base Rancher, and climbs up to the Rancher 4X4 Automatic DCT IRS EPS (Honda should have called this the Rancher Alphabet). The top-tier Rancher features four-wheel drive, electric power steering, an automatic DCT transmission, independent rear suspension, and other premium rider features. And while the base model Rancher doesn't have the same list of high end components and features, it's still a solid machine with an approachable price tag.
No matter what Rancher model you choose from, it comes with a 420cc liquid cooled single cylinder engine with fuel injection. Starting MSRP for the Rancher begins at $5,499, and rises to $8,199.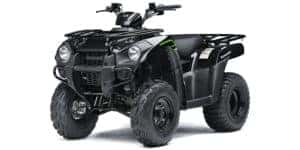 Kawasaki's Brute Force 300 is a mid-sized ATV that is powered by a 271cc liquid cooled, four stroke, single cylinder engine and proves that you don't need monster power or pure racing DNA to have a great time off road. It has 22-inch tires, 6.1-inches of ground clearance, a 3.2-gallon fuel tank, can tow up to 500 pounds, only weighs in at 535 pounds, and has a narrow 46.1-inch wheelbase.
The Brute Force reminds me a little bit of another Kawasaki machine – the Ninja 400 motorcycle. While the two machines clearly have different roles, target markets, and play in two different worlds, the theory behind them feels very similar. They both take a simple formula of lightweight, moderate power, and great riding dynamics, and deploy it to great effect
And, it's not just small and lightweight for the sake of it – riding a machine designed from the ground up to be that way makes for an incredibly satisfying riding experience. Starting MSRP for the Kawasaki Brute Force is $4,399.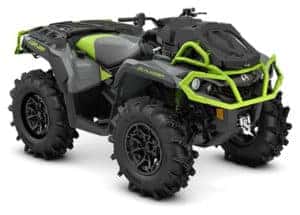 This second Can-Am Outlander entry on the list is different than the first in numerous ways, starting with engine size. Nestled in the frame is the ROTAX v-twin engine that makes a stout 78 horsepower. As you may have already guessed because of the insane looks, the X MR 850 is built to absolutely dominate muddy, off road trails and bring you places that other ATVs simply can't.
The most prominent feature of the 850 is unquestionably the relocated radiator that now sits on top of the machine just in front of the handlebars. Reasoning behind this is simple – putting the radiator on top allows you to wade deeper and with less fear of damaging this integral component. Other premium elements of this mud monster include FOX shocks, a 3,500-pound winch, Visco-4Lok, massive 30-inch tires with 14-inch cast aluminum wheels, and enough attitude to make other wannabe ATVs cower in fear.
Starting MSRP for the X MR 850 is also as stout as you might have expected: $11,999.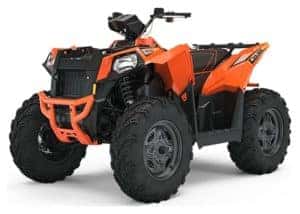 The Polaris Scrambler is another Polaris sport ATV that's designed to bring maximum enjoyment and fun to thrashing a fire road or blitzing through the woods. And where the Polaris Scrambler XP 1000 S is an absolute beast in every sense of the word, the Scrambler 850 remains a wildly capable machine just with a more approachable price tag slightly less madness in its heart.
Power is still robust at 78 horsepower from an 850cc two cylinder, fuel injected ProStar engine. It also offers sport tuned independent rear suspension, 11.5-inches of ground clearance, 26-inch tires, an optional powerful 3,500-pound winch, and sweet sport tuned suspension. Toggling between two-wheel drive and all-wheel drive is as simple as hitting a button, so switching between hooligan and rock crawling is simple and easy.
Like the XP 1000 S, the Scrambler 850 isn't a light machine – it weighs in at 735 pounds. Fortunately, it's robust powerband and tuning are more than up to the task. Starting MSRP for the Scrambler 850 is $10,299.