Top 10 Touring Motorcycles of 2020

Are you ready for that cross-country ride but are still deciding which motorcycle best suits you?! Look no further! Here are our TOP SELLING best touring motorcycles of 2020 from our popular brands like Indian Motorcycle, Honda, Kawasaki, Yamaha, and more!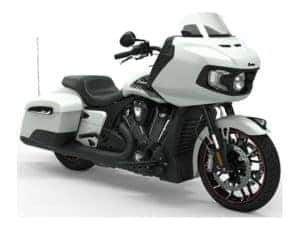 The Challenger boasts a 122 horsepower V-Twin, Race-spec. Brembo brakes-radially mounted, 831.1 lbs. weight, a 26.46-inch seat height, 6.0-gallon tank, LED lights all around, and a fairing that is standard in this class. The fairing has a touchscreen, clock, ambient airflow, heading, map/navigation, real-time traffic and weather, and Bluetooth. This bike is the definitive touring ride, open roads and twisties are conquered easily and with style. 2020 cost started at $22,999 and was available in the blacked-out Dark Horse livery as well.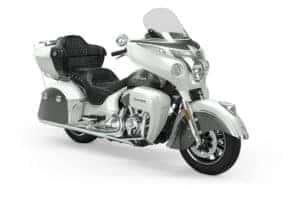 The 2020 Indian Roadmaster is a great blend of a new engine and old-school luxury. The real headline is the addition of the new Thunder Stroke 116 engine that pounds out more than 120 pounds of walloping torque. The Indian has gone back in its history to bring back the full-sized fairing at the front. As icing on the cake, they have pulled out the iconic war bonnet ornament from their archives, to match with the chrome fender trim.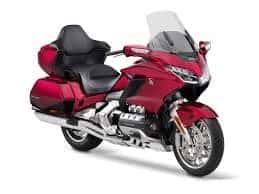 The Honda Gold Wing has always been the quintessential touring bike. The new Gold Wing's 1.8-liter engine, a flat-six, helps lower the center of gravity which is very important for a heavy bike. The fact that it is a true touring bike is borne out by its smooth torque rather than brute horsepower. Yet, with 108 pounds of torque and a seven-speed dual-clutch transmission, the Gold Wing Tour DCT is much nimbler than the looks suggest.
The Indian Motorcycle Chieftain Limited with the new Thunder Stroke 116 engine churns out a prodigious 126 pound of torque at an impressively low 2,900 rpm with a compression ratio of 11-to-1 and a top speed around 115 mph. A 6-speed transmission delivers the power to the rear wheel by dint of a carbon-reinforced belt drive. The electronics incorporate a Rear Cylinder Deactivation system that reduces the heat wash experienced by the rider when idling at a stop. The Chieftain is also available in a Dark Horse edition.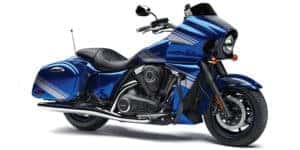 The 2020 Kawasaki Vulcan® 1700 Vaquero® ABS cruiser combines stylish elements such as a frame-mounted fairing, sealed saddlebags, distinct bodywork paired with a 103 cu in 4-stroke, V twin, liquid-cooled engine that delivers a maximum torque of 107.6 pounds at 2,750 rpm. It has a 6-speed transmission with overdrive and a compression ratio of 9.5:1. The Vaquero is the pinnacle of elegance in the Kawasaki line-up.
The Indian Motorcycle Springfield with its upgraded 116-inch engine has a smooth power delivery, drawing out 102 pounds of torque and 82 horsepower. The Tour mode delivers the power slowly, Sport provides you with a steep curve, and Standard comes through somewhere in the middle. The tall handlebars may be a slight challenge for shorter riders, but taller riders will enjoy the upright riding position. The Springfield is available in a Dark Horse edition.
The ultimate V-twin bagger with near sport-touring level handling. Featuring a torque-rich 1854cc air-cooled V-twin, Star Venture® produces smooth, effortless passing power even when fully loaded. And with ride-by-wire throttle control, traction control, and selectable riding modes, Star Venture brings class-leading technology to the luxury touring class. Starting at $24,999 and available in a Transcontinental Option Package for $26,999.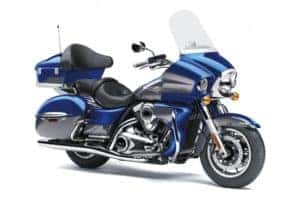 The classic touring look packed full of cutting-edge technology characterizes the 2020 Vulcan 1700 Voyager. The Voyager takes the comforts of the cruise and pairs it with a long-stroke 1,700cc V-twin with peak torque low in the rev range. The brakes feature K-ACT, Kawasaki Advanced Coactive-Braking Technology to link the front and rear brake for maximum stopping power while fully loaded with rider, passenger, and luggage. 2020 models started at $17,499.
The 'B' stands for Bagger, a term used to describe a stripped-down touring bike with a couple of bags. This version of the bike started the modern touring revolution way back in 1975. But with every generation, it's more comfortable, better handling, smoother. A technology leader since day one, today's Gold Wing F6B offers many creature comforts brought over from the Touring models. A great choice for the long-road-rider.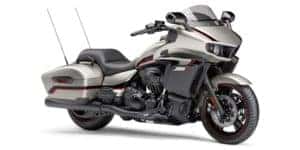 Star Eluder is designed around rider and passenger needs straight from the dealership floor, with a roomy rider positioning and adjustable controls. Heated seats for both rider and passenger come standard, with a low seat height for confidence at every stop. The torque-rich 1854cc air-cooled V-twin, Star Eluder produces smooth, effortless passing power even when fully loaded. Starting at $22,499 and ranging to $23,999 for the GT Option Package.
Want to check out our Touring inventory? CLICK HERE