Top 10 Off-Road Motorcycles Of 2020

While 2020 was a crazy year (feel free to also insert: insane, bananas, shocking, wild, ridiculous, absurd), it was actually a really good year for off-road motorcycles. People being forced to stay home and occupy themselves in new ways resulted in many of them turning to dirt bikes and dual sports for themselves and their kids as a way to pass the time and bond with their families.
There are some exceptional bikes on this list and any one of them would make for a great addition to your garage.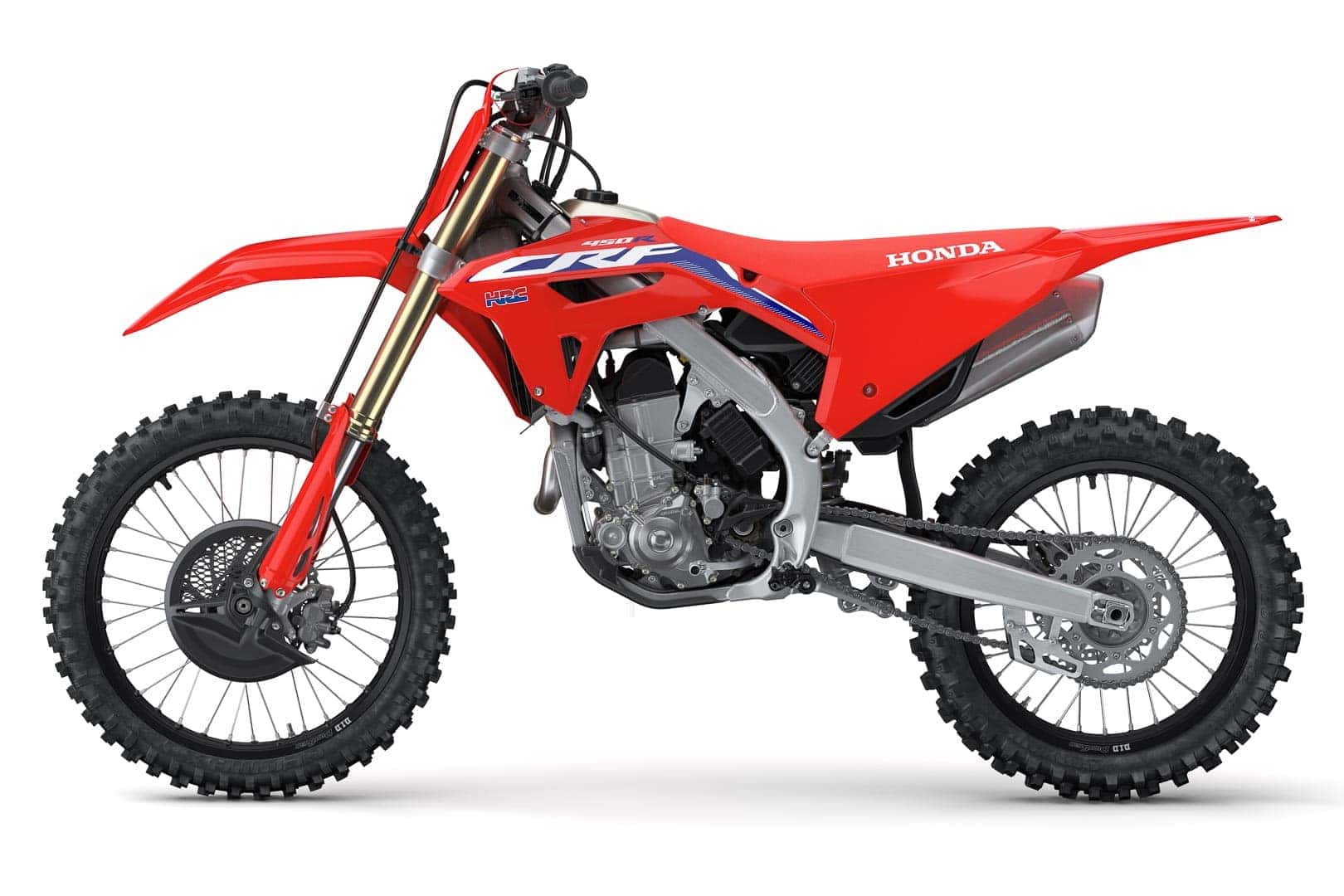 The CRF450R is one of the most powerful, most premium, and most capable dirt machines in Honda's deep and legendary stable. If you're looking for a machine you can use to absolutely shred the trails or the track, this is that machine.
The bike has been redesigned for the 2021 model year, and it's not just a mild cosmetic makeover we're talking about – it has a new chassis, new suspension, new bodywork, and got a thorough engine overhaul. The frame is significantly more rigid and roughly a pound and a half lighter than the previous generation bike and cradles a 449cc Unicam liquid-cooled four-stroke engine.
Fully loaded with fuel and fluids, the CRF450R only tips the scales at 244 pounds. Honda gave the 450R some serious performance and convenience parts, allowing you to focus on riding your heart out and taking home the gold. Some of those premium parts include a Yoshimura exhaust, Twin Air filter, Throttle Jockey seat cover, Hinson clutch, DID DirtStar wheels, electric start, and titanium and Kashima coated Showa front forks.
Starting MSRP for the 2021 CRF450R is $9,599.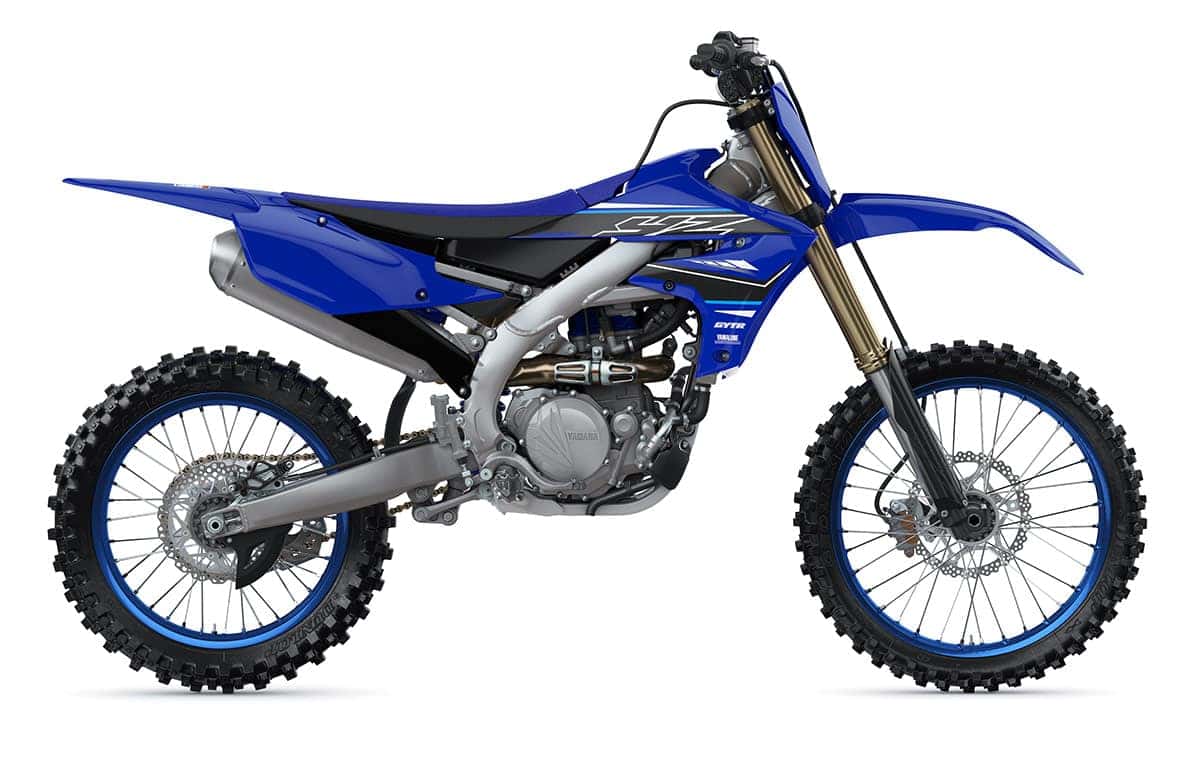 Built in the same vein as the Honda above, the YZ450F from Yamaha is designed to be a premium performance off-road motorcycle that's at home on either the track, hitting jumps, or dominating the trail.
The beating heart of the bike is a 449cc single-cylinder, liquid-cooled four-stroke engine with fuel injection, forged pistons, and electric start. Yamaha has enlisted KYB for the suspension on the bike – a fully-adjustable front fork with speed-sensitive damping, and a fully adjustable single shock out back. The curb weight is only 245 pounds (literally only one pound heavier than its rival Honda).
One of the most interesting features of the bike isn't actually on the bike. It's Yamaha's Power Tuner smartphone app that allows you to make on-the-fly engine management adjustments from your phone. The YZ450F is a serious performance machine from one of the most successful and capable off-road motorcycle brands money can buy.
Starting MSRP for the 2021 Yamaha YZ450F is $9,399.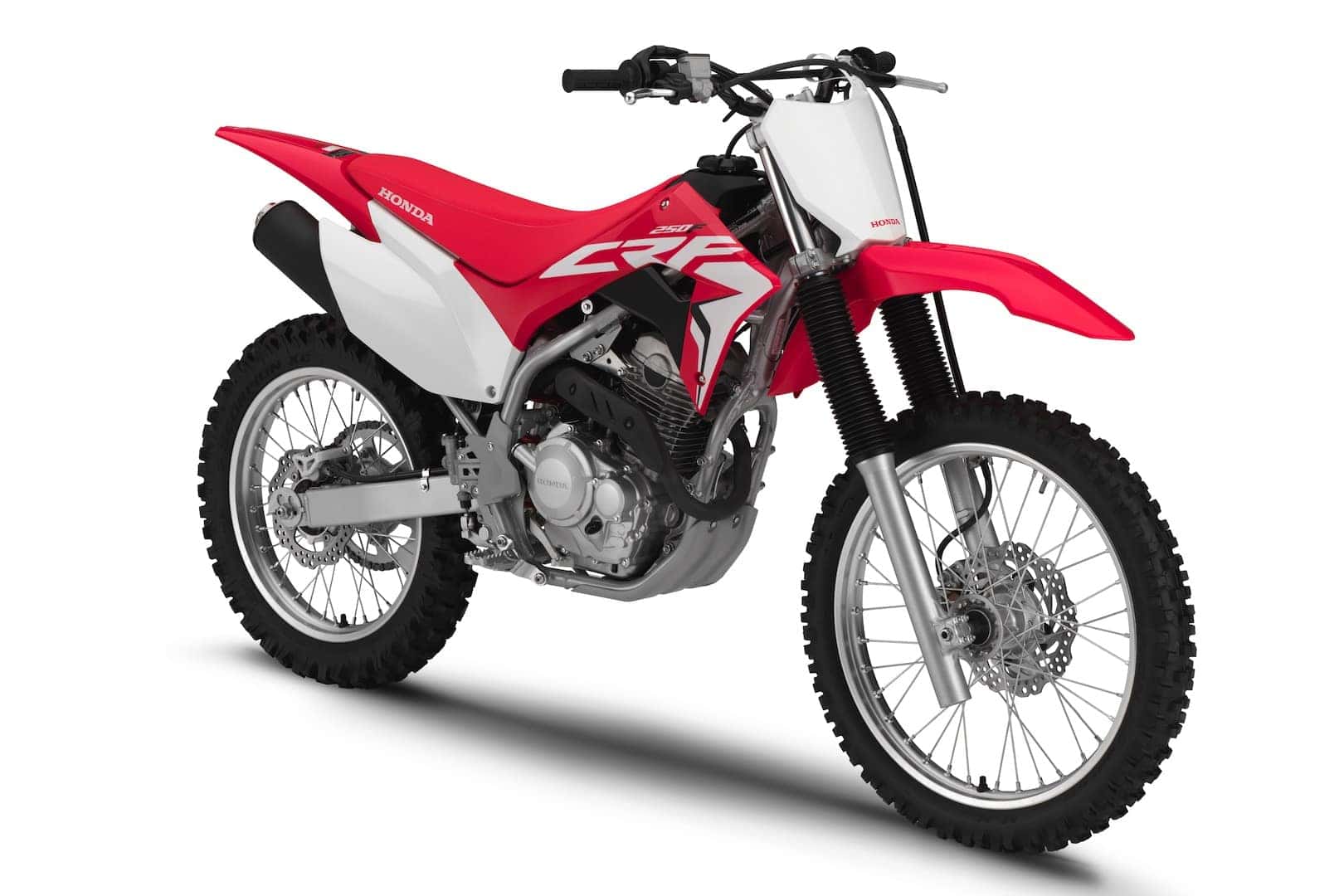 A step down from the ultra-capable Honda CRF450R and inspired by a slightly different philosophy is this, the CRF250R. As the name implies, this motorcycle is powered by a 249cc air-cooled single-cylinder four-stroke engine. The 250R is designed to be a simpler and easier off-road machine that is still a blast to ride and more than capable partner in the dirt.
The nice thing about the 250F is that it's a great combination of performance and usability. While big bikes are exciting and attractive, the 250F caters to a wider range of riders, allows beginners to ride something that's still fun but less intimidating, and can handle nearly every kind of adventure. It uses a telescopic front fork with 8.5-inches of suspension travel, and a single Showa Pro-Link shock in the back that features 9-inches of travel. The frame is a twin-spar steel unit that keeps the bike light and strong, a 21-inch front wheel and 18-inch rear wheel, electric starter, a comfortable seat, and sweet graphics that belie its smaller engine and lower profile.
Another super attractive element of the CRF250F is the price. The bike starts at an incredibly approachable $4,699.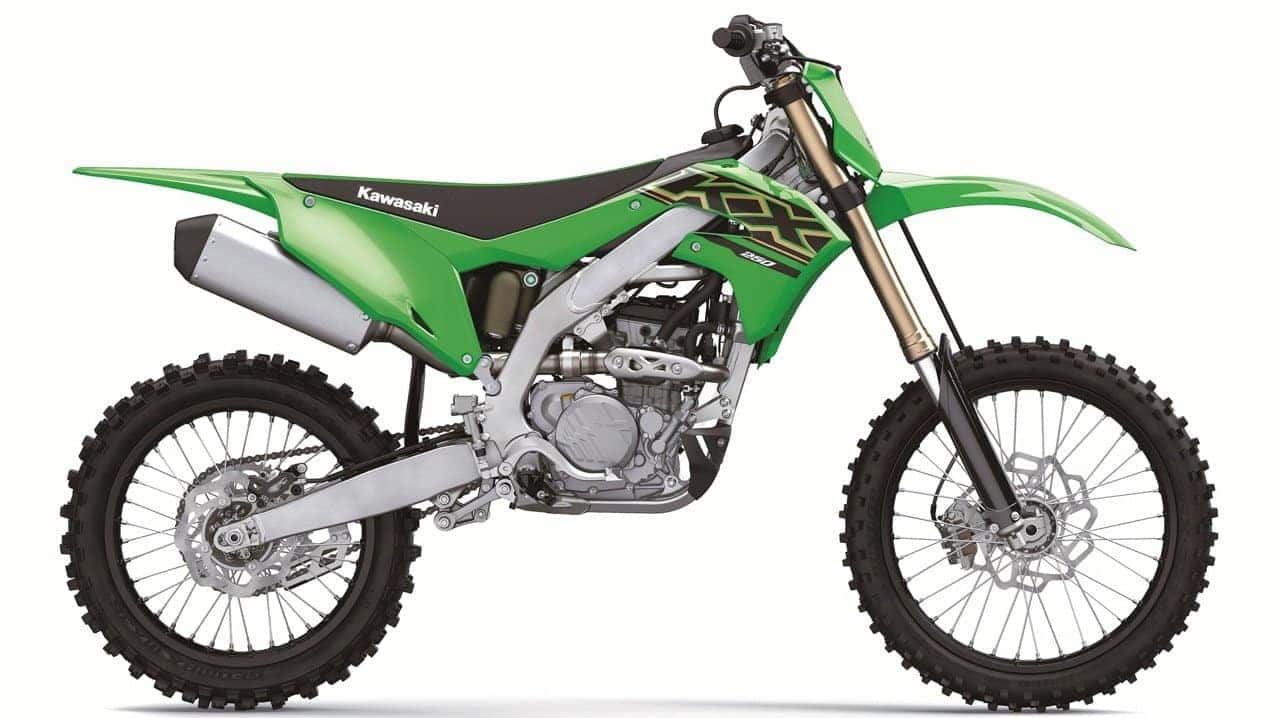 Kawasaki's entrant into the 249cc dirt bike class is the KX250. Unlike some other 250cc bikes, the Kawasaki is a super-premium machine that has racing and epic performance as its primary goals. It's a great blend of what makes smaller bikes attractive, but with the premium components and racing DNA that makes larger machines so exciting.
The engine has been reworked for the 2021 model year and features fuel injection and loads of power. It uses a lightweight lithium-ion battery, aluminum frame, a front fork with compression and rebound damping adjustment, a Uni-Trak rear shock with compression/rebound damping and adjustable preload, and a new coned disc-spring hydraulic clutch. Another major benefit of the KX205 is weight – it only weighs in at just over 226 pounds fully loaded with fuel and fluids.
This may be a smaller and less powerful dirt bike than a 450, but make no mistake, Kawasaki built this thing to absolutely rip. As a result, it is significantly more expensive than, say, the CRF250F. Starting MSRP for the KX250 is $8,299.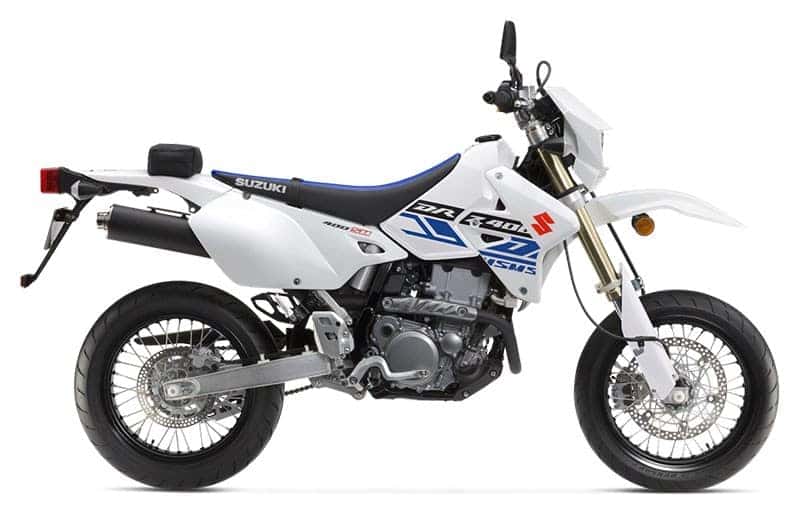 The 2021 DR-Z400SM might look like an off-road-only machine at first glance, but it's actually entirely different than the other bikes previously mentioned. The 'SM' in its name stands for SuperMoto, meaning it looks, sounds, and rides like a dirt bike, but is actually designed for the street.
It has premium off-road Showa suspension that has been paired with sportbike tires, aluminum spoked wheels, and rims. Providing the motive force is a 398cc single-cylinder dry-sump engine with an electric start, forged aluminum piston, four-valve cylinder head, and a single carburetor. Braking is done with components more akin to street riding than dirt riding, which fits the character of the bike perfectly. Up front is a 300mm single floating rotor, while the rear of the bike gets a 240mm disc with a single-piston caliper. The fuel tank on the Z400SM is a solid 2.6 gallons, and it tips the scales at 322 pounds with fuel and fluids.
Supermotard style bikes like this one are certainly more niche than other street bikes, and substantially different than the dirt bikes on which they're based, but they make for a fantastic blend of both worlds and create an entirely unique riding experience. Starting MSRP for the 2021 DR-Z400SM is $7,499.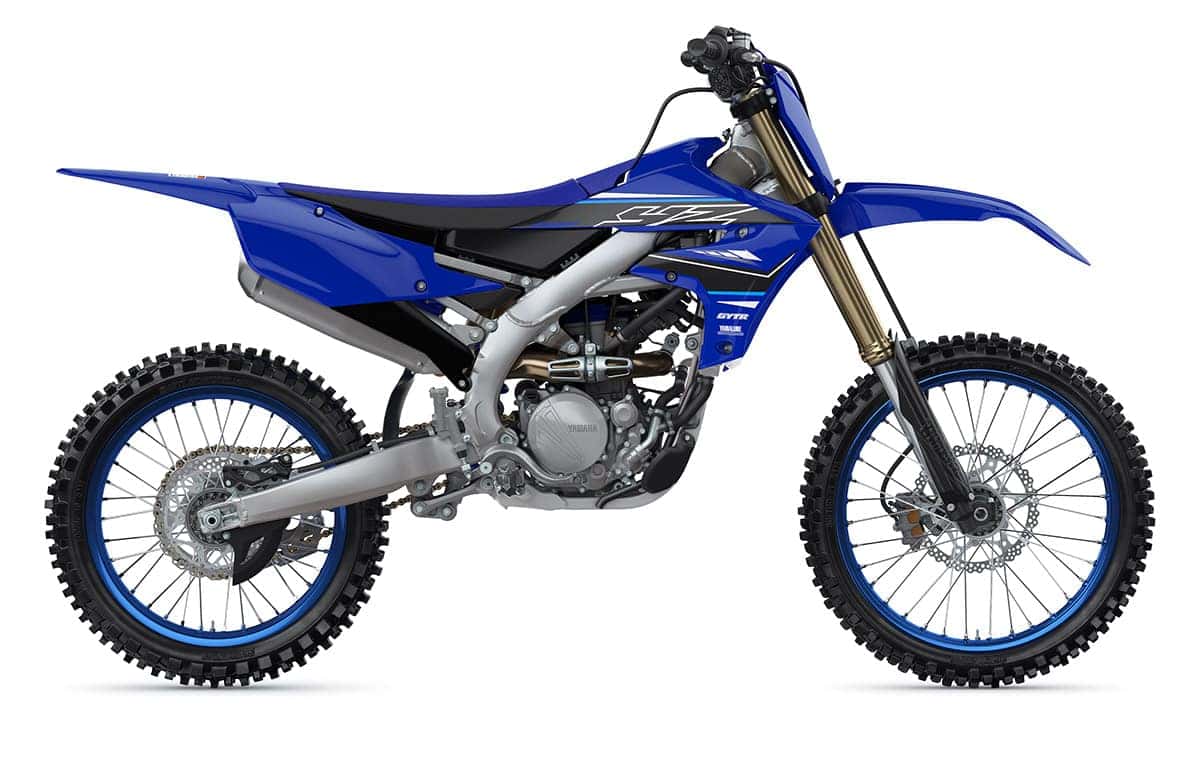 Like the Kawasaki KX250, the YZ250F from Yamaha is designed to be a premium, performance-oriented machine that's smaller and less powerful than its YZ450F stablemate, but no less capable when the road gets dirty. It's powered by a 250cc single-cylinder liquid-cooled four-stroke engine with four valves per cylinder, and Mikuni fuel injection.
Holding things aloft is a KYB front fork that's fully adjustable and a fully adjustable KYB rear shock with a hefty 12.5-inches of suspension travel. Slowing things down is a 270mm single front brake disc up front and a rear 240mm disc. Like the Yamaha YZ450F, the 250F is also paired with Yamaha's Power Tuner app so you can change fueling and ignition changes with the swipe of your phone – super cool.
Starting MSRP for the 2021 YZ250F is $8,299.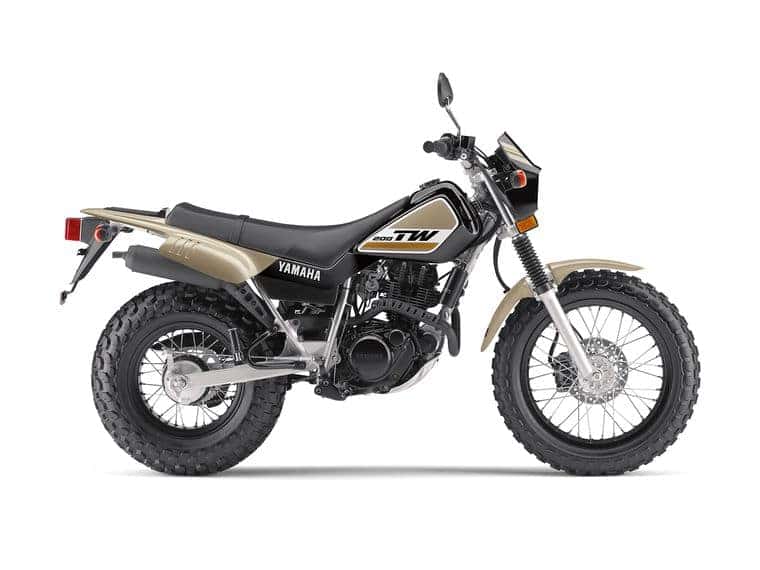 What I like most about the TW200 is that it is unapologetically and completely a dual-sport motorcycle. It doesn't pretend to be anything other than what it is and it's all the better for it. The TW200 is a simple machine with simple components that's all about the ride and the journey.
Fat, knobby tires, low seat, and function over form, it's an easy riding and comfortable way to ride on the road and the dirt (and it even gets a claimed 79 miles-per-gallon). Starting MSRP is $4,699 and for that, you get a 196cc single-cylinder air-cooled four-stroke engine, a single disc brake to slow things down up front with a drum brake doing work out back.
Fully fueled, the bike only weighs 278 pounds, has a short 52.2" wheelbase, and only needs to care 1.8 gallons of fuel. There are few bikes out there with the same clarity of purpose as the Yamaha TW200. It's not going to win you any Supercross titles, but it'll be a blast to ride nearly anywhere you'd like.
The Kawasaki KX450 is a direct competitor to the likes of the Yamaha YZ450F and the Honda CRF450R. This bike is the flagship of the Kawasaki KX line and represents Kawasaki's storied legacy in the Supercross and Motocross championships.
Up front is a 49mm Showa Coil Spring Front Fork, and the rear of the bike features Uni-Track adjustable suspension. Power comes from a 449cc single-cylinder engine that uses fuel injection and special friction reduction technology to help it rev better and create more power.
Easily one of the coolest features of the KX450 is the use of Kawasaki Launch Control Mode (KLCM) so each launch of the line is a perfect one. Kawasaki definitely had weight savings in mind while designing this motorcycle – it tips the scales at 242.9 pounds fully fueled.
Starting MSRP for this green racing machine is $9,399.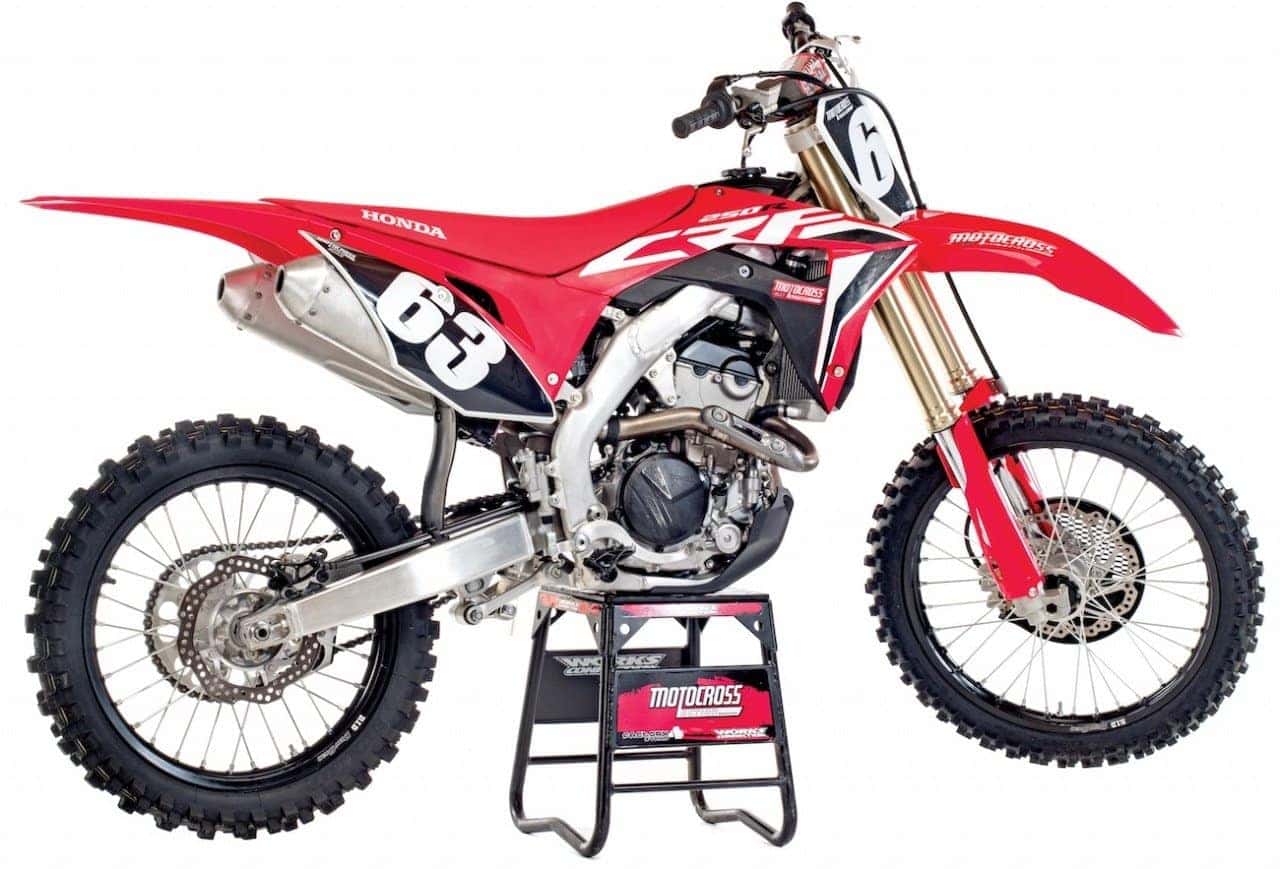 Unlike the other 250 Honda on this list, the CRF250R is designed as a racing machine and for shredding the trails. Need proof of the 250R intent as a racing machine? Look no further than the use of HRC Launch Control. Select it, pin the gas, dump the clutch and you're off to the races.
The list of performance-oriented parts and technology on this machine is impressive – electric start, double-spray fuel injectors Showa suspension all around, 260mm front brake disc, bridged-box piston, and titanium fuel tank. The beating heart of the 250R is a 249cc single-cylinder engine with fuel injection, double-overhead cams, four valves, and a titanium intake and exhaust.
Starting MSRP for the smaller (but no less potent Honda dirt bike) is $7,999.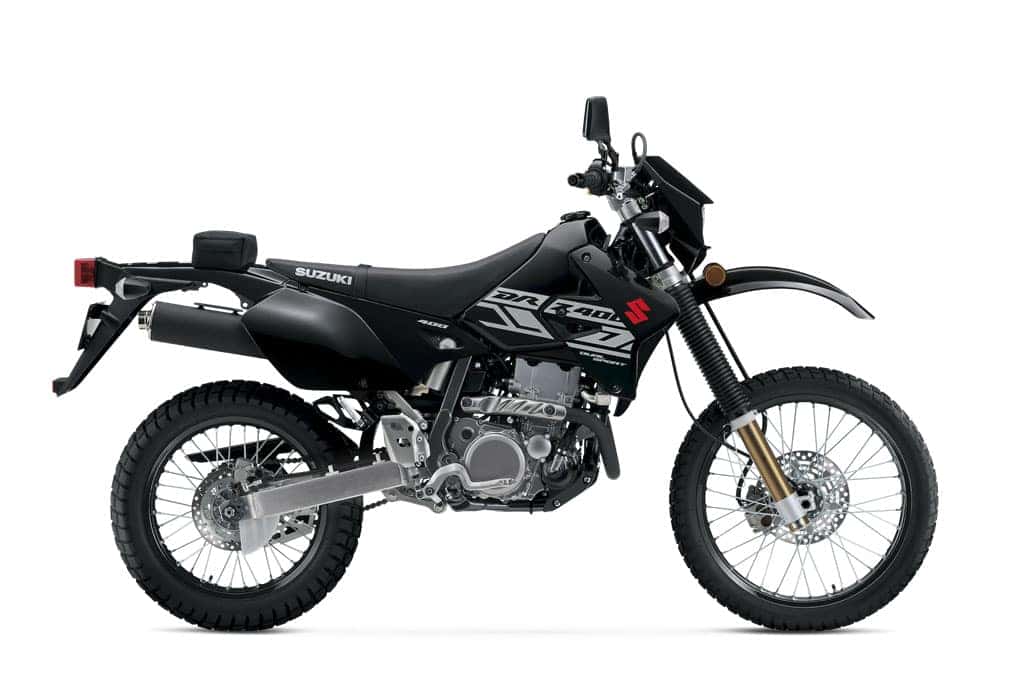 "Wait, didn't you already write about this bike?" you might be thinking. While you're forgiven for thinking that, this actually a different model from Suzuki. It's similar to the DR-Z400SM in many ways, the 'S' model of this bike is a different machine. The primary differences between the two bikes are the inverted front fork, the awesome-looking spoked wheels, and the large 300mm front brake rotor.
It uses the same 398cc liquid-cooled engine and has the same upright, dual-sport motorcycle styling. And while the DR-Z400SM is designed specifically for street riding, the 'S' is a true dual-sport that is capable and fun to ride on both the street and off-road.
And really, the DR-Z400S is the original dual sport machine that Suzuki has been producing for years. It's the perfect machine for doing some commuting and street riding, then slaying a fire road on the same day. Fully fueled, the S weighs 317 pounds, some five pounds lighter than the SM.
We really like the styling of the S – the black graphics, square headlights, long front fender, and motocross seat all contribute to giving the bike a funky, retro look that's different than just about anything else on the road. The price of entry into the saddle of the DR-Z400S is $6,799.
Want to check out our Off-Road inventory? CLICK HERE