Top 10 Scooters Of 2020

(NPS 50)- when you want to get to work, class, or from point A to point B and always find a place to park, this 49cc automatic scooter has the qualities you seek. It has electric start, liquid-cooled motor, belt drive, drum brakes front and rear, and gets 114 mpg from the 1.3-gallon tank. The seat is only 28.9 "high and the engine compression is 11:9:1, making this a zippy number that is only 194 lbs.  Starting At $2,749.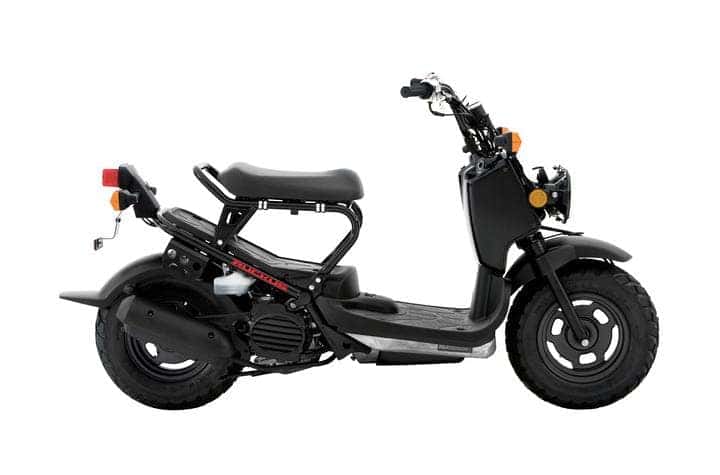 (NCW 50)- In much the same size, this scooter is also automatic, drum brakes, belt-driven but this has under-seat lockable storage. 49cc of power, 11:9:1 comp., a transistorized ignition, tan or light gray color with a seat height of 28.3" and a 1.2-gallon tank will get you through traffic easily and be easy to park. It only weighs 179 lbs. making it one of the lightest scoots around.  Starting At $2,499.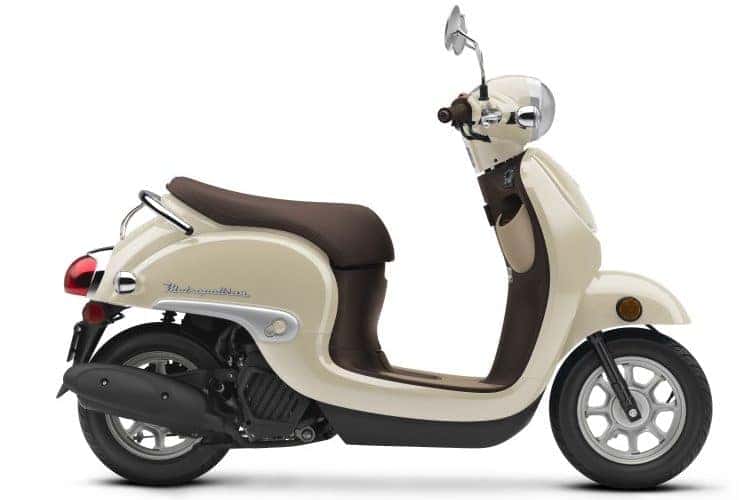 This 149cc scooter has more amenities than the smaller scoots. It has a smart key, larger under-seat storage, a 2-position windshield, ABS front brakes, transistorized ignition, belt drive, a 31.3 "seat height, 10:6:1 compression and weighs in at 294 lbs. This black scooter comes in at a 2.1-gallon tank. Starting At $4,299.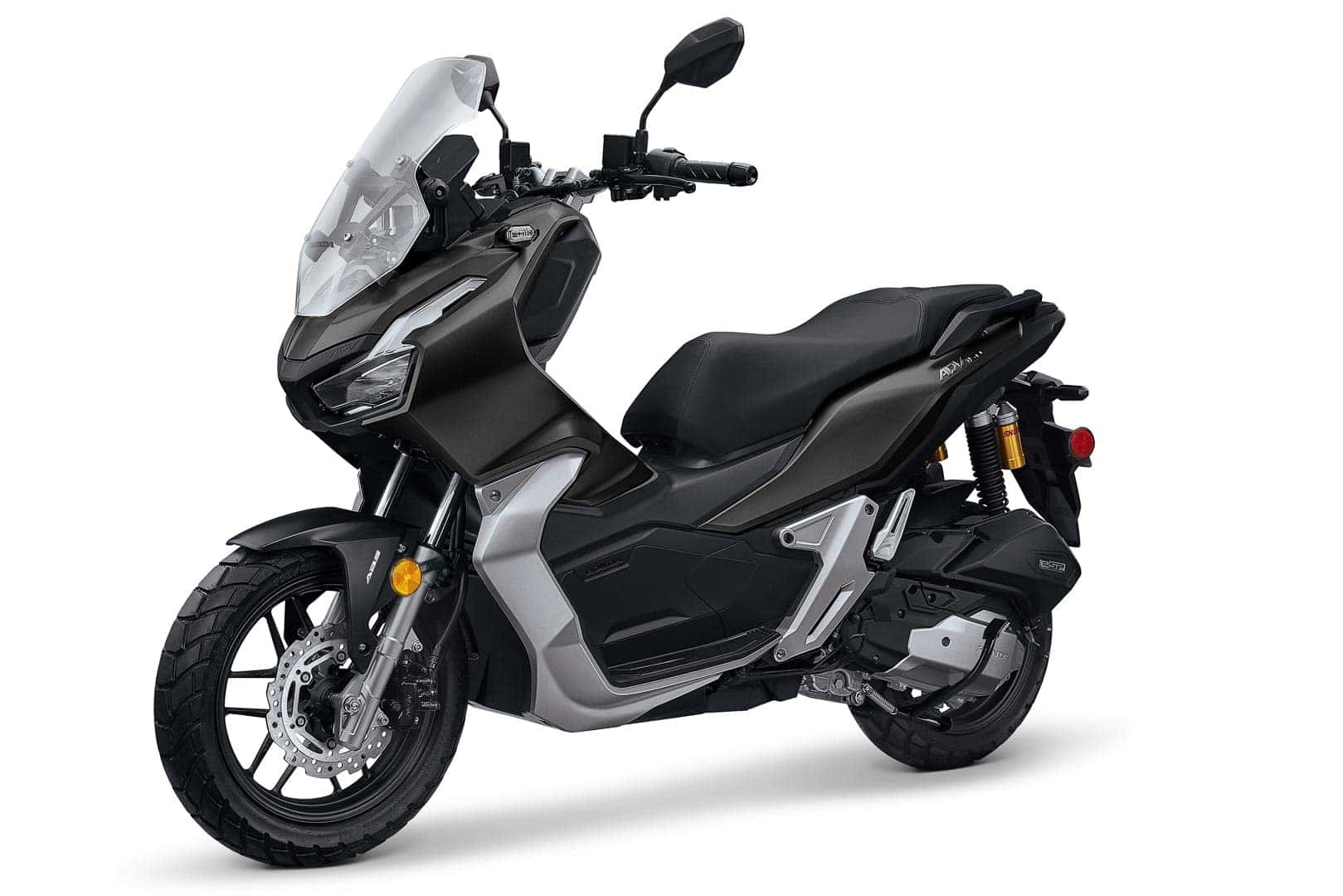 Another 149cc scooter in Candy Luster Red only, this scooter does not have accessories unlike its sister, the PCX 150 ABS. The PCX150 is starting at $3,699, it is belt driven, has 10:6:1 comp., front single disc brake, and CBS while the rear brake is single drum/CBS. The seat height is 30.1", it weighs 289 lbs. and has a 2.1-gallon tank. It does have under-seat storage for your helmet or other gear.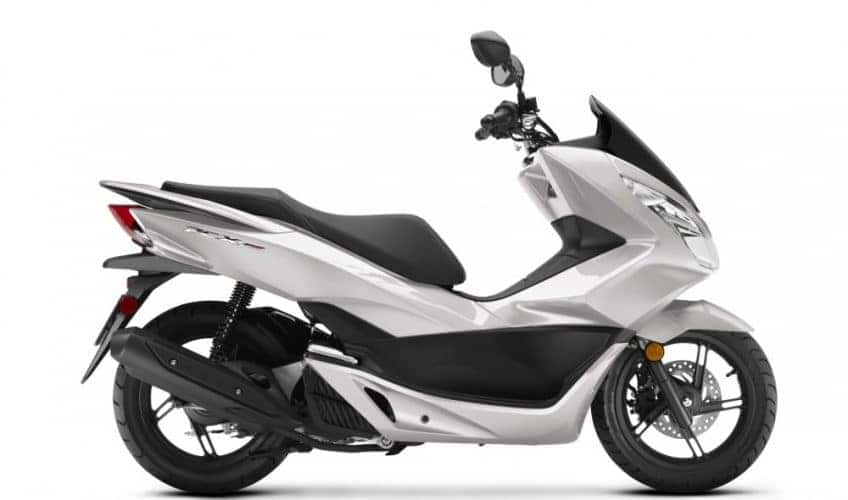 The sister scooter with the amenities and with a Starting price of $3,999, not much more in price but you get a rear trunk, rear carrier and a windshield that can be added. It has the same motor as the baser model PCX150. These scooters can go on the highway, they have enough power (comp. 12:0:1) to cruise along at 70 mph. This belt-driven scoot has the ABS brakes, the same seat height of 30.1", weighs 289lbs., and has a 2.1-gallon tank.  Both PCX 150 models come with a side kickstand or a center stand.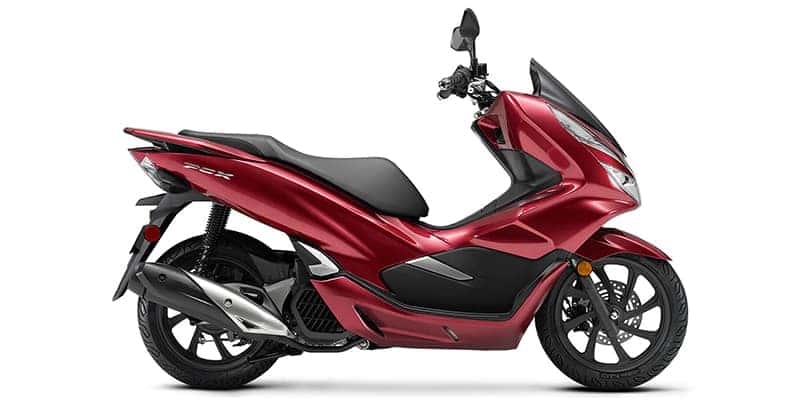 This sporty scoot boasts a 292cc motor, automatic with 10:9:1 comp., a 3.4-gallon tank, 31.3" seat height, weighs in at 397lbs., and gets 75mpg. The front and rear brakes are disc with ABS, for quick stops. This scooter has a phone charger and adjustable windshield/handlebars to make it more personalized. Accessories include luggage, backrests for driver and passenger, and a rack for more gear. This scooter is also road-worthy. Starting At $5,699.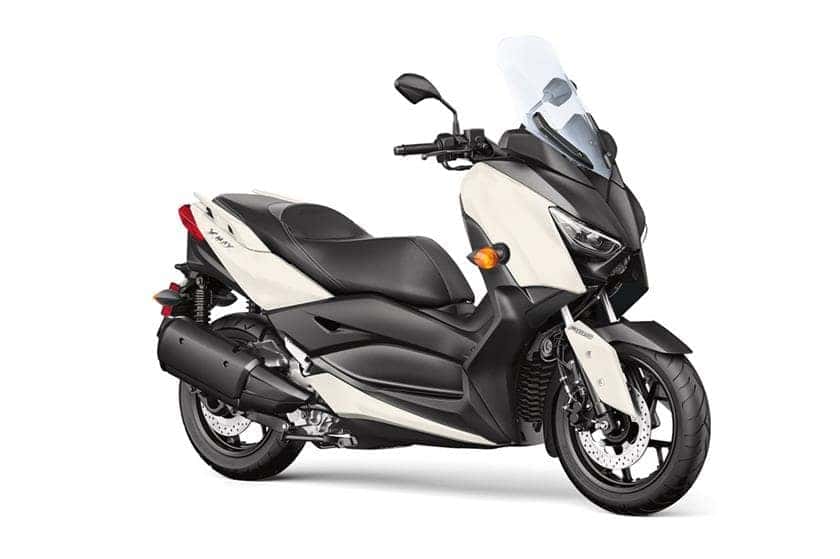 This automatic MAX scooter is slightly smaller at 155cc and weighs 328 lbs., but it can also hit the highway. It has a 2.0-gallon tank, 81 mpg, 11:0:1 comp.  with front and rear disc brakes and has plenty of under-seat storage. A windshield is standard, and it has LED lights to brighten up your night riding. The seat height is 31.3" and the Starting at only $3,799.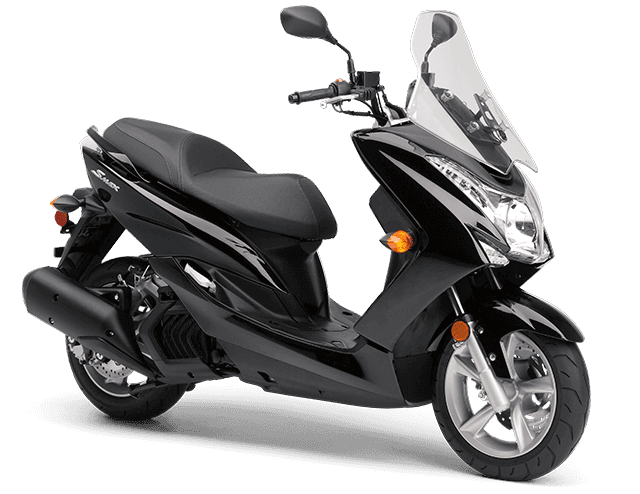 This Pearl White 200cc scooter is the smallest in the Burgman line but can zip around town, campus, or in the suburbs with ease. The under-seat storage is big enough for books, helmets, and other gear. This automatic scooter can also drive on highways and byways with ease at 75 mph. and 88.28 mpg. The Burgman is popular overseas and can be seen in many cities and towns, carrying two-up or other cargo. The motor is powerful enough for most needs and is V-belt driven with 11:0:1 comp., front and back single disc ABS brakes, 28.9" seat height, 2.8-gallon tank and weighs 359lbs. Starting At $4,999.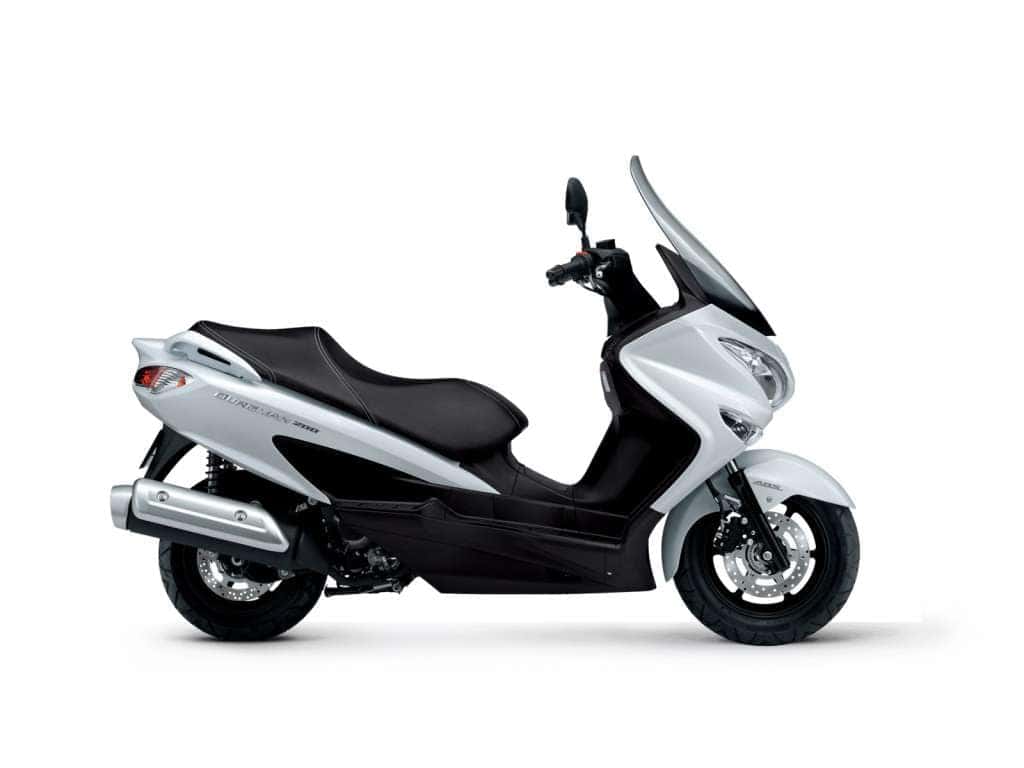 This scooter boasts a 399cc motor, 10:6:1 comp., a 3.6-gallon tank, 65 mpg, ABS brakes, a front dual disc, and in the rear, a single disc brake. There is plenty of under-seat storage, a 29.7" seat height, V-belt drive, LED lights, and weighs in at 474 lbs. Again, this is an automatic that can travel with ease on the highway or around town. Starting At $8,299.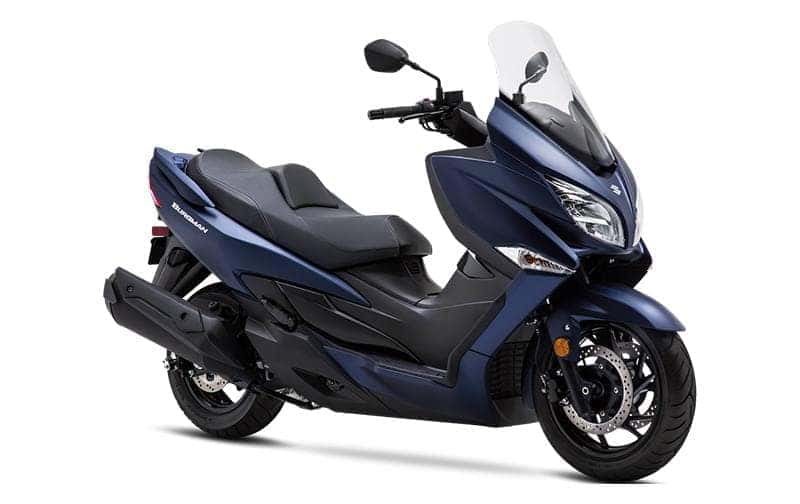 The top of the line of Burgmans. This comfortable scooter can go up to 100 mph with 638cc of power, 11:2:1 comp., front and rear ABS brakes (front is twin disc and rear is single disc), a plush seat (29.9 ") with adjustable lumbar, heated grips, heated seats, a supportive backrest for the passenger, larger under-seat storage, automatic plus manual (6 gear ratios) shift mode, and a remote power windshield. The 4.0-gallon tank allows for longer distance between fill-ups, with 56.4 mpg and a liquid-cooled engine.  Starting At $11,200.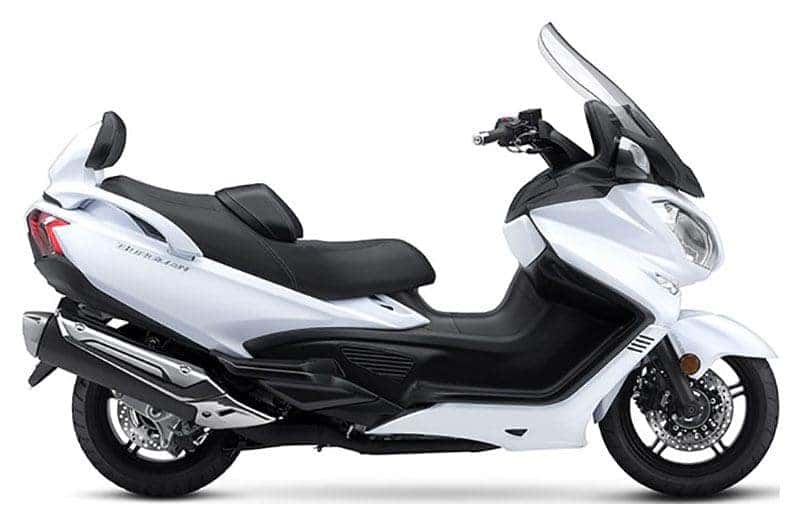 This mid-sized scooter has a liquid-cooled 350cc motor, 11:5:1 comp., CVT, electric keyless start, smartphone charger, flexcase for storage, front double disc 4 piston-fixed calipers brake, single rear single-piston caliper brake, LED lights, and 34 HP with 26lbs. of torque enable this scooter to reach 86mph top speed. The 3.4-gallon tank and 67 mpg allow this 450lb. scooter to take the rider on long trips as well as around town with ease. The seat height is 30.5", making it accessible to many owners. It also comes with a 3-year warranty.  Starting At $6,795, the colors include Alpine White, Zenith Blue Metallic, and Black Storm Metallic.  To protect your investment, use an RFID pouch for the keys when not in use.
At this writing, BMW announced the new C 400 GT (Gran Turismo) with enhanced comfort features, new colors, and styles. The double-disc brake system in front offers a more stable and clearly defined pressure point and improved roll-back behavior of the brake pistons. The alignment of the brakes has allowed for a more symmetrical braking feel- Automatic Stability Control.  www.press.bmw.de
Dealerships do not have them as yet and have a waiting list.  (Aurora, Oh BMW)