Top Five Starter Motorcycles on Sale Today: Size Isn't Everything
It's an age-old question – what motorcycle to buy as a first bike? When I faced that eternal conundrum a few years ago, I followed my heart and relied on my (admittedly rather limited) riding experience to lead me. I couldn't be happier with my decision. However, there are a million opinions, options, and strategies to answer this question.
At the end of the day, it really depends on YOU as a rider. The style of motorcycle you're interested in, what kind of riding you plan on doing, your experience level, and the depth of your wallet.
Fortunately, there's no shortage of great motorcycles currently available aimed for new riders. For this list, we're focusing on motorcycles designed for the street. Without further ado, here are some of the best starter street bikes on sale today.
The 2020 390 Duke is the little brother to the 790 Duke and the fire-breaking 1290 Super Duke. It's a more premium small displacement naked bike that has the added benefit of looking righteous. With styling aped right from its bigger brothers, the 390 Duke looks like twice the bike it is and easily stands apart from its rivals. There's nothing on the road that looks like a KTM, and that's a great thing.
The 390 is powered by a fuel-injected single-cylinder engine that makes 44 horsepower. It's tasked with pushing around a relatively light 328 pounds, so the riding experience is sporty and exciting. Inverted WP forks keep things suspended up front, and an adjustable shock handles things out back.
KTM gifted the 390 with a host of great features. Upright handlebars, cast alloy wheels, slipper clutch, brakes by BYBRE, ABS, a single 320 mm disk on the front wheel and a 230 mm disk in the rear. It also has what KTM calls 'Supermoto Mode'. When engaged, this electronically controlled system applies ABS only to the front brake, leaving rear brake management entirely up to the rider.
The 390 Duke starts at $5,499. It's not the cheapest machine you could pick as your first motorcycle, but you do get a ton of machine for your money.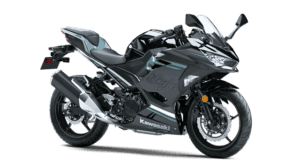 We've written about the Ninja 400 before and raved about its sweet handling, engaging power, and approachability. Like the KTM 390 Duke, you get a lot of motorcycle for the money here. Prices start at $4,999 for the non-ABS model, and $5,299 with ABS. Those prices bring the Ninja 400 in several hundred dollars less than the KTM.
The first track day I ever participated in was done from the saddle of a Ninja 400. I couldn't have asked for a more forgiving and entertaining dance partner. It uses a fuel-injected 399cc twin-cylinder engine that makes around 45 horsepower and 28 pound-feet of torque, plenty for most new riders. Also like the KTM, the Ninja is styled to look like a more premium and powerful machine. It's easy to see the family lineage in this entry-level machine.
One thing you may want to look for in a starter bike is value – how much bike are you getting for the money? On the Kawasaki, there is no shortage of solid features that increase its appeal. A slipper clutch makes changing gears smoother and easier, ABS is there to help keep you safe, a high strength steel
trellis frame is lightweight and sturdy. If a pseudo-sports bike is what you're looking for, the Ninja is a great choice.
On the other end of the spectrum is the Honda Rebel 500, a sweet little cruiser that would make for a stylish, approachable, and fun to ride starter motorcycle. With a starting MSRP of $6,199 it's on the more expensive end of things, but there's a lot going on with this bike. It uses a 471cc twin-cylinder engine with fuel-injection, double overhead cams, and four valves per cylinder. Power is sent through a six-speed transmission, and The Rebel's low seat height of 27.2 inches, and 408-pound curb weight are major factors in making this such an attractive beginner bike.
The Rebel has another ace up its sleeve – 67 miles-per gallon. Most motorcycles are naturally fuel misers and great fuel economy is nothing new, but the Rebel's economy is a cut above and it makes great use of its smaller 2.96-gallon fuel tank. You can spec your Rebel 500 in three different color combinations – Matte Armored Silver, Graphite Black, and Matte Blue Jeans Metallic.
Honda actually makes another Rebel model, the Rebel 300, that uses an even smaller engine. If you love the look and feel of the Rebel, but don't want the bigger motor and want to spend less cash, the 300 is for you. That machine starts at only $4,499 and is powered by a 286cc single-cylinder mill. This is a great looking motorcycle that could appeal to a wide range of riders. I know I want one.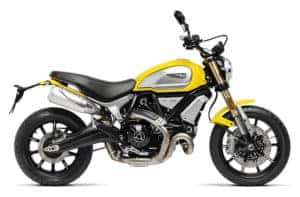 I know, I know. A Ducati might seem like an irresponsible and/or ludicrous choice as a first motorcycle but hear me out. The Scrambler isn't some fire breathing monster, it's a smaller machine that's been designed for short distances, city riding, and the joy of riding. It comes in eight different flavors for 2020 and is about as tame and friendly as a Ducati can be.
The 'entry-level' Scrambler is the Sixty2 and is powered by Ducati's 399cc Desmodromic twin-cylinder motor which produces 41 horsepower. It might be the base model, but the Sixty2 still gets aluminum 10-spoke wheels, Ducati's famous trellis frame, Kayaba adjustable rear shock, and two 320mm brake disks up front and one 245mm disk in the back.
If you're looking for something with more oomph, the range topping Scrambler 1100 Sport Pro is new for 2020 and boasts the biggest engine, most amenities, and features of any Scrambler model yet. As the name implies, the Sport Pro uses a powerful 1,079cc twin that makes a stout 86 horsepower. This might be one of the less intimidating motorcycles in Ducati's stable, but it's no slouch.
With the more premium Ducati badge comes a more premium price unsurprisingly. The Sixty2 starts at $7,995. If you jump up to the 1100 Sport Pro, that'll set you back substantially more. Either way, the Scrambler is a fun, easy to ride, super stylish way to get into motorcycling.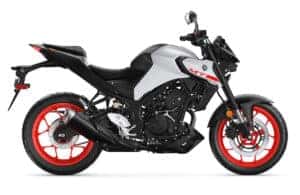 Starting at $4,599, the 2020 Yamaha MT-03 is the smallest member of Yamaha's venerable 'MT' series. Fun fact – the 'MT' stands for 'Master of Torque' which is just plain cool. Like the KTM 390 Duke, the MT-03 doesn't wear its smaller stature with shame. It's aggressive and unique looking and brings a lot to the table. I particularly like the Stormtrooper-esque headlights and the stunning red wheels.
Yamaha plunked a 321cc two-cylinder engine into the MT-03's frame that utilizes forged aluminum pistons, fuel-injection, and Yamaha's DiASil coating for greater heat dissipation. Holding things aloft are an inverted KYB front fork, and an adjustable rear shock. Other premium features on the MT-03 are LED turn signals, low 30.7-inch seat height, LCD digital dash, and a lightweight tubular frame.
One of the really nice thing about low displacement motorcycles like this Yamaha is that while a new rider may soon out-grow it and gravitate towards something larger and more powerful, they are an absolutely hoot to ride and enjoy, even if you have years of riding experience under your belt. There's something incredibly satisfying about wringing out a little bike like the MT-03 and enjoying everything it has to give all across the rev range.
Conclusion
One sure fire way to find your perfect starter motorcycle is to go on a test ride. All the stats and reviews in the world don't mean anything if you don't enjoy how a bike feels underneath you. So, grab your helmet and safety gear, and get in touch with your dealer, and book a test ride today!