New Motocross Gear Guide
There's nothing like brand new riding gear. While some may shun riding equipment for whatever reason, you know the value of it, how it makes you feel, and how it can take your riding experience to the next level. Several of the big motocross gear brands just recently launched a boatload of new gear for us to nerd out over. Here's a brief guide for some our favorite pieces from this latest launch from Fox Racing, THOR, and O'Neal.
Fox Racing
Fox Racing has a wide range of new gear arrivals. Everything from helmets to googles to kid's gloves and gear kits. The V2 BNKZ Helmet and 360 Trilen Pants are two of our favorites.

360 Trilen Pants
These understated riding pants might not look like much, but they are seriously cool.
Stretch panels where you need them, perforations for flowing tons of air, abrasion-resistant panels in contact zones including full grain leather outers panels on the knees, and Fox's Rider Attack Position technology so they're ergonomically correct right out of the gate.
V2 BNKZ Helmet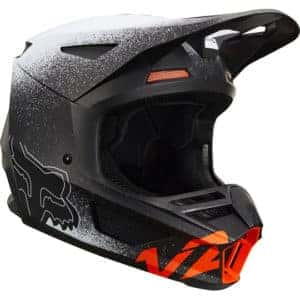 All new for this year, the V2 BNKZ helmet combines premium safety features and righteous looks to create potentially the ideal mid-level motocross helmet.
It uses Fox's Fluid Inside system which helps reduce rotational forces on a rider's brain during a crash, multiple layers and densities of EPS foam, a strong and lightweight shell, and the Magnetic Visor Release System. And we love the color scheme too.
THOR
THOR has focused on developing some bitchin' new gear kits for their Sector Collection.
Comprised of some 20 new color schemes, THOR's new gear will get you looking awesome and riding safe when you hit the dirt.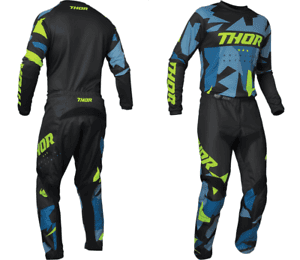 Sector Warship
This kit comes in a few different color patterns, but our favorite is the Warship in Blue/Acid. The day-glo THOR logo across the chest, down the arms, and across the legs is the perfect touch for this properly cool looking setup.
Sector Link Acid
The Link Acid keeps things simple with lots of black, but we love the font used for the THOR logo, and the acid green on the back of the jersey.
And like all of gear sets THOR released, the Sector Link Acid is made with premium materials and rider safety in mind.
O'Neal
And finally, O'Neal released several new gear kits and various other riding gear as well.
We've picked a couple of our favorite pieces for this article, but know there are a ton more that aren't listed here.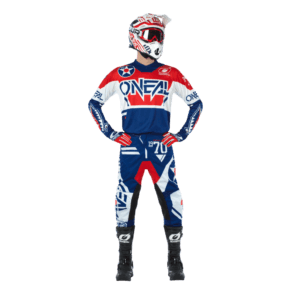 Element Warhawk
The jersey/pant combination that is the Element Warhawk is undeniably awesome.
We love the quasi-military touches, the prodigious use of red, white, and blue, and the call backs to the fighter planes of yore.
It comes in a wide range of sizes and is designed to be as functional as it is cool.
Mayhem-Lite Savage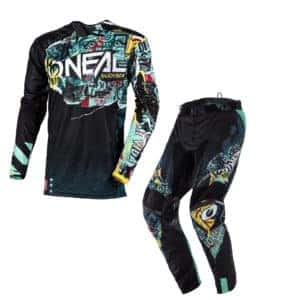 There's a lot to like with this gear set.
The jersey is highly breathable and stretchy and has numerous creature comforts like silicone printing on the tail to help keep it tucked into your riding pants.
Speaking of, the Savage pants are also loaded with features like a leather heat shield, wear resistant materials on the seat, legs, and knees, plenty of stretch panels, and pre-bent knees for maximum comfort.
The graphics round the set out and make it one of our favorite from O'Neal.
Baja Jacket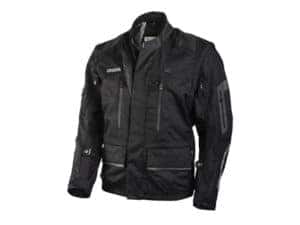 The Baja Jacket from O'Neal is a wind and waterproof outer layer that also features pockets for armor inserts on the chest and elbows and would make a great off-road touring jacket.
Waterproof zippers, reflective patches scattered throughout, and a ton of different sizes make this jacket a super versatile, stylish, and safe piece for any rider.